Former Demon Deacons look ahead to the NFL Draft
Draft day brings excitement for football prospects
When the NFL Draft starts on April 27, many NFL teams will look to draft the best production possible, and Wake Forest players will look to hear their names during the stressful seven rounds.
After a pre-draft process that included the NFL Combine, a Wake Forest Pro Day and multiple postseason bowl opportunities for various Demon Deacon prospects, each player looked to impress the NFL scouts in the audience to earn his position on an NFL roster.
The most prolific name throughout the draft process is undoubtedly the star wide receiver A.T. Perry. After breaking multiple Demon Deacon records throughout his career in Winston-Salem, the Lake Worth, Fla. resident is looking to make it on the next level as a premier wideout.
For Perry, an excellent showing at the NFL Combine has solidified himself as a safe pick for teams looking for superior technical ability along with a strong base. Perry had a historical performance for ACC wide receivers in the broad jump with an 11-foot-1-inch leap — the highest of any ACC wide receiver in NFL Combine history.
According to Danny Kelly of The Ringer, Perry is a "silky-smooth pass catcher with a quick first step and a huge catch radius." Kelly also said that Perry "had enough wiggle to beat press coverage" and ran routes "with little wasted movement."
On the defensive side, lineman Kobie Turner's strength is his tremendous metrics. According to Pro Football Focus, Turner held a 92.2 overall rating over the season in addition to his 93.1 run-defense grade and 88.8 pass-rushing grade. Despite not earning an invite to the NFL Combine, Turner will more than likely earn his way onto an NFL roster sometime this offseason.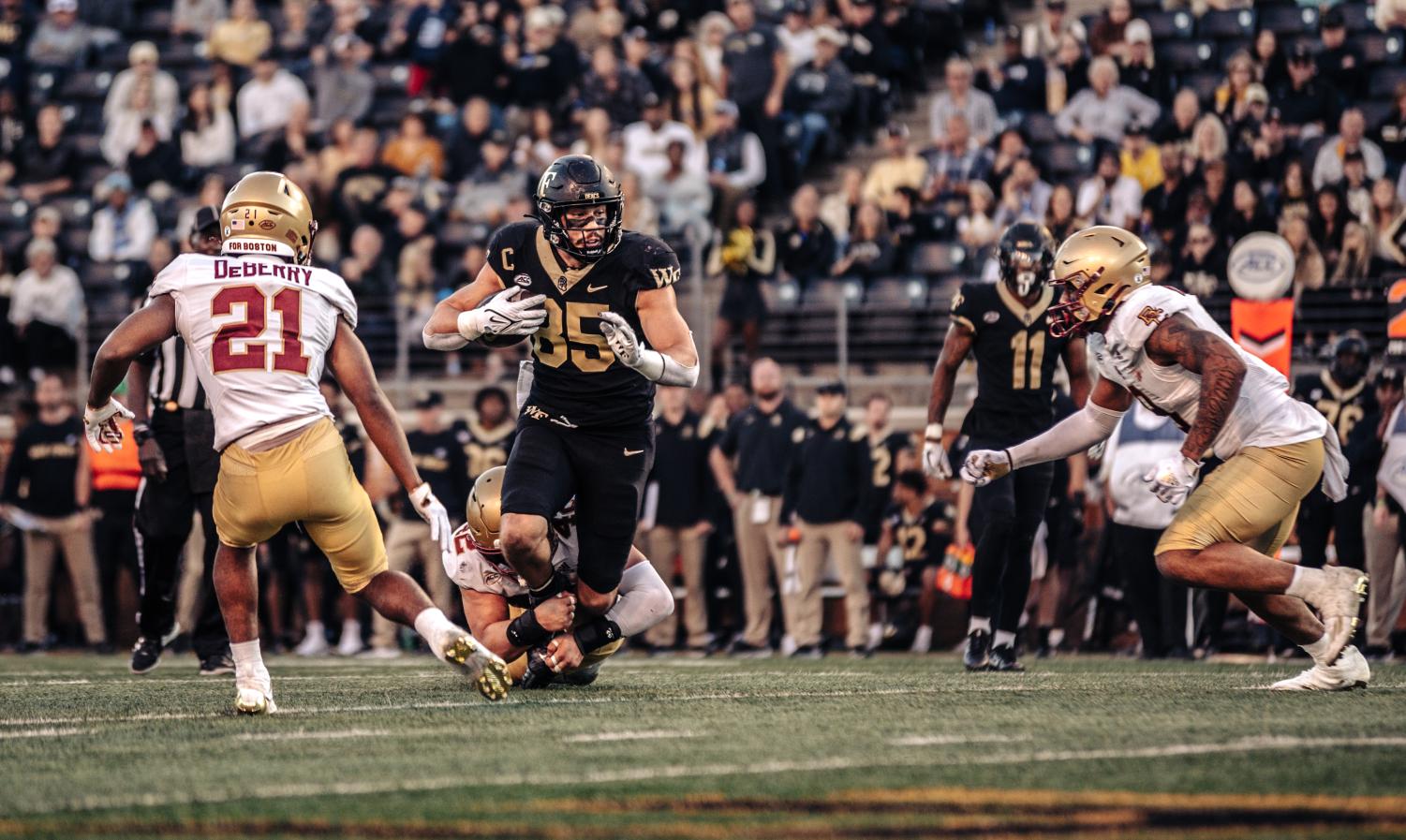 Winston-Salem resident Blake Whiteheart is also an option for NFL teams that are looking for the tight end position. Despite concerns about his height and stature, draft analysts have been on the record as liking many aspects of his pass-catching prowess. 
Other names have been thrown around by major draft sites, including defensive lineman Dion Bergan Jr., who has been described as having an "excellent motor" and can "explode off the line," per NFLDraftBuzz. They also mention Michael Jurgens, who is "outstanding in the screen game" and "plays with good leverage."
Despite not gaining much hype in the pre-draft process, hope cannot be lost for other names entered in the draft. For the likes of Ryan Smenda, Jacorey Johns, Jermal Martin, Sean Maginn, Tyler Williams, Je'Vionte Nash, Loic Ngassam Nya and others, they look to replicate previous success stories of underrated Demon Deacon prospects.
For example, former captain and Demon Deacon linebacker Luke Masterson became a major factor for the Las Vegas Raiders last season despite not hearing his name throughout draft weekend. After totalling 59 tackles and seven starts for the Raiders during his rookie season, he was one of a few undrafted Demon Deacons to earn snaps last year, along with Nick Sciba and Luiji Vilain.
History has favored the Demon Deacons in recent years, as Zach Tom, Ja'Sir Taylor and Boogie Basham have all been drafted in the first six rounds of the past two drafts. For the names entered in the 2023 NFL Draft, both they and Demon Deacon fans alike hope to hear their names called.