The lungs of our campus
Trees play an important role in the health of Wake Foresters
Willow oaks and cherry blossom trees paint Wake Forest's campus while the famous Wait Chapel sits dutifully atop the quad — it is spring in the forest. Although "forest" is in the name, Wake Forest campus's aesthetic beauty isn't all-natural. Instead, it's made possible through the continuous work of landscapers and arborists like campus landscaper Paul Scheff. 
"My goal is to make sure we keep campus beautiful and friendly and make sure it's a place where students can feel comfortable and at home," Scheff said. 
According to the National Park Service, urban trees play a vital role in combating climate change by sequestering carbon dioxide from the atmosphere. The more trees there are, the more carbon dioxide is taken out of our atmosphere and into the ground where it belongs.
On a willow oak outside of Davis Residence Hall, the Office of Sustainability attached a flyer stating that this singular tree filters 53,000 gallons of water in five years — reducing erosion and pollution. Similar flyers can be seen tied around trees on campus highlighting key statistics on the benefits of different species in an effort to "Keep the Forest Green."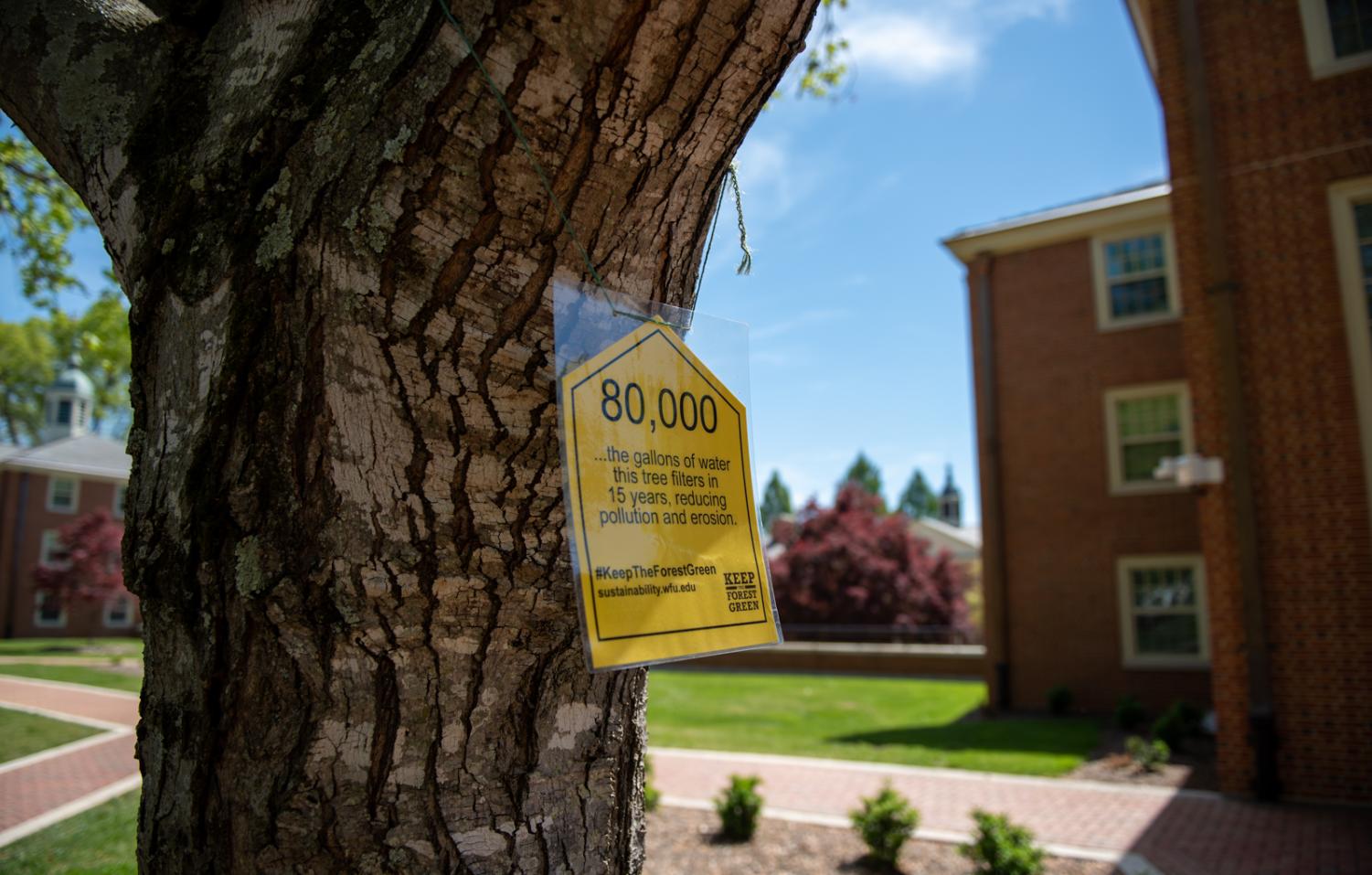 In addition to their environmental benefits, trees provide a cultural ecosystem service — a benefit gained from human interaction with nature. According to the Freshwater Information Platform, a cultural ecosystem service can be immersing oneself in a natural aesthetic, such as a forest. This benefit goes hand in hand with helping reduce stress and anxiety. 
This is also referred to as "ecotherapy," which the American Heart Association defines as drawing our five senses to nature, focusing on the sights, smells and feelings of nature. The texture of the grass on your feet as you sit on the quad or the smell of the cherry blossoms as you walk to class is secretly improving your mental health.  
Scheff said that he will try to ask students what flowers they would like to see in the flower beds. 
"An ecologically healthy campus is a beautiful campus," said Brain Cohen, the assistant director for sustainability engagement in the Wake Forest Office of Sustainability. 
Jim Mussetter, the campus arborist, has to consider both the logistics and aesthetics when choosing which trees to plant. 
"My most important role is to make sure the trees don't pose an unreasonable risk to the campus community," Mussetter said.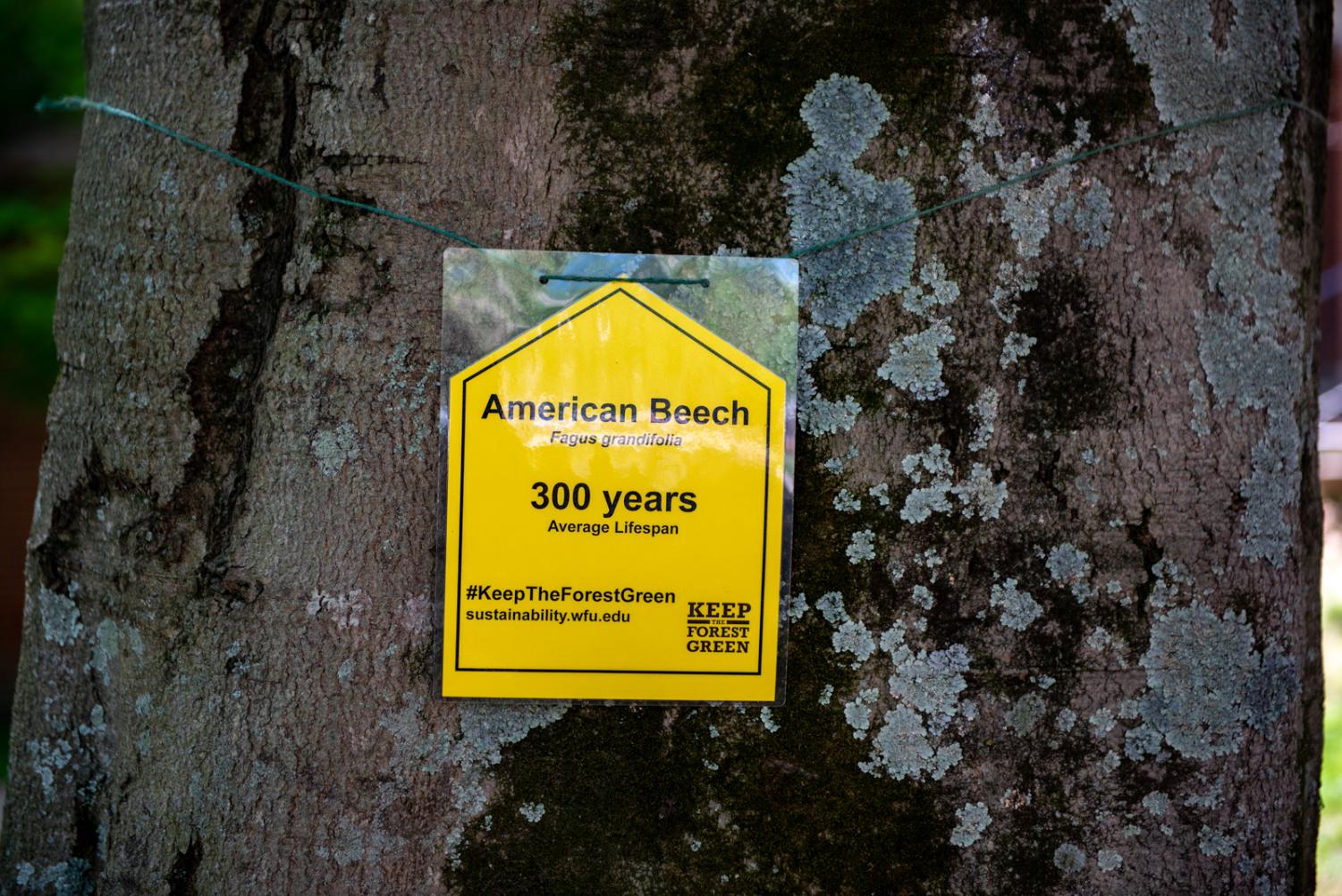 The risk Mussetter refers to is the use of pesticides, as some harmful pesticides may be carcinogenic, or cancer-causing, according to the EPA.  
Native trees, such as the willow oak species seen around campus, are already adjusted to the soil conditions, so no chemical fertilizers or excess water are needed, as stated in Leaf & Limb. 
In the debate of health versus beauty on Wake Forest's campus, Mussetter makes choices reflecting Wake Forest's landscaping developments. For example, parking lot Q is a vast chunk of asphalt that separates the campus. Cohen emphasized how this pavement increases runoff. Consequently, Scheff said, "Putting a lot of green space into the lot would limit car space, and we are already limited on parking on campus, so I think that is one of the reasons a lot of green space is not in lot Q."
Because of excess development, the root systems are being damaged. 
"The root system seems to be under assault constantly…it may be foot traffic or vehicles," Mussetter said. 
Because of continuous foot traffic, our campus is dominated by willow oaks, a species that can withstand some degree of urban damage.
,
"
It's challenging to be an advocate for the trees in the ever-changing campus environment. The campus continues to grow and conflicts over trees arise. I do the best I can to be the voice for the trees.
— Jim Mussetter, University Arborist
Cohen emphasized that if these roots are damaged, they will be less likely to take up water and unable to mitigate stormwater runoff. 
"It's challenging to be an advocate for the trees in the ever-changing campus environment. The campus continues to grow and conflicts over trees arise," Mussetter said. "I do the best I can to be the voice for the trees." 
Amidst the trees on campus, students still find a way to enjoy their natural environment.
"It's interesting because I know it's very manmade, but I do feel like there is a lot of green space in and around campus," sophomore Isabella Gerace said.  
Gerace's favorite spot on campus is Hearn Plaza, where she can step away from her work and connect to the natural world. 
"I enjoy an afternoon where I can lay outside and lose track of time and get disconnected from emails and work for a moment," Gerace said. "Breathing fresh air makes me feel much better." 
Gerace feels the direct effects of ecotherapy — relieving her stress and opening her mind.
Similarly, sophomore Harper Shanly created Hammock Haven last spring, where all students can relax in nature. This haven, available Sundays from 1 p.m. to 4 p.m., is geared toward people gaining stewardship for the outdoors as a means of relaxation. Shaley chose a corner next to Winston Hall, full of trees that can fit 10 hammocks at once.
"[Campus nature] makes me feel comforted. Life around campus is bustling with both the students and natural elements around me,"  Shanly said.