Entry drafts in professional sports are where an athlete's dreams of playing in the major leagues can become a reality. As the 2023 MLB draft recently wrapped up, Wake Forest achieved a school record of 10 players selected — two of whom were drafted in the first round for the first time in program history. 
After a monumental year for Demon Deacon baseball, it only was fitting that the players who were dedicated to the program deserved to be selected for the next level. Two of these key players were taken in the first round, two-time ACC Pitcher of the Year Rhett Lowder and ACC career home run record holder Brock Wilken. Lowder was selected seventh overall by the Cincinnati Reds, and Wilken was taken as the 18th overall choice by the Milwaukee Brewers. 
Both Lowder and Wilken were essential for Wake Forest's success this past season as they look to establish themselves as some of the top baseball players in the major leagues. 
1
Story continues below advertisement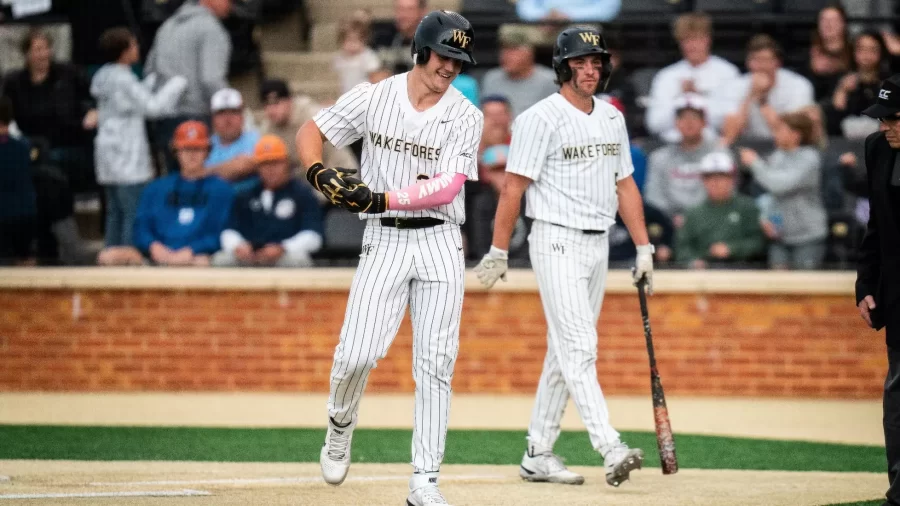 This past year, Lowder proved to be practically unhittable, finishing the season with a sub-two ERA combined with an undefeated record of 15 wins. He was the Demon Deacons' ace pitcher who held himself to a high standard and an expectation of shutting down his opponent. Wilken and 31 home runs this past season also proved worthy of a first-round selection. Along with playing an excellent third base, Wilken proved how much damage he could do at the plate, boasting a 1.313 OPS and an impressive .506 OBP. 
Regarding their potential impact in the MLB, Lowder has proven that he has three above-average pitches within his arsenal — changeup, fastball and slider. With Cincinnati proving that they can be a contender as of late with the rise of rookie phenom Elly De La Cruz, Lowder may get an opportunity quicker than expected to prove himself worthy of a rotation spot. 
On the other hand, Wilken has already shown his raw power at the plate along with his plate discipline with 69 walks and 58 strikeouts this past season. Milwaukee has a tendency to select college hitters, which Wilken fits the theme, and being last in the National League in runs scored is another justification for drafting a power hitter. 
Lowder has signed his contract with the Reds for a staggering $5.7 million (slot value at $6.275 million) while Wilken agreed to terms with the Brewers amounting for $3.15 million (about $871,000 less than the slot value).
The Demon Deacons then saw a slew of pitchers come off the board in the second and third rounds, starting off with the Colorado Rockies' selection of Sean Sullivan at 46th overall. Sullivan, a southpaw transfer from Northwestern, shook up the ACC with a tremendous year as both a starter and reliever and finished with a 2.45 ERA.
In his lone year in Winston-Salem, Sullivan racked up a load of accolades, including a First Team All-ACC selection and consecutive ACC Player of the Week honors back in February. The Rockies found his school-record 14.3 strikeouts per nine innings incredibly attractive, as well as the MLB's draft grades of an above-MLB-average fastball and pitch control. 
"Our analytics department [say] he's on the top of their list," said Rockies senior director of scouting operations Marc Gustafson.
Sullivan's rookie contract is worth $1.7 million according to Jim Callis of MLB.com.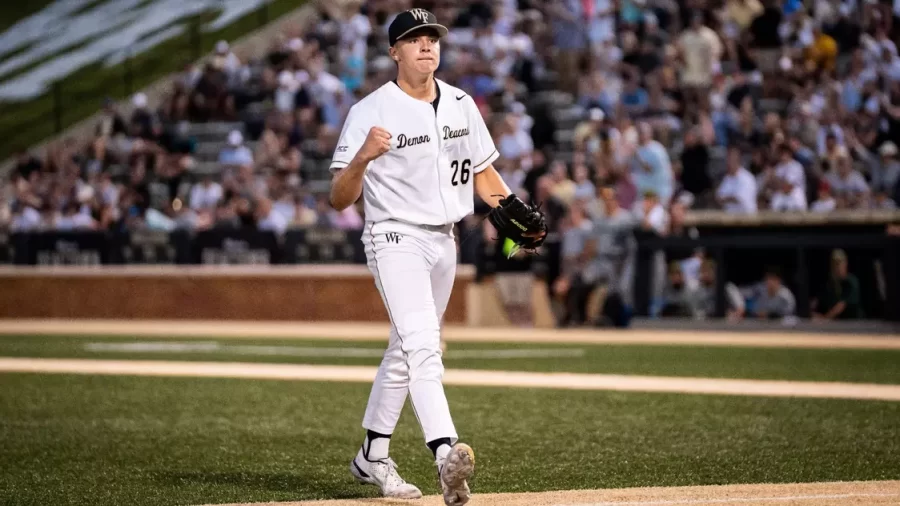 In the third round with the 84th overall pick, the Chicago White Sox selected right-hander Seth Keener. Armed with a bevy of pitches that earned him a spot on Baseball America's All-American Third Team, Keener started out in the bullpen this year before taking over as a starter midseason.
According to MLB.com, scouts believe that Keener's delivery and command can allow him to become a rotation piece in the big leagues. They also believe that his slider will give him a chance to become a setup piece if he were to continue on in the bullpen. Either way, the nearby Pilot Mountain-based Keener will likely stop at North Carolinian minor league teams en route to "the show," as the nearby Kannapolis Cannon Ballers (Low-A), Winston-Salem Dash (High-A), and Charlotte Knights (AAA) are all White Sox affiliates.
The Demon Deacons saw their fourth pitcher get selected within the first three rounds when Teddy McGraw was chosen 92nd overall by the Seattle Mariners. His contract is worth $600K. McGraw had the potential to be a key piece in the enormously talented rotation this year, yet a setback occurred when McGraw was shut down due to an internal bracing procedure before the season.
McGraw carries untapped potential, as he was one of only two Demon Deacons (the other being Lowder) to make the 2022 United States Collegiate National Team. Albeit the fact that this was before his most recent surgery, he still provides a mid-90 MPH fastball along with a devastating slider that allowed him to strikeout 67 batters in his final season in 2022.
An additional three Demon Deacons were taken in the sixth round of the draft, starting when transfer catcher Bennett Lee was selected by the Detroit Tigers at 170th overall. Lee, who had a renaissance both at the plate and on the field last season, became one of the best in the collegiate ranks at pitch framing while working with Wake Forest's tremendous pitching staff. 
Speaking of the pitching staff, Lee's high school teammate and Demon Deacon closer Camden Minacci received a call from the Los Angeles Angels four picks later at the 174th selection. MLB.com states that Minacci has one of the most pro-ready setups so far, and advised that Minacci "…could become one of the first 2023 draftees to reach the Majors." Minacci, who has been the closer for Wake Forest Baseball Head Coach Tom Walter's squad the past two years, has 21 career saves, and will look to make saves on the next level, as well. Minacci was one of the first Demon Deacons to sign his pro contract at $328,500.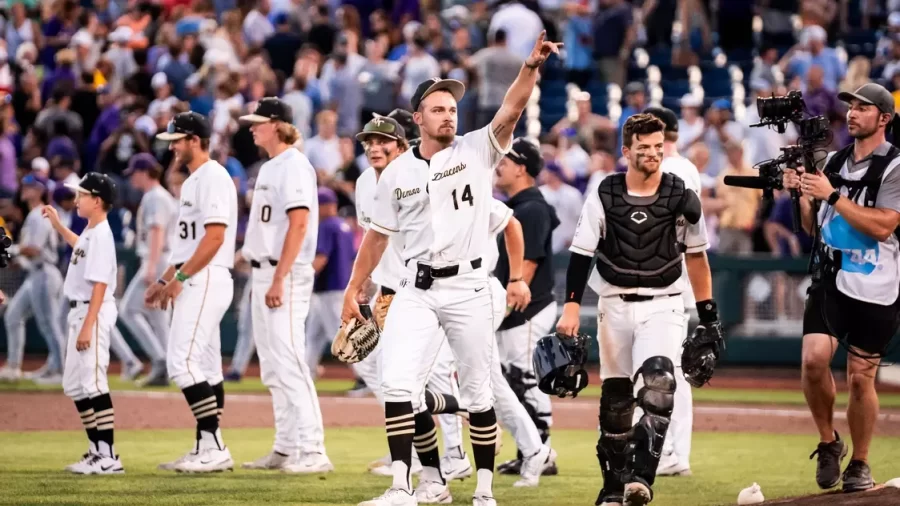 Tommy Hawke was the seventh Demon Deacon to be taken in six rounds when he was drafted 188th overall by the Cleveland Guardians. Despite constantly outplaying his size, Hawke always used plate discipline and speed to help leadoff the lineup for the Demon Deacons this past season. His small frame should not be a worry on the professional level, especially as his measurables are comparable to current all-stars Ozzie Albies and José Altuve. So long as he makes base, Hawke will often use his speed on the basepaths to his advantage.
In the final 10 rounds, only two Wake Forest players were selected, with most having gone earlier in the draft. In the 10th round, middle infielder Justin Johnson was selected 289th overall by the Kansas City Royals, marking the fourth Demon Deacon to be selected from a different American League Central organization. Johnson, a transfer from Lafayette, finished with a First Team All-ACC selection to go along with a Most Outstanding Player-worthy performance in the Winston-Salem tournament regional. Johnson has shown the ability to "pop off" and get hot at the plate, including when he had a 5-6, 8 RBI game against the Pittsburgh Panthers in late April.
Finally, within the last two overall selections of the draft, one last Demon Deacon was chosen — outfielder Pierce Bennett. Affectionately known as "Benny Barrels" this past season, Bennett was selected 613th overall by the Philadelphia Phillies. After starting 60 games for the Demon Deacons this past season, Bennett proved to be a durable option that can perform when put up to the task.
Overall, Wake Forest ended up with a program-record of 10 selections — the most in the ACC and the second-most of any collegiate program this year (only behind LSU). 
Despite losing so many crucial players, the Demon Deacons are lined up to have multiple highly-regarded prospects in next year's draft, as well. Most recently, two players have been performing well with the U.S. Collegiate National Team this summer, between returning pitcher Michael Massey and incoming Wingate transfer Seaver King. Meanwhile, first baseman Nick Kurtz has been a long-heralded prospect, and pitching phenom Chase Burns recently announced via social media that he is transferring to Wake Forest from the University of Tennessee. 
It is evident that Wake Forest is fostering a baseball community that is striving to develop the most out of its players and can place them in a position to succeed at the next level.