For two hours on Saturday, it was Mother Nature's pairing of thunder and lightning that ravaged the Allegacy Federal Credit Union Stadium turf. For three-and-a-half hours afterward, it was Wake Forest's powerful and flashy running combo of thunder and lightning that tore up the Vanderbilt defense. 
Sophomore Demond Claiborne (26 rushes, 165 yds) and redshirt freshman Tate Carney (13 rushes, 117 yds, TD) carried the Demon Deacon offense on their shoulders on the way to a 36-20 victory over the Commodores. 
"Offensively, that's as well as we have run the football here in a long, long time," Head Coach Dave Clawson said.
The Sept. 9 win marked the first time Wake Forest had two 100+ yard rushers since Christian Beal-Smith and Kenneth Walker III did so against Campbell in 2020. The dominant outing against Vanderbilt comes a week after Wake Forest's modest 98-yard running effort against Elon. 
Story continues below advertisement
"We did what we had to do based on how we were being defended," Clawson said. "There's no mystery to what we do. If you're gonna load up the box on us, we're gonna throw it. If you're going to play light coverage, we have to run it. [Vanderbilt] played a lot of what we call Okie Front, they played some three safety defense, and they gave us a look that you have to run the ball against."
The offensive game plan was clear from the start — well, the second start. Five plays after the 11 a.m. kickoff, storms enveloped Winston-Salem and rained out any momentum Wake Forest gained from a 50-yard interception return from Malik Mustapha. Once play resumed two hours later, and Matthew Dennis chipped in a 25-yard field goal, an amped up Claiborne started chipping away at Vanderbilt defenders, collecting first down after first down.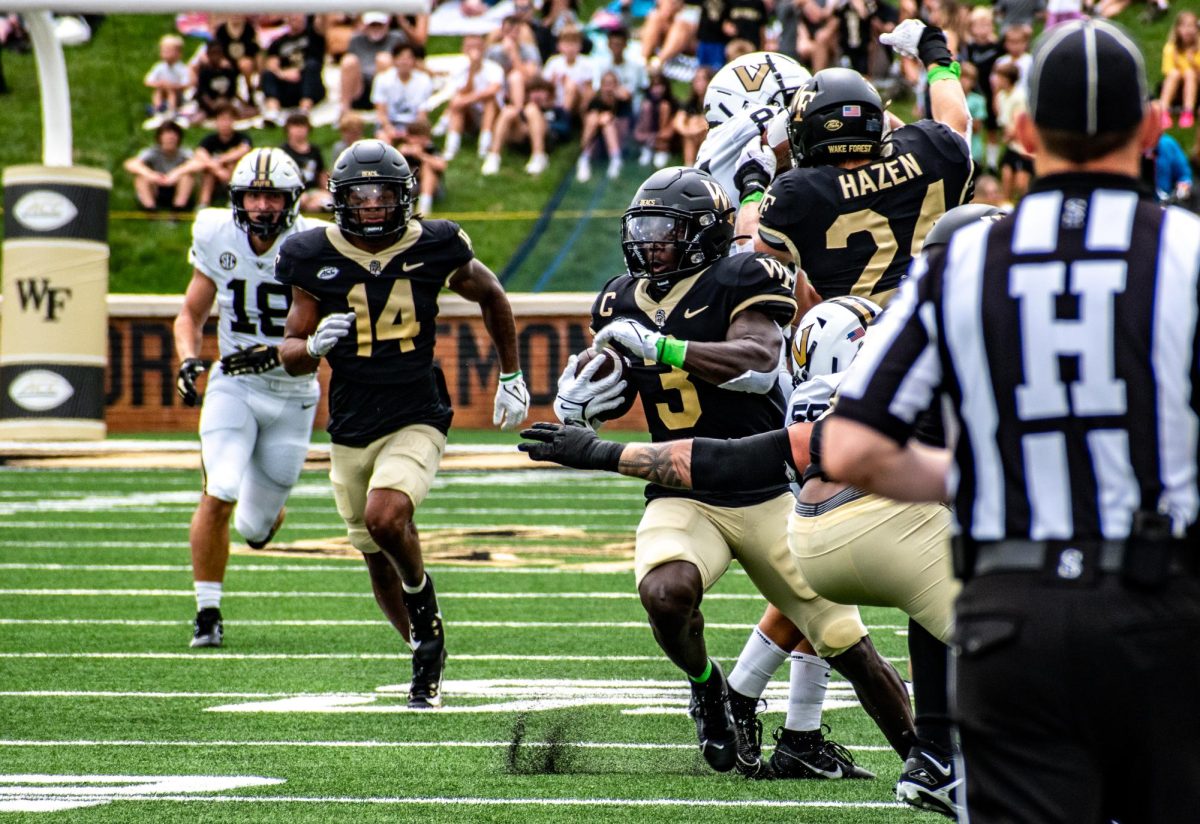 The sophomore found out earlier in the week he would be the starting running back after Justice Ellison suffered an injury in Wednesday's practice. This would be Claiborne's first career start and only his sixth collegiate game taking running back snaps, which allowed for redshirt freshman Tate Carney the opportunity to take his first running back snaps, as well. 
"When [Carney] gets in the game, I'm so excited for him because I know we've been through so much as a group," Claiborne said. "Also with [Ellison], like we've all been together, and we really wanted this and grinded. Going into the Elon game was kind of frustrating because we really couldn't run a ball that well, but coming back and [Ellison] going down, me and [Carney] knew that we had to step up."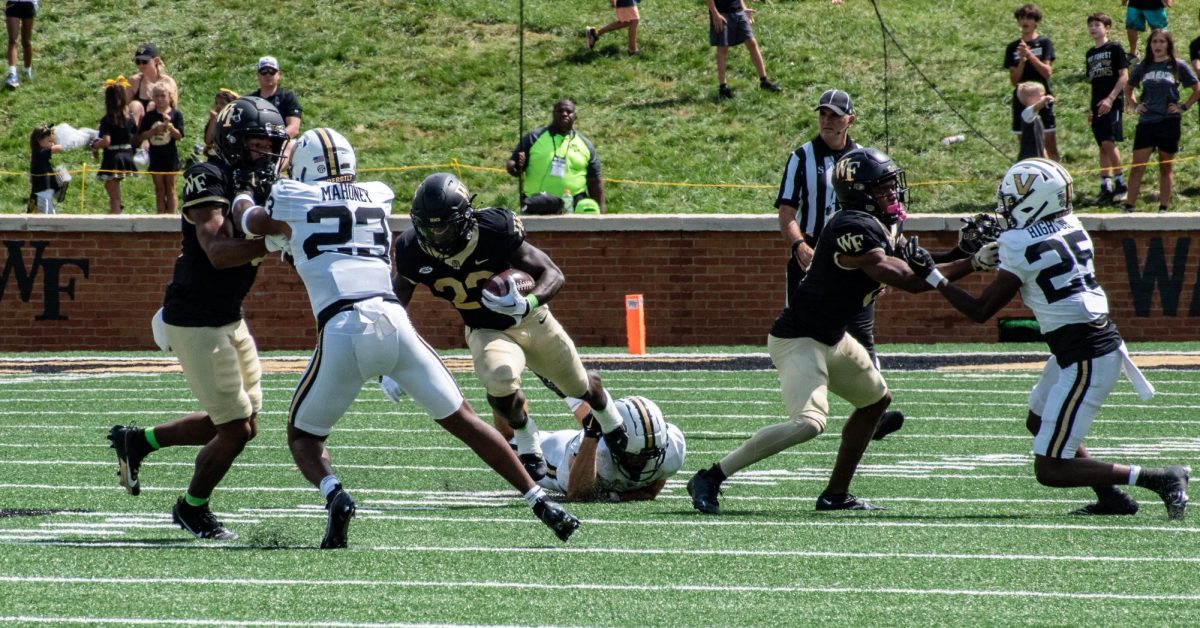 Claiborne, the quicker and more elusive of the two young backs, accounted for 10 of Wake Forest's 28 first downs — nine of which were on runs of 11 yards or more — while Carney, the bruising battering ram, tacked on a 74-yard tightrope run himself. Carney got chased down inside the five-yard line and fumbled the ball at the goal line a few plays later, but the redshirt freshman was able to contribute a touchdown in the second quarter. 
For the second straight game, Jacob Roberts stepped up for the injured Chase Jones at linebacker. The NC A&T transfer caused a sack and 11 tackles, including one during a crucial fourth down goal line stand. Cornerback Caelen Carson was second on the team with 10 tackles. 
Jasheen Davis (7 tackles, 1.5 TFL, sack) and Kendron Wayman (7 tackles), the anchors of the Wake Forest defensive line, were able to provide consistent pressure on Vanderbilt quarterback AJ Swann (26-for-39, 314 yds, 3 TD, 2 INT) forcing quick throws resulting in Mustapha and DaShawn Jones interceptions or a Chelen Garnes deflection (7 tackles, 3 pass breakups).
However, more often than not, Swann was able to connect with wideouts Will Sheppard (8 rec, 87 yds, 2 TD), London Humphreys (4 rec, 109 yds, TD) and Jayden McGowan (6 rec, 72 yds) for big gains. 
Redshirt sophomore Mitch Griffis ended the day 17-for-26 for 192 yards and two touchdowns — a back corner jump ball fade to Jahmal Banks (4 rec, 34 yds, TD) and another floater to Ke'Shawn Williams (5 rec, 92 yds, TD). 
Although he did not match his stats from the previous week, the quarterback was in no foul mood.
"After the first quarter, I was like 'I might throw for 25 yards today,'" Griffis joked. "That's cool, if that's what wins the game, I am more than fine with that."
Both Clawson and Griffis noted overall improvements from the signal caller in his second start of the season in terms of decision-making, ball awareness and game management. Vanderbilt was able to sack Griffis only once, as compared to Elon's four, which Griffis claims was "on him." 
Wake Forest will look to maintain their run production in their first road matchup of the season next week. The Demon Deacons (2-0) travel to Old Dominion (1-1) on Sept. 16. Kickoff is set for noon.