At the World Cultural Festival last week, Wake Forest students gathered around Manchester Plaza to celebrate a convergence of cultures, paired with snacks, music and various performances.
"It's a really great opportunity to see the different backgrounds of students on campus, especially since we only get to know a certain amount of students on a personal level," said senior Georgia Cowie, president of the Italian Club. "It's fun to learn about where they are coming from and what types of traditions they bring to campus."
At the event, which was put on by the Intercultural Center, students saw a glimpse of about 10 student organizations that are committed to representing their given identity across the Wake Forest campus. Some that were represented include the Italian Club, Global Village, Black Student Alliance, Japanese Studies Club and Organization of Latin American Students (OLAS).
"It's always important to know what kind of organizations you have that are making diversity known on campus and all-around inclusivity," said sophomore Natalia House, a representative for Global Village, a Living Learning Community who live together for an academic year and explore a global theme through curricular programming. "I think it's important to also learn about different cultures, and it's kind of fun to just get a taste of what Wake [Forest] is doing for diversity and inclusion."
Story continues below advertisement
Each with their own table, student leaders shared facts about their organization's culture often through informational activities or cultural foods. At the Japanese Studies Club table, student leaders were teaching origami, inviting passers-by to fold flowered sheets of paper into butterflies.
Attendees were also invited to enjoy a series of performances ranging from instrumental pieces to unique dances, each representing a different culture and its values. Deacon Dhamaal, an Indian dance club, entertained audience members with a vibrant presentation, and the Wake Forest Chinese Ensemble played traditional Chinese classical music for guests.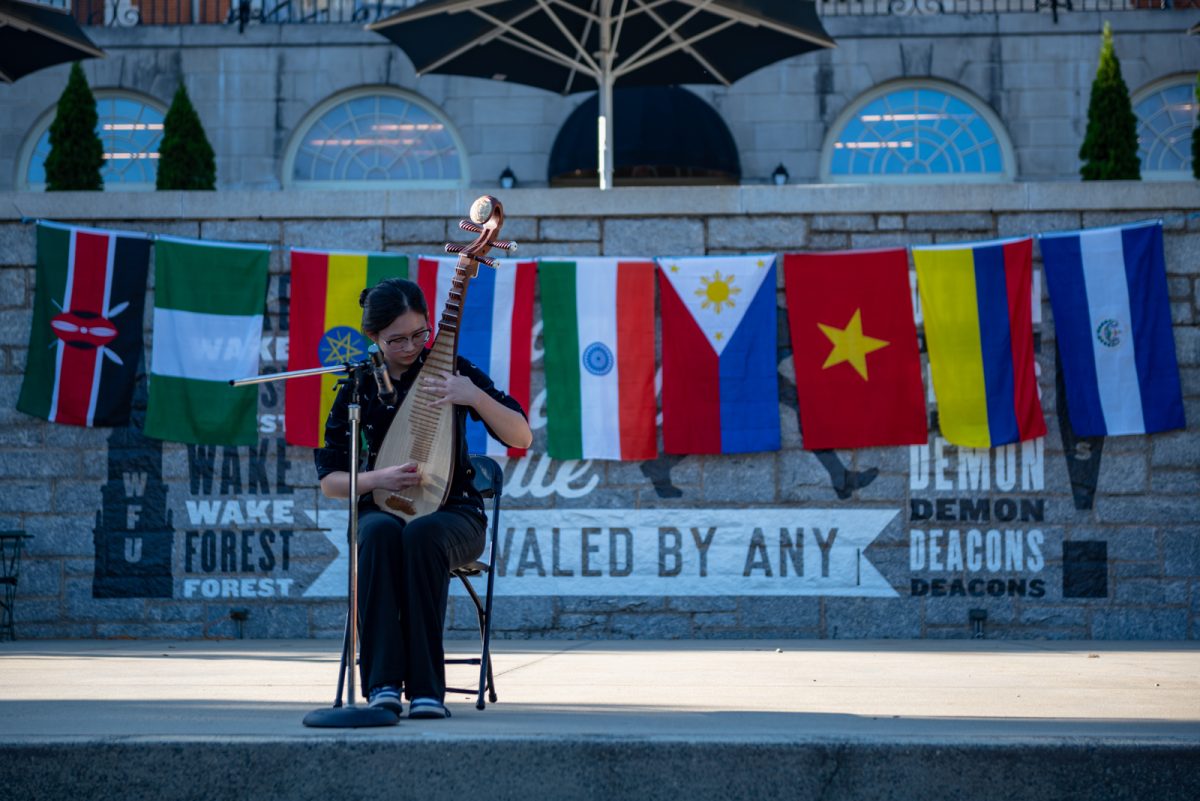 Student organization leaders were eager to speak about their devotedness to their organization and why they chose to be advocates for their group.
"I first got involved trying to find representation of my culture on campus, and just being at the events I found a good sense of community," said senior Jesse Orozco, a representative for OLAS. "It became very important to me that I not only get more involved and be on [the executive board] but give that same feeling to underclassmen that could be feeling the same way I once did."
Senior Annie Phan, who is involved with the Japanese Studies Club, explained the importance of building community among student organizations focused on promoting and celebrating cultural diversity. 
"It's rare we can get all of these cultural organizations to come together," Phan said. "I feel like because cultural organizations are inherently minorities at Wake [Forest], it's important to have a space where we can talk to each other."
Orozco echoed Phan and emphasized the importance of showcasing these organizations on campus. 
"The impact [of the festival] is just highlighting different cultures and different organizations that at times don't have the space to really shine," Orozco said. "It is also bringing out that exposure to others to know that these organizations and clubs are present where people can find community and where they can help make Wake Forest feel more like home."
Update Oct. 8, 2023: This article has been updated to reflect the Intercultural Center's role in planning the event.