Last week, the Sexual Health Ambassador Group (SHAG) held Wake Forest's third annual Sex Week where SHAG reported a record-breaking 567 students participated in sponsored events that promoted sexual health education and destigmatized sex.
"Empowering sexual health can lead to happier, healthier students," senior Jenna Kirsh, one of the founding members of SHAG, said. "It's a really great week that educates people on the importance of sexual health, consent, just makes more awareness and normalizes talking about sex."
The events began Monday, Nov. 5, with "Sex Trivia" in Shorty's, where students competed in sexual health trivia to win free Sex Week T-shirts and enjoyed free brownies. On Tuesday, students attended a talk where experts shared advice and information about female orgasms. 
On Wednesday, students competed in "Race to the Finish" where they learned the correct way to put on a condom after racing through an inflatable obstacle course on Manchester Plaza. On Thursday, students stopped by SHAG's tables in Benson University Center to participate in the "Solar System to Sexploartion" where sex-related prizes were given after students completed four sex-education activities to enter a raffle. Finally, Sex Week concluded on Friday with SHAG's "Sex on Wheels," in which SHAG members delivered free condoms and supplies around campus.
Story continues below advertisement
 "I Love Female Orgasms"
On Tuesday, 180 students attended an "I Love Female Orgasms" talk in Pugh Auditorium with authors Marshall Miller and Lindsey Fram. Miller and Fram are both involved with the sexual health education organization Sex Discussed Here!, which Miller founded with his partner, Dorian Solot.
The speakers covered areas of sexual health that most high school curriculums leave out, such as sexual pleasure and orgasms, porn's negative impact on body image, communication with partners, normalization of different sexual preferences, techniques to orgasm with a partner or alone; female sexual anatomy such as the clitoris and the benefits of masturbation.
"Sexuality is a source of a lot of joy for people, but it's not necessarily a guarantee that people have the education as far as understanding their own bodies and being comfortable communicating with a partner," Miller said after the talk concluded. "So even if you're not planning on putting any of this information to use, no harm can come from being educated. [Being educated] is what college is all about."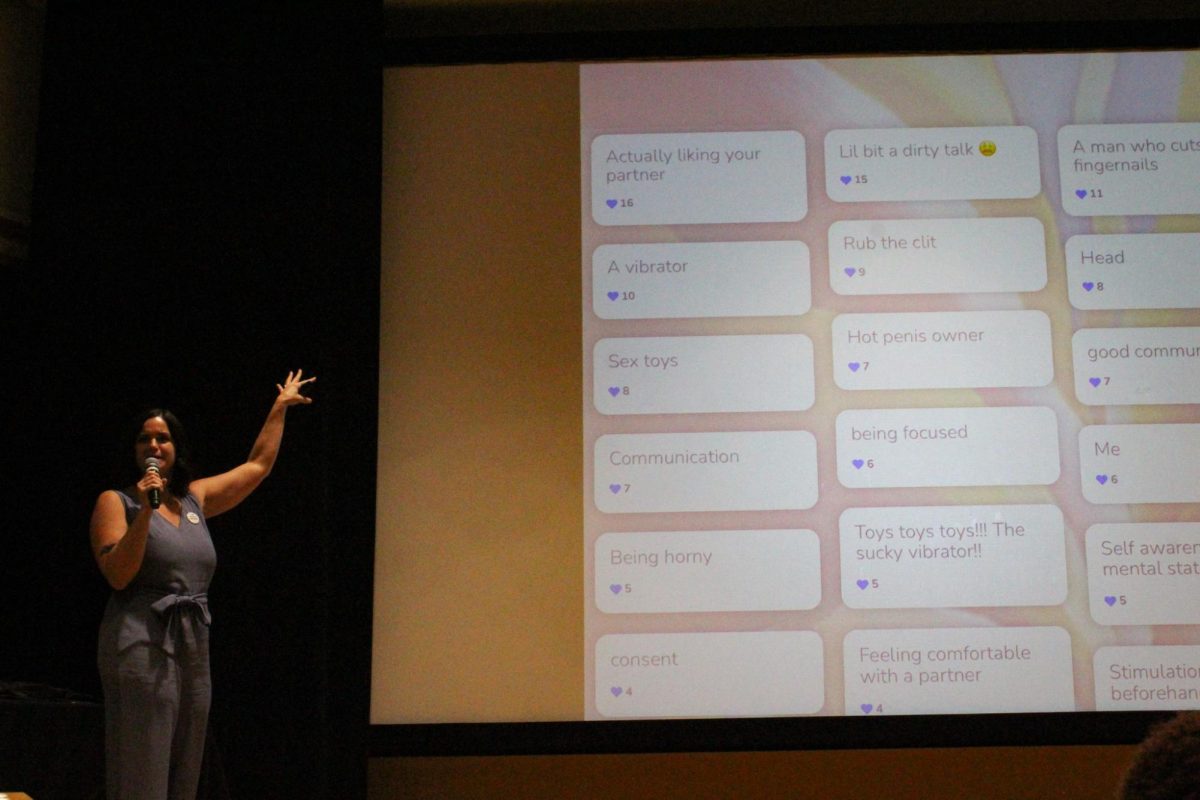 Students were able to submit responses and participate in polls that the speakers sent out anonymously. The questions and polls focused on debunking misconceptions and falsehoods around orgasms and self-pleasure. The conversation was open to people of all sexualities and identities but focused on the importance of gender equity when it comes to the "Orgasm Gap."
The Orgasm Gap refers to a statistic from the Journal of Sex and Marital Therapy that found that 81.6% of women do not orgasm from penetration alone, whereas 95% of men report usually or always orgasming during sex. Approximately 5-10% of women have never orgasmed, but 59% have faked an orgasm. A recent study also found that a significant orgasm gap exists in college life, as well. Orgasms have impressive physical and mental health benefits such as boosting fertility, heart health and your immune system in addition to releasing hormones that help decrease anxiety and promote connectedness.
The Old Gold & Black spoke to two students who attended the event. Both students, who were freshmen, requested anonymity, which the Old Gold & Black granted due to the intimate nature of topics discussed at the event.
"I did not expect the [event] to be so informational and so comfortable," said one anonymous student.  "[My sex education] was mostly about infections, abstinence and how to avoid pregnancy and not a ton about actually having sex."
Another student had a similar experience with their church's sex education.
"The only education that I received was in sixth grade, and it was essentially he, she, we and God," the freshman said. 
As Miller and Fram pointed out, the lack of thorough sex education in high school curriculums contributes to the Orgasm Gap and is partially what inspired Miller to co-write his book, "I Love Female Orgasms," as well as travel to hundreds of colleges to give talks and share tips, tricks and information.
According to Kirsh, SHAG believes that prioritizing sexual health will help destigmatize female pleasure and make campus a better place for women. 
In only the two-and-a-half-years since SHAG's founding, she has watched her organization grow from four members to 35 members, and she has seen student participation in Sex Week expand.
"In our first year, we only did one event that was 'I Love Female Orgasms,' and we had about 180 people," Kirsh said. "Last year, we had 'Sex in the Dark and Sex Toys,' and we had a total of 400 people at all of our events throughout the week.."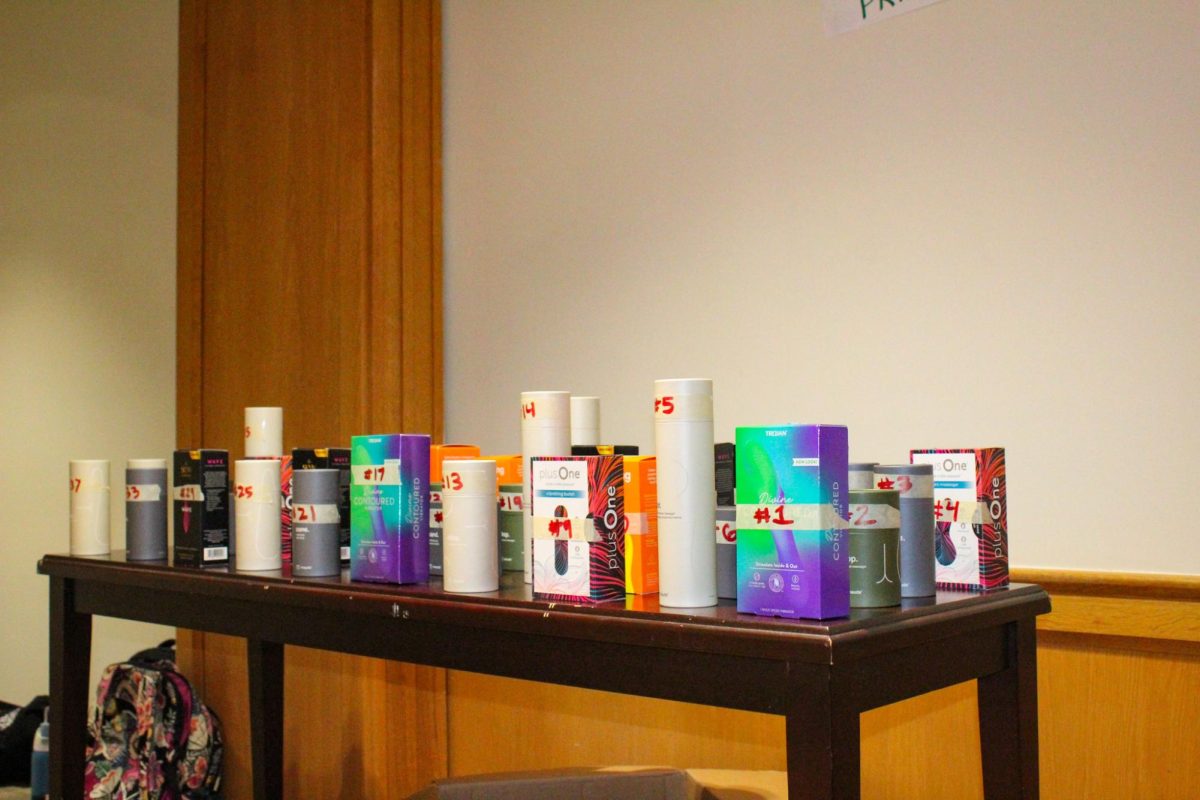 "I Love Female Orgasms" drew a diverse crowd of students with a significantly higher number of male students than the previous year, according to Kirsh. One potential cause is an outreach campaign  to Interfraternity Council chapters, National Panhellenic Council chapters, and professional and service fraternities as well as other clubs on campus. 
"So, we say if [fraternities] have 20% of their members come, they can write a letter to their nationals saying that they're promoting sexual health and learning," Kirsh said of SHAG's outreach to campus organizations. "I think that does get an increase of male students. By promoting in those ways and targeting certain groups, I think that does help us get a ton of different students at our events."
As another incentive to draw students, SHAG gave out 40 sex toys, including vibrators, to students who attended the events. After Miller and Fram's talk, students were told to reach under their seats to see if they could locate a lucky red ticket that would earn them a free vibrator. The room broke into excitement as students searched below their seats and adjacent seats in their row for tickets.
 Participants of the "Solar System to Sexploration" event on Thursday had a chance to win prizes, as they raced to complete four activities that educated them on birth control, STIs, pleasure and anatomy. After finishing, students were entered into a raffle where they had the chance to win "I Love Sober Sex" T-shirts, vibrators, butt plugs, water bottles and other prizes.
Freshman Maddie Smiley, a member of SHAG, helped run the event.
"I went to Sex Trivia one of the first weeks of school, and I joined the club after that," Smiley said. "It's really exciting to see all of my classmates go to these events and have a great time with them — and in the greater context, of course, I think that it serves a good purpose in terms of educating people as to their own sexual health and how to get people out of their shells." 
As Sex Week comes to a close, SHAG's work continues. They will continue to run the "Safer Sex Express" a program that discreetly delivers free condoms, pregnancy tests and safer sex supplies to students' P.O. boxes.  Interested students can fill out an order form that can be accessed through their Instagram, @wfusafersexexpress. 
"We love to have people come to our events and just keep talking about sex," Kirsh said. "These conversations can lead to really great things."