Men's soccer defeats first two teams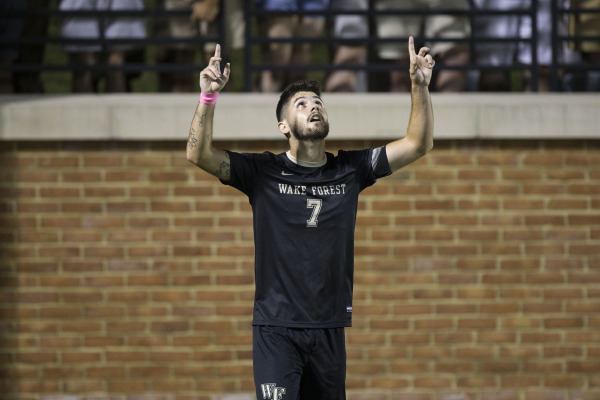 As expected from the No. 2 team in the nation, Wake Forest secured their first win of the season in a matchup against Rutgers at the W. Dennie Spry Soccer Stadium.
After a shaky first half, the Wake Forest team managed to score three goals in a 10-minute span. The team was led by the brilliant performances of Jon Bakero and Brandon Servania. Both players combined for a total of five assists and three goals.
In the first half, Wake Forest started to dictate the game and apply heavy pressure on the Scarlet Knights, until they finally scored thanks to Jon Bakero. But despite the early dominance, Erik Sa for Rutgers scored during a free kick attempt to tie the game. After the goal by Sa, Wake Forest lost some of their rhythm and went into halftime in a tie.
Coming out of the break, the Demon Deacons got back on track with consecutive goals by Servania and Logan Gdula. The game began to really open up, and the Demon Deacons triumphed with a final score of 5-1.
After losing midfielders Harkes and Hayes to the MLS last season, one would expect their replacements to struggle at the start of the season, but due to the impressive performance by Servania, Chol and Justin McMaster, the midfield is far from deterioration.
When asked about Servania's performance Coach Muuss commented "It was first-class. What he did defensively to create the opportunities that we had to put Rutgers on their back foot. Him and Jon [Bakero] did a great job defensively tonight." He also added, "We pride ourselves on being a stingy, organized defensive team. We were not stingy during in the first half. Our kryptonite here and in the last three games [was] fouling good teams and good players in dangerous areas. It is worth pointing out that the Scarlet Knights lone score originated from a foul committed by Wake Forest just outside of the box.
Following the first game, we interviewed Servania about his amazing first official game wearing old gold & black:
How is the feeling of officially playing for the first time as a Demon Deacon?
It's crazy, I mean, it's a dream to be on such a great team.
How about scoring the first two goals in your college career?
I don't worry about that. I came out and tried to do my best for my team, and it just happened to fall that way. Just gotta thank my teammates for working hard and hopefully there is more to come.
What is the main area of the game do you think there is still room for improvement?
I still think organization, especially on defense. The goal they scored on us, we weren't focused. I don't know, keep working hard.
Talk about that connection between you and Jon Bakero, you guys did some pretty nice plays together.
In preseason, I had a pass to him, but I took the shot instead. The same went for him. We [both] like to defend, and realized that in order for us to win games, we have to play with each other well. I am just glad we could score a few goals.
In the second game, Wake Forest immediately started putting pressure on the other team that culminated in a nice pass from Eddie Folds to Luis Argudo who hit an open shot inside the box.
A couple of minutes later, assisted by a Servania corner, Kevin Politz headed one in to increase the lead. This game, Wake Forest defended better and created offensive plays with more consistency. Considering that Providence has a more explosive attack than Rutgers, it was quite a feat that the Demon Deacons were able to keep them contained through the first half. It was the defensive job that coach Muss was talking about.
To open the second half, Servania connected on a beautiful pass to Argudo, who scored his second goal. During the second half, Wake Forest didn't show the defensive consistency that was the staple of the first half. Liam Wilson for Providence took advantage of a Wake Forest defensive miscue to score Providence's lone goal on the match.
Demon Deacon goalkeeper Mundet made various key saves to secure the Demon Deacon's advantage. Jon Bakero, scored the final goal of the team's eventual 4-1 win.Servania was able to execute at an extremely high level, entrusted by coach Muss to be the playmaker and facilitator for his teammates.. The freshman already has four assists in two matches, to go along with two goals scored.
As of now, the defensive consistency is the only main concern. The Deacons did a fine defensive job, but seemed to go through fundamental lapses from time to time.
Overall, the Demon Deacons had a pretty good start and got the job done during the first two home games. This season is just starting, but the team already have a lot of promising stories to keep a close eye on.
If the first two games are any indication of where might be heading, great things are in store for this team.
Wake Forest will play at St Louis for their first away game, this Saturday at 8:00 pm ET.
The last time both teams faced each other was last season, during a 1-0 loss at home by the Deacs.