Previewing the ACC football season
There are definitely a lot of questions surrounding the logistics of the football season. Will it even happen? How will Georgia Tech, NC State, Duke and Wake Forest play at Syracuse, when the state of New York requires visitors from North Carolina and Georgia to quarantine for two weeks? Clemson has unveiled a plan to allow 19,000 fans at home games, but the rest of the ACC has been mostly silent. I won't pretend to have any amazingly insightful answers to the preceding questions, but I think my lifelong obsession with college football and my professed clairvoyance make me particularly well equipped to predict some on field results I can only pray we are fortunate enough to witness. 
Our beloved Demon Deacons will enter the season with two massive personnel losses. Starting quarterback Jamie Newman transferred to Georgia in April, and just recently Biletnikoff semi-finalist Sage Surratt announced he would be opting out of the season due to COVID-19 concerns. Surratt's decision, coupled with the graduation of Kendall Hinton, Scotty Washington and Steven Claude leave several gaping holes in the Demon Deacon receiving corps. That being said, I expect that redshirt freshman Donavon Greene, and to a lesser extent Nolan Groulx, will burst onto the scene in a few weeks time. 
Also, I do not expect that the transition from Newman to Hartman will be as big of a step down as the national media proclaims it will — but let's not forget Hartman beat out Newman for the job as a true freshman in 2019. I actually believe that Hartman will be able to run the RPO a little faster than Newman did, which will hopefully result in more chunk yardage. Defensively, I expect the Deacs to be solid but unspectacular. Redshirt senior, edge rusher Boogie Basham will wreak havoc on opposing backfields, but the secondary will likely be a work in progress with few upperclassmen. On special teams, I can't imagine the team performing much worse than they did last season, so expect improvements in that department. 
Around the ACC, most people agree it will be a two-team race. Clemson, behind star quarterback Trevor Lawrence will be an obvious favorite, but I believe they will fall to Notre Dame in November when they travel to South Bend. Notre Dame will pick up a loss somewhere down the line (probably at Wake Forest or at North Carolina) but will win the regular season by tiebreaker. 
North Carolina will also have a decent season, but their 6-4 ACC record will be more of a product of a favorable ACC schedule (no Clemson or Louisville) than Sam Howell's dominance. In typical fashion, the Tar Heels will underperform for their talent but still be hyped-up by the national media. Scott Satterfield and Louisville will continue to rebuild from the mess inherited by Bobby Petrino and the Cardinals will likely finish towards the top of the ACC. One can only hope that some bigger program comes along to rescue Satterfield away from the morally corrupt hodge-podge that is Louisville. 
The middle of the ACC will be a mess of mediocrity. Virginia Tech, Florida State and Miami (FL) will continue their recent trends of looking solid in some games and inept in others, while Wake Forest, Pittsburgh and Virginia will stumble towards a .500 ACC season.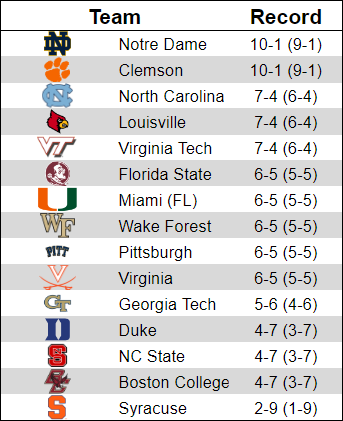 If things turn out as expected, here's what the ACC will look like come December (Graphic courtesy of Charlie Benedict Old Gold & Black)
Georgia Tech will take their next step forward under second year coach Geoff Collins, but they are still a couple years away from becoming a serious contender in ACC play. Collins has galvanized support for the Yellow Jacket program, but transitioning from an option attack to a pro-style offense isn't easy. Duke will see improved quarterback play from Clemson transfer Chase Brice, but there really isn't enough talent around him to make much of an impact for the Blue Devils. Duke coach David Cutcliffe is betting heavily on Brice breathing some fresh air into his program, but there's only so much a one-year rental can do. Expect Cutcliffe to be out of Durham in the next 2-3 years. 
The NC State faithful will grow ever more disgruntled with coach Dave Doeren following a losing 2020 campaign. The Wolfpack, lacking a strong presence under center, will likely struggle on offense for most of the season before somehow beating North Carolina. 
Boston College will regress from the seven-win status quo established under Steve Adazzio, but they could potentially be headed for greener pastures under new head coach Jeff Hafley. Syracuse will be the conference's worst team, further cementing the Orange's 10-3 2018 campaign as one of the oddest in recent history. 
The 2020 football season — if it even happens — will certainly be odd. The 10+1 schedule will be a hit with fans, but it's doubtful the format is here to stay unless there's a dramatic shakeup in collegiate athletics in the post-COVID-19 world. Perhaps more interesting to see will be what happens to the Big Ten and PAC-12 if the rest of the country is able to complete a season. 
Undoubtely, 2020 will be wild. Star players have and will opt out, serious adjustments will be made, and Wake Forest will beat Notre Dame in September. Maybe.