High Climate Tea offers ideal getaway
Health anxd wellness starts with a beverage that has a rich culture and history — tea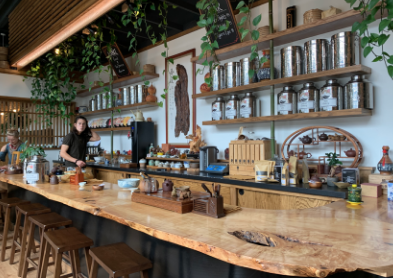 As the health and wellness industry continues to expand, people are paying more attention to their health and what they are putting into their bodies. With the current surge in popularity of kombuchas and seltzers within the beverage industry, I have noticed many recent trends are due to the result of an increasingly health-conscientious society.
While the health and wellness industry isn't going away anytime soon, a new page is turning for artisanal tea culture and loose-leaf teas. I believe that gongfu tea and Chinese loose-leaves will continue to gain prominence because they provide an avenue for those seeking healthy alternatives to coffee or alcohol. In addition, the presence of gongfu brewing teahouses emerging in more cities across America is facilitating its social aspect: bringing people together.
Gongfu tea is a style and method of brewing tea that originated in 18th century China. In essence, gongfu means "time and effort." I believe brewing tea in this manner allows one to practice mindfulness like the many Zen practitioners who incorporate gongfu tea as part of their mediation practice.
High Climate Tea, located in Asheville, N.C, first opened during the summer of 2019. Today, it is the only artisanal teashop in North Carolina specializing in Chinese loose-leaf teas.
At first glance, the physical design and layout of the teashop convey a sense of both traditionality and modernity making it very approachable and accessible for those experiencing gongfu tea for the first time. In the words of the owner, the design of this space was very intentional. He stated the design is "a marriage of multiple cultures." It includes design philosophies from Chinese 'feng shui,' Japanese tearoom aesthetics and local Asheville themes.
The teashop is split into two separate areas: "Tea Lounge" and "Tea Bar." The Tea Lounge is for those who want to drink a single tea which they brew themselves. Conversely, the Tea Bar provides a 50-minute experience where one may choose any five teas from the wall of teas. Next, the owner will take you through the brewing process and discuss the tasting notes of each tea.
When you order yourself a tea from the menu at the Tea Lounge, you are presented with your own gongfu tea utensils for brewing including a tea tray to collect the "rinse brews," a teapot to steep the leaves in, a fairness glass to distribute the infused tea and a teacup and saucer. A personal thermos is provided with unlimited hot water.
The pricing of teas on the menu in the Tea Lounge ranges from $7-$15 USD, depending on the tea you order. The Lounge offers a wide variety of teas, with a selection ranging from tisanes to green, white, oolong and pu-erh tea. The pricing for the Tea Bar experience is a fixed $15 for 50-mins and two infusions of any five flavors. During my visit, my friend and I each tried a different kind of tea at the Tea Lounge. I ordered the '30-year aged pu-erh' and my friend got a kind of oolong. We chatted over gongfu tea for an entire afternoon. The teas lasted a good two-hours with over 15 infusions!
As you decide on your next weekend getaway, my recommendation is to visit High Climate Tea. If you are brand new to gongfu tea brewing and Chinese teas, then I recommend the Tea Bar experience. The staff is super outgoing and you will learn and experience the amazing health benefits of the teas while spending a wonderful afternoon bonding over tea by yourself or with some friends.