If it seemed like the Wake Forest women's soccer team dominated Thursday's matchup against Idaho State, that's because they did. Wake Forest ended up in control of the ball for more than an hour and wound up taking 34 shots — 10 of which were on goal, and three of which went in. For comparison, Idaho State posted zeroes in those same categories.
This was the first shotless clean sheet for Wake Forest since Oct. 9, 2022 against Miami.
Impressively, the physical Demon Deacon defense smothered the Bengal offense more than the dry afternoon heat. Double team trappings and persistent pursuits kept Idaho State in their half of the pitch for more than 80% of the match. 
"It's hard in these games to focus defensively all the time because you're not under a lot of pressure," said Wake Forest head coach Tony da Luz. "Then all of a sudden it happens. But I think everybody was well switched-on in the moments that [Idaho State] had chances."
Story continues below advertisement
The closest thing to offensive production by the opponents was a single corner kick in the waning minutes of the match to no avail. Wake Forest attempted eight corner kicks, mostly by freshman midfielder Dempsey Brown, who da Luz calls the team's most consistent player so far. 
"Dempsey is just so consistent with her service, and it allows us to hit the same spots all the time," da Luz said. "She hits the ball hard. She hits it in the right place. It's a luxury to have that because if you don't have consistent service you can't set anything up."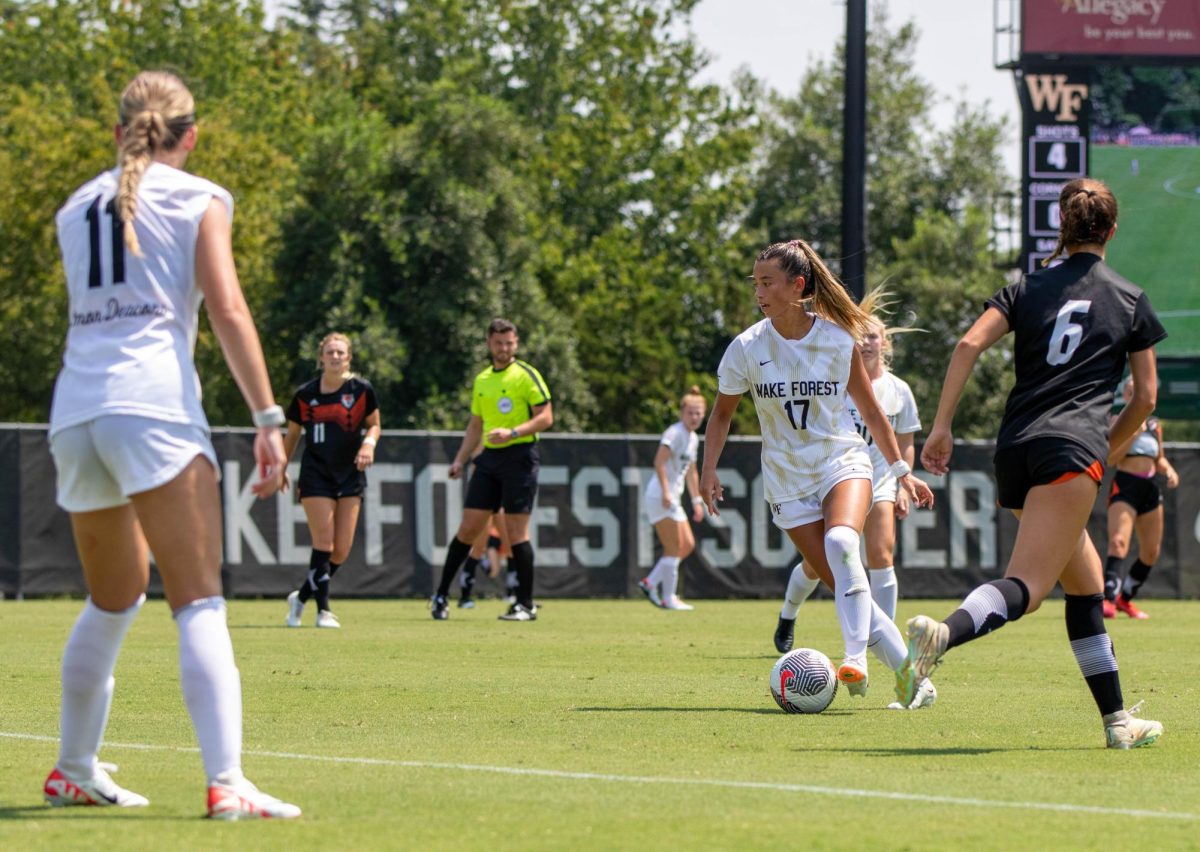 The Demon Deacons struck early, 14 minutes into the game, when midfielder Caiya Hanks booted her second score of the nascent 2023 season on an assist from junior defender Tyla Ochoa. Three minutes later, senior forward Liv Stowell scored her second goal of the season with a strong right foot just past the Bengal goalkeeper's arms. 
Hanks spent the next 42 minutes racing into the left side of the box for putbacks and passes but was unable to connect for anything that counted — a goal during the 54th minute was negated due to an offsides call. The sophomore from Hawaii was able to eventually assist on junior UNC transfer Emily Murphy's first career goal in old gold and black during the 59th minute.
Eighteen players attempted a shot for the Demon Deacons, a team-high for the season thus far. Twenty-four players were able to see the pitch, which da Luz said allows the team a set of fresh legs come their next match. Stamina isn't the only thing that Wake Forest will need for its next opponent, however.
"In the 18-yard box, we just have to be more precise in our running, in our movement and then we have to have more willingness to shoot the ball to take our shots," da Luz said. "We are trying to overplay a lot of the time trying to get one, two extra passes when it's just — get it wide, get the cross-end, run box. We're hesitating in that way."
Da Luz continued: "We have to fix that. It's these kinds of games, 3-0, for us is not a great result…It's a win, yeah, it's three points, that's fine, but we have got to do better in the attacking third otherwise when we play against the ACC, you can't win."
The Demon Deacons (2-0-1) will travel up to Indiana this weekend to face Purdue (2-1-0) on Sunday, Aug. 27 at 1 p.m.