Wake Forest football Head Coach Dave Clawson was not happy on Saturday night. 
If a 17-point halftime deficit for the second-straight week and a two-score, 30-16 loss to Georgia Tech weren't reason enough to be upset, perhaps the five turnovers, eight quarterback sacks or five allowed plays of 30-or-more yards would surely be the kicker. None of these factors likely helped Clawson's mood,  but the Wake Forest head coach's disappointment stemmed from a larger issue. 
"When a team keeps making the same mistakes over and over and over, and they're not learning, that's a sign of a team that's not really well coached," Clawson said. "Our job is to fix the mistakes and correct them, so we don't repeat them…We're just repeating ourselves. We're not giving ourselves a chance."
Quarterback Mitch Griffis (16-for-30, 162 yards, TD, 3 INT) accounted for many of those mistakes, namely a minimal pocket presence which led to three fumbles.
Story continues below advertisement
"It's a problem," Clawson said about Griffis holding onto the ball for too long. "I told him last week that his clock has to speed up, and the defenses are going to speed up as we get into ACC play. It's all Power 5 teams the rest of the way. It didn't happen. Credit to them, they rushed us, they had some blitzes, but it's a four-week problem. We're holding onto the ball too long."
While some of Georgia Tech's eight sacks were due to Griffis attempting to make a play where there was none, many of them were caused due to quick swarming pressure from the Yellow Jacket defensive line, especially junior edge rusher Kyle Kennard (8 tackles, 4 sacks, FF). 
By the second half, Clawson had reconfigured the offensive line, taking Spencer Clapp out at left tackle, moving De'Vonte Gordon from right to left tackle, moving Matt Gulbin from right guard to right tackle and bringing George Sell in at right guard. Clapp sprained his ankle against Elon on Aug. 31 and was still impacted in his play.
"I thought the pocket got a little better [in the second half], because the way they rushed the passer, I thought our tackles needed to be at full strength," Clawson said. "I appreciate what Clapp did, but he was probably at 60-70%. It's hard to pass protect on third-and-long when the other guys are teeing off, and they're 100%."
Afterward, left guard Michael Jurgens wasn't exactly sure how to evaluate the offensive line's play but didn't mince words with the team's overall performance. 
"We aren't getting the job done over half the time," Jurgens said. "That's the reality of it. You just have to do your job every play, and I think we are going to look back, and everybody's got two or three bad plays, and it's gonna hurt us."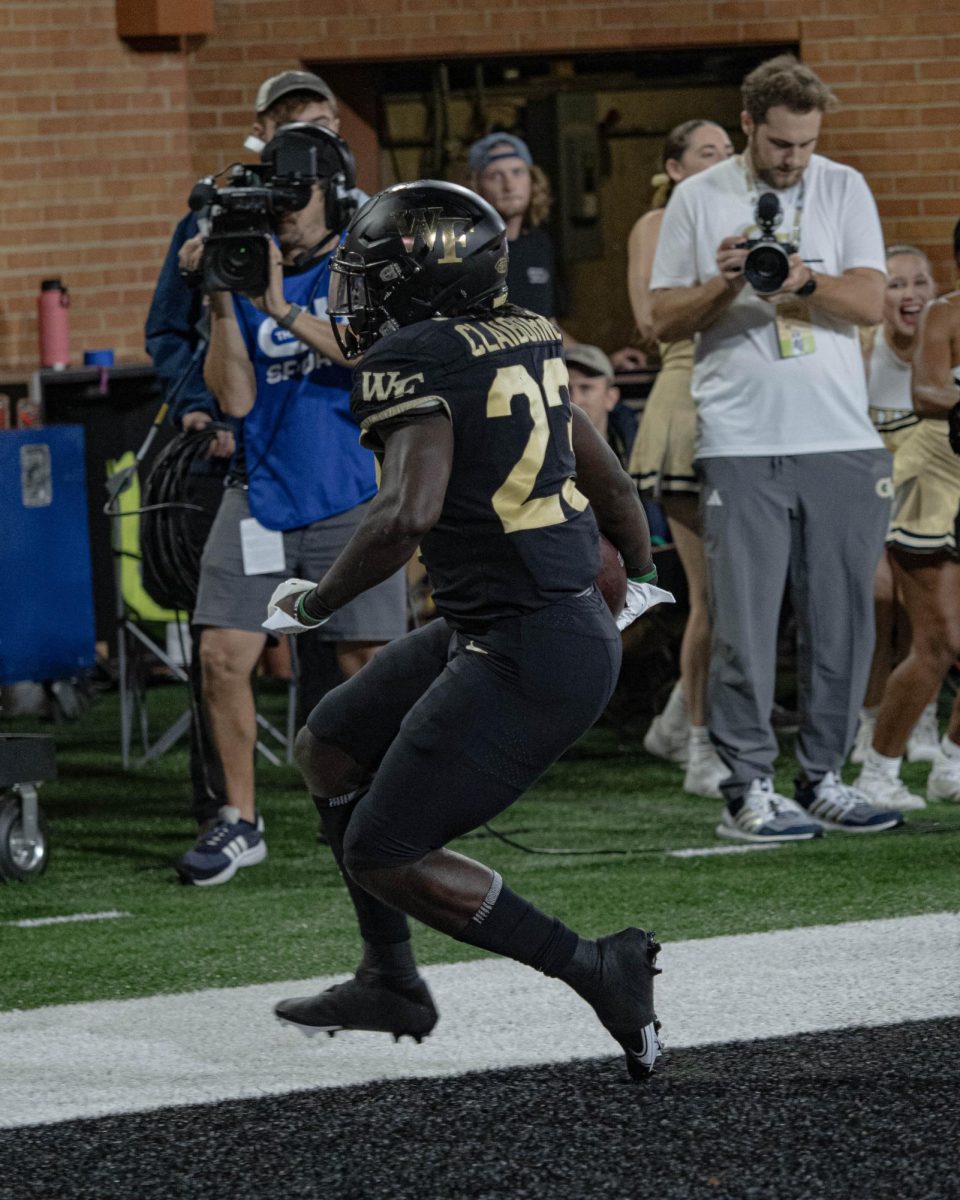 As an offensive silver lining, Wake Forest was able to continue establishing the run game, racking up 224 yards on 52 carries. Junior Justice Ellison (18 rush, 137 yards) led the way for the running back room, breaking off five runs of 15 yards or more. Sophomore Demond Claiborne (13 rush, 42 yards, TD) was able to tack on a score in the second half and break out for large gains but was often stuck in the backfield. 
Georgia Tech was much more successful at establishing a passing offense, as the Wake Forest defense was not able to get any pressure on Georgia Tech quarterback Haynes King (16-for-27, 222 yards, 2 TD, INT). The quick-armed and quick-footed Texas A&M transfer was able to find many of his receivers open down field including Eric Singleton Jr. (4 rec, 50 yards, TD) in the first quarter and Abdul Janneh (2 rec, 47 yards) in the second quarter over blown coverage, both for scores.
The deep ball toss wasn't a total success as many attempts were thrown yards out of Yellow Jacket reach. DaShawn Jones was able to corral one lob in for an interception — his third of the season — and Wake Forest's only turnover of the night.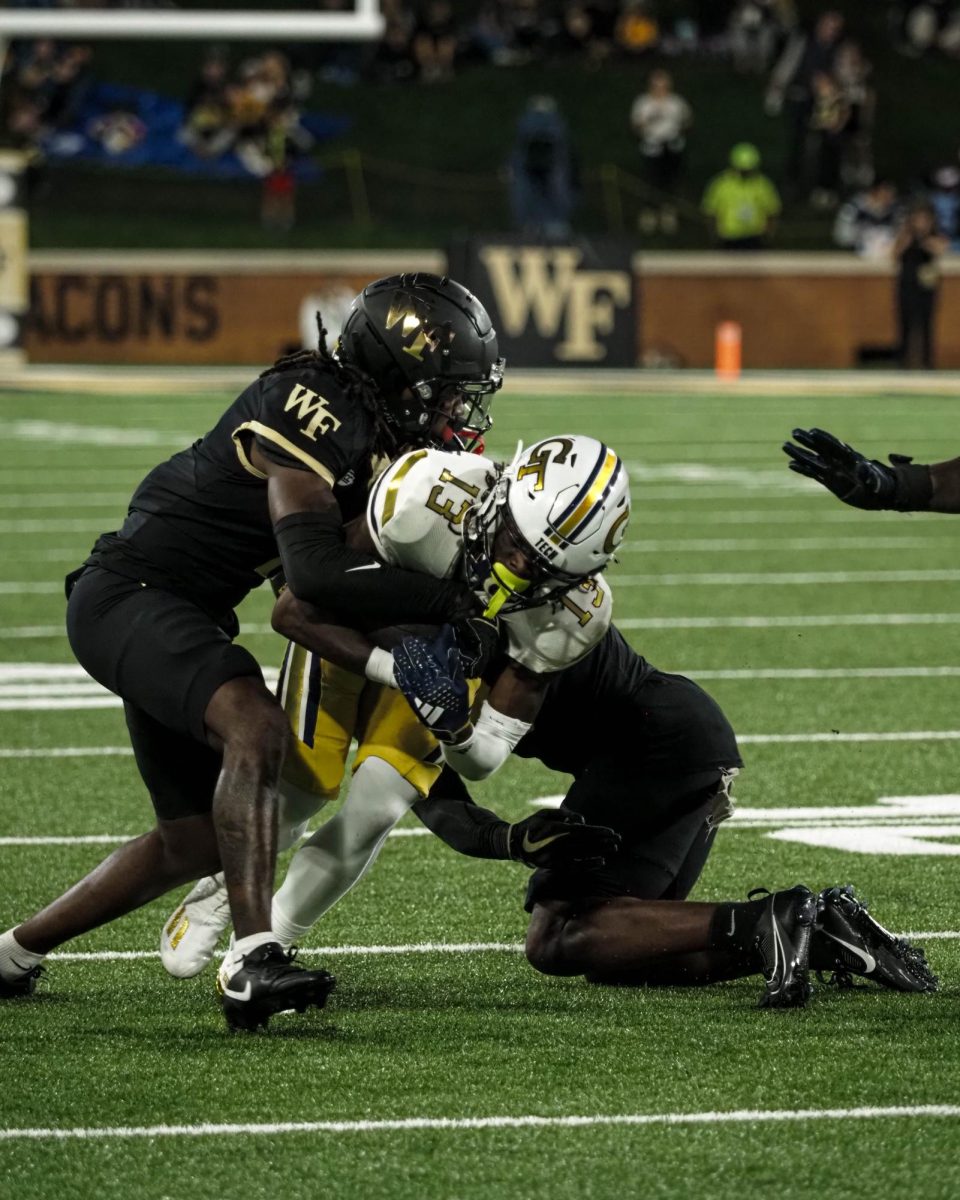 There was a glimmer of hope late in the fourth quarter after the Wake Forest defense forced a three-and-out and were within one score. Boosted by penalties — Georgia Tech committed 14 for 142 yards — Wake Forest was able to maneuver its way to the opposing 21-yard line before a scrambling Griffis underthrew Wesley Grimes (2 rec, 27 yards, TD) and was intercepted. 
Griffis' other two interceptions were incidental (one bobbled by tight end Cameron Hite, the other deflected off a Georgia Tech defender's back), but all were plays that Griffis said "shot [us] in the foot." 
Despite this, Clawson is confident that his  team can use their upcoming bye week to improve on the costly turnovers.
"I think things always get fixed," Clawson said. "You go back and look at 2018, that thing looked like it was heading for the disaster area, but we made corrections and fixed things."
Clawson continued: "That's our job as coaches — to fix the mistakes and fix the problems….You're going against a defense where those guys are on scholarship and are good players, too. We're making the same mistakes, and that's what really frustrates me. We're not learning. We're loose with the football, and five turnovers is awful."
After the bye, Wake Forest heads to Death Valley to take on Clemson (2-2). Kickoff is set for 3:3o p.m.