Wake Forest football beats Duke in upset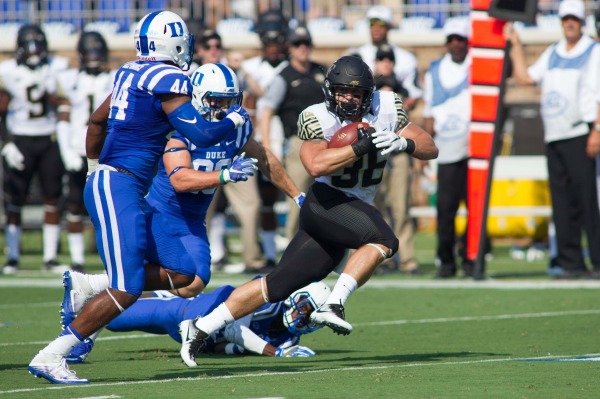 The Demon Deacons shattered expectations on Saturday, coming out of the ACC opener with a 24-14 victory over the Blue Devils.
By eliminating Duke's passing game, executing five sacks, forcing two crucial fumbles and clinching the game with a pick by Brad Watson in the final two minutes, the Wake Forest defense crushed their in-state rival.
"There's no doubt that we were the physical team," breakout player and true freshman running back Cade Carney said. "We really got the tough yards in. We were the ones being the enforcers today."
Quarterback Kendall Hinton and Carney displayed unprecedented chemistry as they outsmarted Duke's defense, promptly gaining 85 yards following a punt return five minutes into the second quarter. After rapidly transitioning between plays, Hinton handed off to Carney, who broke through multiple defenders to score his first touchdown as a Demon Deacon.
This impressive performance earned Hinton the QB position for the rest of the game. Head Coach Dave Clawson commented, "Kendall's the guy that can make plays with his feet. I just felt that we needed a spark, and I thought he could make explosive plays."
Hinton and Carney led Wake Forest's offense to a total of 239 rushing yards. Duke put up a mere 37.
Their rushing success didn't surprise a single Wake Forest player.
"We know that we have a great defense," Carney said. "For 21 days, we successfully moved the ball on our own defense. We just knew, looking back on film from last week, that there were so many opportunities in front of us. So, the concern was not there; it was more of an excitement to show what we are capable of."
Playing a substantial role in Saturday's victory was Wake Forest's offensive line, which looked tougher than ever before under Clawson.
"We just started pounding 'em, pounding 'em. We could feel the momentum shift, and we could just feel that we were taking over," said left guard and team captain Tyler Hayworth.
With the score at 7-7, the Deacs went into the second half ready to dominate. Wake Forest defensive end Duke Ejiofor immediately sacked Duke quarterback Daniel Jones twice in a row. The second time, his blow forced a fumble, which Ejiofor was quick to recover.
The turnover positioned Wake Forest at Duke's 14-yard line.
Wake persistently gained small increments of yardage until Carney was able to rush 1 yard into the end zone.
The lead was short-lived, however, as Jones, in a matter of two minutes, passed 66 yards to star player Anthony Nash and finally rushed two yards for the score-settling touchdown.Wake Forest took possession with five minutes left in the third quarter and executed the most exciting play of the game.
Immediately following the snap, the offensive line forged a hole large enough for Carney to slip through without being touched by a single Duke defender. He bolted 55 yards to the house, putting Wake Forest in the lead, where they confidently remained.
When asked about his three touchdowns, Carney was humble.
"We got four great running backs right now, and it just happened that I was the guy in there today making plays. but there are four guys very capable of doing everything I did, and that's what's so important and so special. We believe in each other like that."
The 5-11 powerhouse from Advance, North Carolina credits his teammates for his success.
"To be able to be out here and represent my hometown like that and have all the guys that did such a good job in front of me, that's very gratifying."
With Watson's interception and a 34-yard field goal in the fourth quarter by Wake Forest's Mike Weaver, the Deacs secured the sweet victory.
For their extraordinary efforts, both Carney and Ejiofor earned ACC Honors this past week. Carney was named Freshman of the Week for his three touchdown performance. Ejiofor was named ACC Defensive Lineman of the week for his seven-tackle, three-sack outing.
"We're 2-0, and now we've got to work hard. The reward for winning a game like this is the next game becomes more important," Clawson said.
After a triumphant rolling of the quad, Wake fans can watch the Deacs at home against Delaware this Saturday, Sept.17.