Football remains undefeated while breaking old records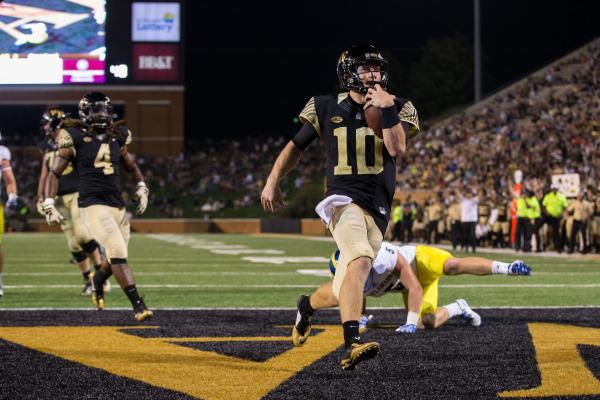 After wins against Tulane and Duke, the Demon Deacons kept their momentum going to beat the Delaware Blue Hens 38-21 on Saturday.
The Deacs held their opponent to less than 100 total yards which hasn't been accomplished by Wake Forest since 1952.
Wake Forest's defense was simply too tough for the Blue Hens to measure up to a team that averaged 335 rushing yards a game could only put up 56 against the Deacs.
"We knew Delaware was a physical football team, so we just had to be more physical," said Coach Dave Clawson.
"The front defenders set the tone by getting penetration and allowing the backers to scrape, take run-throughs and make plays. Then we got 'em at third down."
From rushing and passing combined, the Blue Hens were only able to achieve five first downs the entire game.
Not only did Wake Forest's defense prove to be rock solid, but the offense had no difficulty making plays either.
The Deacs gained more than five times Delaware's offensive yardage and managed to possess the ball for twice as long.
t's apparent after only three games that Wake Forest has a far more dangerous offense this season.
"We have a lot more good players in our program," said Clawson. "Now we can run plays and wherever the ball goes, we feel good about it. We have confidence running the football on third down. When you can do that, it really opens up your playbook."
The Deacs managed to have great success despite the fact that knee injuries took out quarterback Kendall Hinton and running back true-freshman Cade Carney who were responsible for 21 points and 172 yards against Duke last week.
"We work to be ready," said sophomore running back Matt Colburn. When one running back goes down, the next one steps up. They have confidence in each other, so it really doesn't matter which one is carrying the ball.
"We're all brothers in the running back room," Colburn said. "Blood couldn't make us any closer. We have to make sure that everyone knows what they're doing all the time. Cade was making sure that I was protecting the football and on my assignments all game."
Colburn and Carney were the first two Demon Deacons to rush over 100 yards in back-to-back games since 2004.
"Matt gets behind his pads and he pushes the pile forward. The defense has a hard time seeing him because he has underrated speed. I think he has grown up a lot the last two weeks," Clawson said.
Wake Forest racked up four rushing touchdowns by quarterbacks Hinton and Wolford and by running backs Colburn and Bell.
Sophomore Alex Bachman scored the Deacs' first passing touchdown of the season when he ran a drag route to the end zone and caught Wolford's four yard throw.
Based on Wake Forest's offensive energy and defensive strength, Delaware's mere 17-point deficit should have been far larger. When a team only achieves 94 offensive yards, they generally manage to score around three to seven points. The Blue Hens, however, scored 21.
Delaware's first two touchdowns were caused by turnovers inside Wake Forest's own red zone. Wolford threw a sideline pass intercepted by Tenny Adewusi, and Delaware defensive back Ray Jones recovered a fumble by sophomore Tyler Bell.
"I'm really disappointed in the two turnovers," said Clawson. "That allowed it to be a more competitive game. Usually if you turn the ball over inside your 20 yards, you lose the football game."
The Deacs also gave up 50 yards in penalties in the second half alone, which helped the Blue Hens score their third and final touchdown.
"A win for us is holding them to the field goal," said red-shirt junior linebacker Grant Dawson. "Unfortunately, we didn't quite get the win."
Turnovers and penalties were the only two areas of play where Wake Forest didn't completely dominate Delaware. These two elements, however, forced Wake Forest to give up a whopping 21 points.
The Deacs will need to hold on to the football if they want to beat the 2-0 Indiana Hoosiers.
"Indiana is coming with tempo. We still have lots of room for improvement, and we need to work on our team defense," said senior linebacker Marquel Lee. "Communication is going to be a big key."
The Demon Deacons will hit the road as the underdog for the second time this season on Saturday, Sept. 24 at 3:30 p.m. to take on the Indiana Hoosiers in Bloomington.
They'll look to keep the offense rolling as they go for the first 4-0 start since 2006.