Football reaches 4-0 for first time since 2006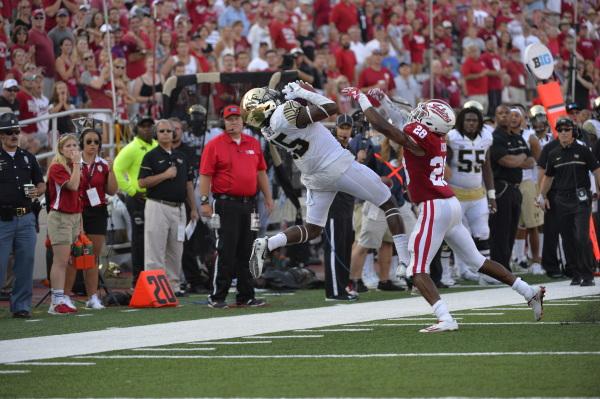 Wake Forest football improved to 4-0 for the first time since 2006 after handing Indiana their first loss of the season.
Many fans who tentatively believed the Demon Deacons could win at a Big Ten school for the second time in history lost hope when, in the first play, Indiana receiver Nick Westbrook took a short pass 75 yards to the end zone.
The Deacs, however, exhibited the mental toughness that has been characteristic of their style of play this season and refused to let that touchdown set the tone.
"I'm really proud of the way that we just kept playing, regardless of the scoreboard, regardless of the situation," said head coach Dave Clawson.
The Demon Deacons answered with three touchdowns and a 46-yard field goal before the Hoosiers could get another point on the scoreboard.
"It starts Tuesday morning in full pads. If you know you're prepared well, then, no matter if you give up a big play, the scheme will come together, and you will be able to execute the defense," said sophomore linebacker Jaboree Williams.
Wake Forest was outrun by Indiana but proved not to need those yards to rack up touchdowns. Last week, Delaware put up 21 points with less than 100 yards by taking defensive risks and forcing turnovers. This week, Wake Forest employed the same strategy even more effectively against the Hoosiers.
The Deacs executed five interceptions and scored 17 points off those turnovers.
The team's greatest strength, both defensively and offensively, is that their talent isn't concentrated in a few exceptional guys. The overall chemistry and flexibility have allowed new key players to emerge in every game and the team to dominate even when some skilled players are injured.
Redshirt freshman Jessie Bates led the defense with eight tackles, a pick six, an additional interception and a recovery of Indiana's final onside kick. He was rightfully named the ACC's Defensive Back of the Week.
Twelve different players have each gained over 50 offensive yards for the undefeated Demon Deacons this season.
Neither Kendall Hinton nor Cade Carney played against Indiana due to knee injuries. Despite the loss of the two powerhouses, the Deacs maintained steady confidence.
When overcoming injuries, team resilience has been crucial for the Deacs.
"It shows that we have some depth," said quarterback John Wolford. "We have guys that were able to step in and still win a football game, so some of these injuries aren't as catastrophic as they would have been in previous years. Guys are prepared. Any given moment they can go in, so they have to prepare like they're a starter in order to play well. I think we are doing that and building this momentum, and we have to keep it going."
They have kept that momentum rolling on both sides of the ball for four straight games.
"Our offense answered the ball every time they had to and consistently got it back to a two-score game,"said Clawson.
"I think any time you can go on the road and beat a Power Five team in their stadium, you have to be proud of your football team."
Wake Forest remained in the lead after the first few minutes of the second quarter, achieving a 33-28 victory over Indiana.
The Demon Deacons' endurance, preparation, and adaptability have set them apart not only from Wake football teams of recent years, but also from many other 2016 Division I teams.
They're well on their way to the AP Top 25 Rankings for the first time in seven years.
"Our team has a lot of confidence now, but the challenge gets tougher," said Clawson.
After winning four football games in a month for just the 10th time in school history, the Deacs will open October by heading to Raleigh and taking on the NC State Wolfpack on Oct. 1 at 3:30 p.m.