Men's tennis claims first ITA championship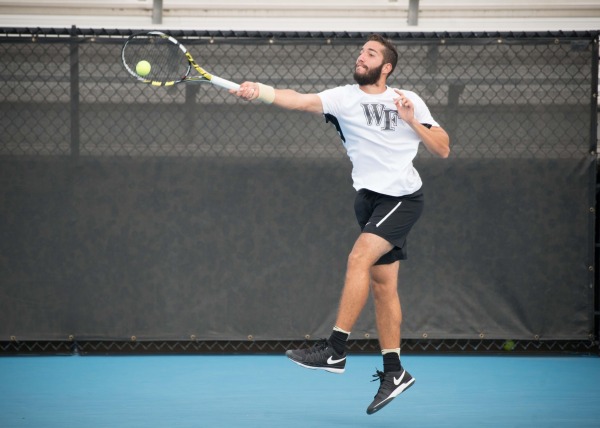 The Wake Forest men's tennis team used a combination of power and grit to conquer a school record.
Previously, only Romain Bogaerts ('16) from Belgium had made it to the semi-finals of the Intercollegiate Tennis Association All-American championships (ITAs); this past week, however, sophomore Petros Chrysochos, from Cyprus, became the first deamon deacon to ever win the ITAs. In fact, he defeated six top-50 opponents on his way to victory. But this wasn't simply an individual victory, it was also a team triumph.
At the semifinal stage of both singles and doubles competition, Wake Forest athletes made up a quarter of the players still left in the competition. Other than Chrysochos, who was one of the four semifinalists, juniors Skander Mansouri and Christian Seraphim were two of the eight players left in doubles play. Their teamwork was remarkable as the two were able to dominate their quarterfinal opponents; they triumphed in consecutive sets over the No. 26 ranked pairing of Notre Dame, 6-0, and 6-1.
Furthermore, at this point of the event, Wake Forest was the only school to have players in both singles and doubles competition. Though participating in the doubles play, Christian Seraphim entered the tournament unranked in the singles draw by winning two rounds of qualifying. More impressively, he beat Kentucky's No. 15-ranked William Bushamuka, 6-4, 6-4 before being eliminated in the next round.
Most notable was the play of redshirt freshman Alan Gadjiev from Uzbekistan. The Intercollegiate Tennis Association All-American Championships is one of the most difficult tournaments to make a collegiate debut in. I would also argue that it is the most competitive competition on the calendar. Regardless, sophomore Alan Gadjiev showed true composure in his first collegiate match which he won defeating No. 125 Gabor Csonka (LSU), 3-6, 6-4, 6-2:
What was the biggest aspect of your game, either mental or physical, that you worked on while redshirting last year? And how excited are you to be finally competing this year?
I mostly worked on my physical game, but my mental aspect has improved too. Coming to Wake Forest, I mostly lacked in stamina, however, having put in so much work conditioning on track and court, I am now able to maintain high intensity in shots and movement throughout a long rally and match. As a result of being in better shape, my mental capabilities also improved; honestly, because team practices were extremely demanding, the matches didn't seem as bad anymore. Secondly, I feel more confident knowing that if the match goes the distance, my body will able to cope with it. It's great to finally be able to play college tournaments. The experience greatly differs from all the events I've been part of on the junior and the pro circuits.
After winning your first match in the ITA qualifying draw, what part of your game were you most happy with? What was your strategy going into the tournament?
I am mostly happy about the mental aspect of my game. We had to play in tough conditions, so I liked how I kept my composure and fought back after losing the first set.
In the weeks prior to the ITAs, what did you focus on? Did you receive any advice from the older players on your team?
As a team, we focused a lot on fitness in the weeks leading up to the tournament. We tweaked our warm-up, workout and stretching routine to be more tennis specific. Personally, I focused on defensive patterns and serve. The older players gave me the same advice almost anyone who sees me play gives me: stay calm and be more process rather than result oriented.
What are your personal objectives? Are they ambitious since you are clearly surrounded by extremely talented tennis players?
In my opinion I have everything I need to reach the goals set by myself and the coaches, its just a combination of hard work, self-discipline (on and off court) and, of course, luck. It inspires me when I see fellow teammates succeed.
Having beaten them in tie-breaks or sets a few times in practice, it just puts a thought in my head that tells me "Well if they can do it, so can you."