Men's tennis sweeps weekend slate
The Demon Deacons improve to 21-6 overall and 5-1 in the ACC
This past weekend, men's tennis picked up victories against No. 39 Louisville (11-8, 2-6), No. 50 Notre Dame (10-11, 1-6) and UNC Greensboro (4-17, 0-5) in a two-day home stretch. 
On Friday, Wake Forest took to the Winston-Salem Tennis Center's courts to face off against the No. 39 Cardinals (21-6, 5-1). The Demon Deacons won the first doubles match to start the day. Graduate student Jurabek Karimov and junior Luciano Tacchi defeated Etienne Donnet/Sergio Hernandez (6-1) on Court 2. Soon after, the Cardinals' top doubles team of Fabien Salle and Natan Rodrigues, ranked 15th in the nation, struck back against junior Filippo Moroni and senior Juan Lopez de Azcona with a victory on Court 1 (6-3).
The doubles point came down to the match on Court 3. In the end, seniors Melios Efstathiou and Matthew Thomson defeated Will Mayew and Alex Wesbrooks (6-2), which put the Demon Deacons up 1-0 heading into singles.
After battling back from a break down in the first set, Tacchi ran away with his singles match on Court 5, defeating Hernandez (6-4, 6-1) to put Wake Forest up 2-0. Moments later, Louisville earned its first point of the day with a win on Court 3, where No. 50 Salle defeated Matt Thomson (6-4, 6-4) to put the Cardinals only one point away from Wake Forest.
By the time the sun began to set, four matches remained undecided. However, it was Karimov who came through first. After winning six straight games to close out the first set, he sealed the match against David Mizrahi with a forehand winner crosscourt (6-2, 6-3).
About two hours after the first shots of the day, the eyes in the crowd were drawn to Court 6. There, Lopez de Azcona had gone from a comfortable first set (6-1) to a 31-shot rally to break a second-set tiebreaker over Andre Steinbach. This sealed the 4-1 victory for Wake Forest.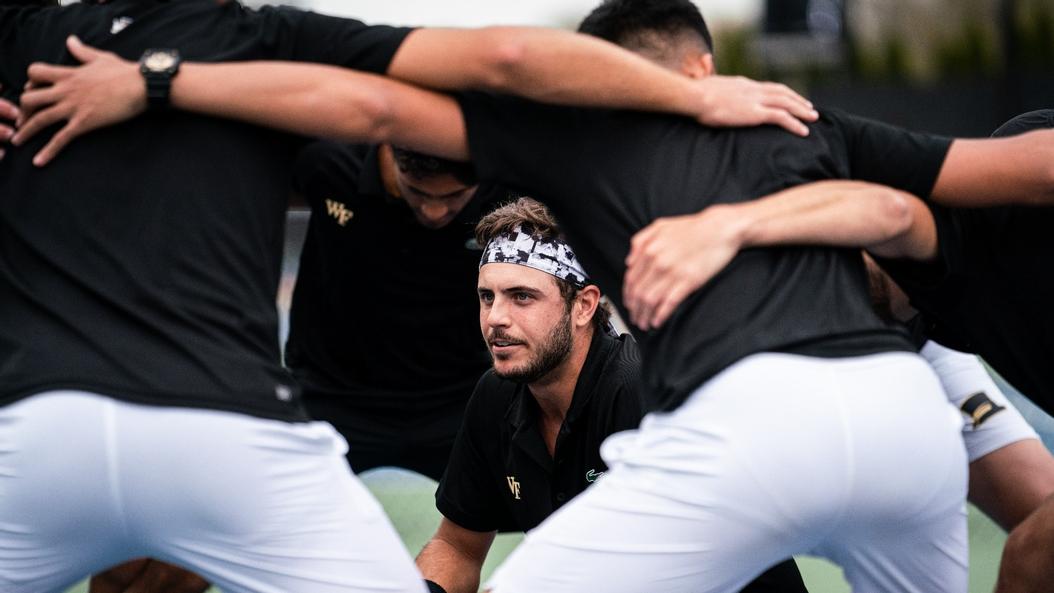 On Sunday, after the courts had dried from the morning showers, Wake Forest faced off against No. 50 Notre Dame, defeating the Fighting Irish 6-1.
On Court 3, Efstathiou and Thomson faced off against Notre Dame's Evan Lee and Yu Zhang and lost (6-2). 
On Court 2, Moroni and Lopez de Azcona were battling No. 16 doubles pair Matthew Haplin and Jean-Marc Malkowski. The two teams traded breaks throughout the match, but the Demon Deacons earned an upset victory against the Irish (7-5). 
In the decisive doubles match, Karimov and Tacchi overcame Sebastian Dominko and Connor Fu to put Wake Forest ahead 1-0 entering singles. 
On Court 2, Moroni defeated Fu (6-2, 6-0) to put Wake Forest ahead 2-0. He is now undefeated in his last 10 singles matches.
Then, Lopez de Azcona extended the lead another point, defeating Jameson Corsillo on Court 6 (6-3, 6-0). With his win, the Spaniard senior maintained his undefeated singles record in duals.
On Court 4, No. 103 Karimov clinched the match for the Demon Deacons, earning a victory over Malkowski (6-3, 6-3). Although Karimov's win secured the victory for Wake Forest, the two teams decided to play out the remaining three matches. Wake Forest took two of these with wins from Thomson and Tacchi, but the Demon Deacons' top singles player, Efstathiuo fell to No. 24 Dominiko (7-6[1], 6-4). 
In the second leg of Sunday's doubleheader, the Demon Deacons faced off against UNC Greensboro's Spartans in the evening. 
Thomson and Efstathiou defeated David Flisberg and John Gabelic on Court 1 (6-1). However, on Court 3, the Spartans' Wyatt Cannon/Harrison Gwynn defeated freshman Saud Alhogbani and sophomore Noah Hahn (6-4) in Hahn's first official match for Wake Forest. 
The Spartans ended up on top in the doubles, with Christopher Johns and Tymofiy Khrystyuk coming back to defeat freshman Božo Barun and sophomore Vikas Deo (7-5).
Although the Demon Deacons were down 0-1, they stormed back to win 12 of 13 sets in singles to finish their day. On Court 2, Moroni defeated Gabelic (6-0, 6-1) to put Wake Forest on the scoreboard, followed by an Alhogbani victory over Johns (6-2, 6-1). Alhogbani has yet to lose a set in a college singles match. Barun picked up a win against Devon Moskowitz on Court 5 (6-4, 6-1). In the decisive match, Efstathiou re-entered the win column, defeating Khrystyuk (6-2, 6-4).
With Wake Forest leading 4-1, both teams agreed to play out the two remaining matches. On Court 6, Deo defeated Andrew Black (6-3, 6-2). To cap off the weekend, Karimov went the distance against Flisberg on Court 3 (6-2, 3-6, 1-0 [10-5]) in order to seal a 6-1 victory over the Spartans.
Next weekend, Wake Forest faces No. 21 Duke (13-5, 6-1) on March 31 and No. 13 North Carolina (14-5, 6-1) on April 2.