A hurricane couldn't stop the Demon Deacons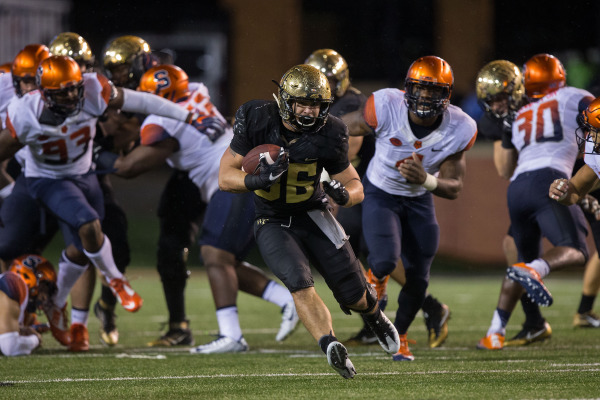 Despite the raging winds and pounding rain of Hurricane Matthew, the Demon Deacons scored four touchdowns on Saturday night for a 28-9 victory over ACC foe Syracuse. Both teams struggled in the brutal conditions to move the football down the field and to hold onto it.
Wake Forest attempted to punt after their first drive, but the snap flew over freshman punter Dom Maggio's head all the way to Wake's three yard line. Maggio scrambled to scoop it up but lost the ball when he was hit by Syracuse linebacker Parris Bennett. Wake Forest semior fullback Charles Argenzio jumped on it for a safety.
The play was recorded as a negative 45-yard team rush followed by a fumble.
With the score at 2-0, — Syracuse with four yards and Wake Forest with negative 39 yards after five minutes — the Demon Deacons decided to focus on field position and work out an effective, conservative strategy instead of taking risks in the violent downpour.
A combination of quick passes and successful runs by Wake Forest junior quarterback John Wolford resulted in a seven yard touchdown for the Deacs.
"It's one of those wins that wasn't always pretty," said Coach Clawson. "It started out rough, but it just seems that every time we had to respond, we responded."
After a touchdown from the Orange, the Wake Forest offensive line responded by forcing a hole for Wolford to sneak through and sprint 37 yards for the Deacs' second touchdown.
With 10 seconds left in the first half, Syracuse quarterback Eric Dungey fired the ball towards the end zone, attempting to take the lead. Wake Forest resd shirt cornerback Amari Henderson jumped up and snatched it instead at the goal line, allowing Wake Forest to head into the second half with a 14-9 lead.
Following halftime, both teams managed to hold each other to minimal yardage, but Wake Forest did so more effectively, as Syracuse couldn't manage a single first-down in the third quarter.
Freshman Cade Carney ran three yards for a touchdown at the end of an impressive drive consisting of repeated short rushes, a pass to sophomore Chuck Wade and a pass to Cam Serigne. Serigne has now had a reception in all 30 consecutive games that he has played.
"We remind ourselves to still play to win," Carney said. "Run to win and not to play out the clock. We felt the running backs and John Wolford ran to win, the offensive line blocked to win, and the receivers blocked to win. When you put that together, you get what we have right now, and we feel good about it."
Carney made it back in the game this week after sitting out the last three games due to a knee injury. He rushed 104 yards in addition to his touchdown.
Wake Forest scored its first three touchdowns after powerful drives of more than 75 yards.
"Those are the types of drives that you really push for, and I don't think you've seen before from Wake Forest where you close out a game. So that was very encouraging for us with the weather and other variables considered," said quarterback John Wolford.
Coach Clawson was especially proud of the team's resilience and ability to take advantage small opportunities to create big plays.
"Every win we get is a grind, but that's the nature of our team. Nothing has come easy and that goes from year-one to year-three. But our guys are starting to get rewarded for all their work," Clawson said.
Syracuse head coach Dino Barbers was impressed by this offensive transformation.
"You have to take your hat off to Coach Clawson and his staff. In the third year of their program, you can see that this is a different Wake Forest team. I'm looking forward to getting my program to the stage he has in his third year."
An incredibly strong defense complemented the Demon Deacon offense on Saturday. Wake Forest held the Orange to 168 passing yards — just over half of their previous season low.
Wake Forest senior Marquel Lee was named ACC Linebacker of the Week after a career-high 15 tackles and two sacks against Syracuse.
With less than two minutes left in the game, Wake Forest senior defensive back Brad Watson flung Syracuse ball carrier Jordan Fredericks to the ground, forcing a fumble that was recovered by Cameron Glenn and returned 83 yards for a touchdown.
The Deacs came out of Saturday's Family Weekend game with an impressive victory and will head to No. 14 Florida State next week.