Demon Deacons can't hang with Seminoles on the road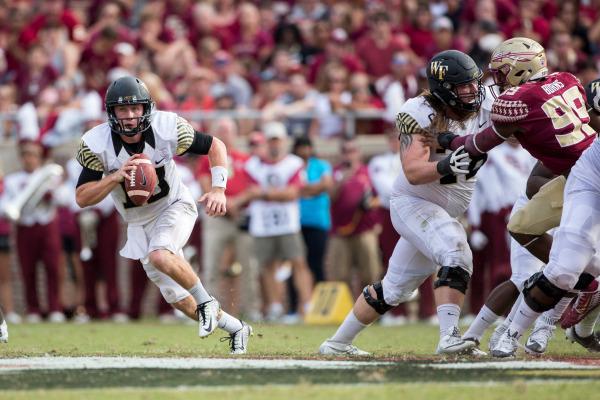 On Saturday, the Wake Forest football team travelled to Tallahassee to take on No. 14 Florida State after an impressive home victory on Oct. 8 against Syracuse.
A powerful Wake Forest offense would face an exceptional challenge against the stacked Seminole defense.
"Defensively, their line is all 300 pounds," said head coach Dave Clawson. "Certainly DeMarcus Walker is one of the best defensive ends in the country. He will play as an end, he will play inside, he blocks extra points to win games. The linebackers press you up and man you up, and their ability to close space because of their athleticism is different."
The Florida State offense would be even more intimidating, as they have remained in the yop 25 offensive teams throughout this season.
"They are one of the best-coached offenses we face every year," Clawson said. "They've got a big, physical offensive line. They've got a collection of receivers that are all playmakers. You can make an argument that they have the best tailback in the entire country in Dalvin Cook, and Deondre Francois, the quarterback, is a future star. He just makes throws beyond his years."
The transformed 2016 Wake Forest football team arrived at Doak Campbell Stadium ready for the challenge.
By the end of the first quarter, Florida State managed to take the lead with a field goal. It was quickly answered, however, with one by Wake Forest senior Mike Weaver, tying the game at 3-3. A faulty Wake Forest snap almost resulted in a turnover and touchdown for the Orange against Syracuse, but the Deacs managed to only give up two points with a safety.
The Deacs weren't quite as lucky in Tallahassee.
The Seminoles took advantage of a poor snap on a Demon Deacon punt, their third turnover of the first half, to set up a short touchdown drive that ended with a two-yard rush by quarterback Deondre Francois.
Florida State took the 10- three advantage into halftime, and the Deacs prepared to fight even harder.
The Wake Forest football team physically competed throughout the game, and the defense held the Seminoles to just 17 points.
FSU hadn't put up less than 24 points against Wake Forest since 2008.
For the second week in a row, senior Marquel Lee led the Demon Deacon defense with nine tackles while forcing two fumbles that were recovered by Wake Forest. Josh Banks forced another and returned it for 39 yards to the FSU red zone.
"The defense played their tails off," Clawson said. "The whole game we held them down except for one drive. We gave up a lot of yards, but we got off the field on third down and our defense gave our team every opportunity to win that football game."
The Seminoles more than doubled Wake Forest's offensive output despite four FSU fumbles.
"Florida State has a lot of weapons," Clawson said. "Dalvin Cook had a good game; I thought we limited him a little bit. He didn't get those big breakout runs he got against us a year ago. But he's a heck of a player."
The Wake Forest defense proved to be a competitive match for the Seminole offense, but the Deacs struggled offensively.
Even though they moved the ball inside the FSU 30-yard line four times, Wake Forest couldn't score a single touchdown, and Weaver only managed to make two of his three field goal attempts.
Wake Forest ran a mere 68 yards total, and quarterback John Wolford was sacked a whopping five times.
"We couldn't run the ball against them. We didn't get movement. We didn't get push, and then we didn't get enough separation on the perimeter," Clawson said.
Wake Forest's record fell to 5-2 overall (2-2 ACC), but they hope to improve to 6-2 after they take on Army at home on Saturday, Oct. 29th at 3:30 p.m.
The sixth win would make them bowl eligible and hopefully put the Deacons in their first bowl game since 2011, when they lost to Mississippi State in the Music City Bowl.