Wake Forest fails to close against Louisville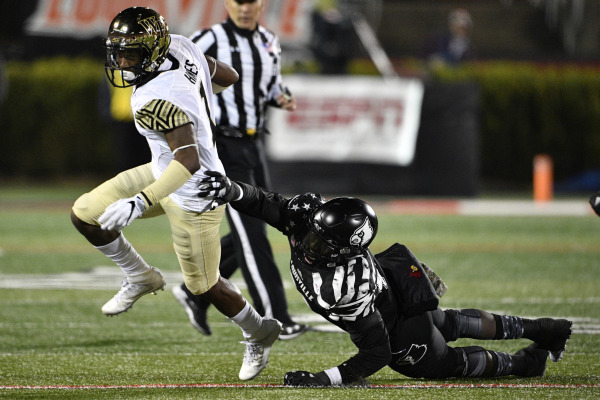 The Demon Deacon defense forced three early turnovers to build a 12-point lead in the first half before the Cardinals took control of the game late with 44 unanswered points.
"Obviously a disappointing loss," said Wake Forest head coach Dave Clawson. "Our guys battled their tails off, but we didn't finish the way you need to in order to defeat a top-five team."
Freshman Jessie Bates III had a career-high of 13 tackles — including eight solo stops and one forced fumble — to lead the Wake Forest defense that held the high-powered Cardinal offense out of the end zone until the second half.
All 12 Demon Deacon points were scored by Mike Weaver, who successfully executed all of his field goal attempts.
With four field goals in the game, Mike Weaver moved into third place in school history with 43 career field goals made.
The Deacons turned their third forced turnover into Weaver's fourth field goal of the half, a 38-yard make, to extend the lead to 12-0.
Louisville's final drive of the half got into the red zone, but the Deacon defense held the Cardinals to a field goal as the teams went into halftime 12-3.
Midway through the third quarter, Louisville scored the first touchdown of the evening as Brandon Radcliff scored on a 55-yard run.
Radcliff put up 12 more points on two other touchdown runs in the fourth quarter.
Kyle Kearns took over at quarterback for the Demon Deacons late into the fourth quarter but threw an interception to Ronald Walker, who returned it 31 yards for a Louisville touchdown.
In the last minute, Louisville scored their final touchdown run by Malik Williams to make the final margin 44-12.
"We went on the road to play a top-five team as a whatever-point underdog, and those kids were heartbroken they didn't win. We are past the moral victory stage of our program and that is a major step," Clawson said.
Wake Forest fell to 6-4 overall and 3-3 in the ACC. Wake Forest has lost 16 straight games to ranked opponents.
Wake Forest never reached the end zone and couldn't stop Louisville in the second half.
"We played great defense for three quarters," coach Dave Clawson said. "We didn't finish. It's incredibly frustrating, incredibly disappointing."
On the day before the game, Wake Forest football staff members discovered materials left behind by Louisville that showed the Cardinals were prepared for plays the Demon Deacons had not run before.
"There was somehow a breach," Clawson said. "I've shared it with our athletics director, and we're trying to find out what happened."
If Louisville indeed had documents that showed plays Wake Forest had used in practice but not games, it would be considered a competitive advantage.
Louisville coach Bobby Petrino of Louisville said Wednesday he knew nothing of the matter.
A growing concern in all sports is cyber security.
In July, the St. Louis Cardinals' director of scouting was sentenced to 46 months for hacking the Houston Astros' scouting records.
"We just need to make sure it doesn't happen in the future and whatever did happen, we take the steps to eliminate how it happened, so it doesn't happen in the future,'' said Wake Forest director of athletics Ron Wellman.
The Demon Deacons are focused on this Saturday, however, and they have a lot of preparation ahead.
"Coming up, we have another one of the very best football programs in the country in Clemson," Clawson said. "They are just a complete football team. They have so many skill players and because of that, they don't worry about where the ball goes, because they are comfortable with all their targets."
"It's always exciting when you know you're playing on ESPN," said redshirt junior defensive lineman Wendell Dunn. "We know we're going to be that game of the week, and we're excited about it."
The Demon Deacons will take on the Clemson Tigers in their last home game of the year at BB&T field. Kickoff is scheduled for 7 p.m. E.T.