2018 recruiting class looks like Clawson's best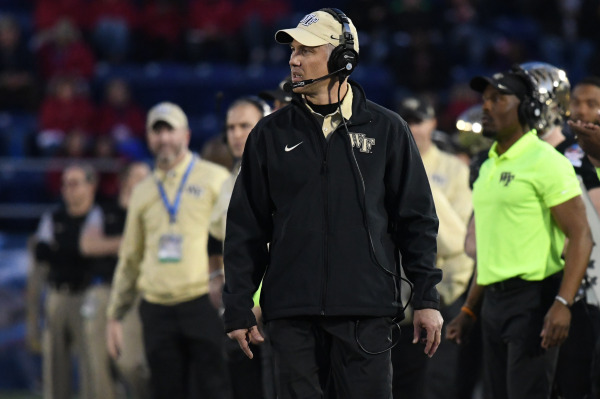 Dave Clawson and his staff are off to a hot start on the recruiting trail for the class of 2018.
As BloggerSoDear said, this class is currently ranked ahead of Nick Saban's Alabama Crimson Tide, with Wake Forest ranking 20th in the nation per 247sports.
Not bad for the Demon Deacons, a program that last year that brought in a 66th ranked class in the eyes of the same recruiting website.
Although there is still plenty of time for many elite recruits to commit and decommit to programs, Wake Forest is poised to make a strong case to make this one its best in program history. Recruiting metrics are helpful, but, as the famous coaching saying goes, "the film doesn't lie."
These are some of the Wake Forest commits that look great on film.
Sam Hartman, Quarterback: The Davidson Day pipeline is the gift that just keeps giving to Wake Forest football, as this is an athlete that proves to be ideal for Clawson's spread offensive attack. This is the 2018 class' earliest commit, and it might be the biggest commit so far.  Hartman separates himself from other Clawson quarterback recruits through his ability to scramble out of the pocket and deliver accurate darts to receivers downfield. Many quarterbacks on Hudl, the most widely-used football highlight website, can boast long completions by making intermediate passes and benefiting from long runs after the catch by wide outs. Hartman is unique in comparison due to his ability to throw for 40-45 yards in the air to hit a receiver in stride down the sidelines.  If Hartman were two inches taller, he would likely have offers from many of the bigger programs in the country. Instead, he's Clawson's hidden jewel that Wake Forest should enjoy for years to come. You can find his highlight tape on Rivals, and it is well worth the watch.
The elusiveness to escape a collapsing pocket, combined with above-average arm strength and accuracy could give the Demon Deacons the athlete behind the center that has not been there in the early years of the Clawson era. Despite a modest height of 6'1", Hartman offers the complete package quarterback that can allow Wake Forest to thrive in the ACC.
Peyton Woulard, Safety: Offers from Duke, Minnesota, Kentucky, and Vanderbilt are amongst the 18 the Georgia native has received. Measuring in at 6'1", Woulard compliments his good size for the safety position with great football instincts. His high school program, Collins Hill, plays him at receiver in addition to safety, and the speedy Woulard has catching ability to read the quarterback and break for the ball and disrupt plays.  These instincts translate to his open field tackling ability as well. Woulard can contain running backs who are trying to beat him to the sideline and turn up-field. There are instances where his instincts, speed and tackling ability allow him to make touchdown-saving tackles, an essential quality for success at the college level for a safety. A recruiting side note: Peyton has a good relationship with fellow Georgian and 4-star cornerback Jaycee Horn, who recently included Wake Forest in his top-7 list.
Zion Keith, Safety: Keith, like Woulard, plays both receiver and safety for his high school program, Wilson. Keith is a recruit that has flown under the radar in comparison to some other 2018 Wake Forest recruits, but he's a talent that should not go unacknowledged due to his potential. The 6'1" Keith runs a 4.49 40-yard dash, per 247 sports, and is an athlete that can make plays. On the day Zion committed to Wake Forest, Jay Sawvel, the newly hired Defensive Coordinator, tweeted, "Happy Defensive Coordinator tonight — excited about our newest commit!!!"
There's no doubt in my mind why, as this is the type of project that Sawvel has had success in developing throughout his career. An example would be Jaylen Myrick, a player he coached at Minnesota who is shorter than Keith (5-10), but shares similar explosive athletic ability and is now a mid-round NFL draft prospect. Fans should keep Zion on their radars because he can make plays and has the athletic ability to benefit under Savel's tutelage.