Demon Deacons thump Presbyterian in opener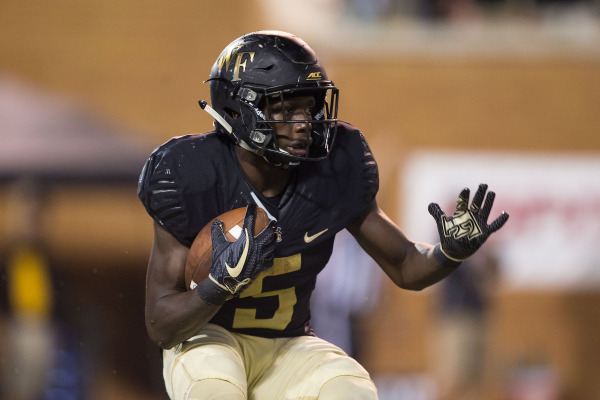 In the first game of their 2017-18 campaign, the Wake Forest football team took on FCS (Football Championship subdivision) opponent Presbyterian.
Wake Forest entered the game as heavy favorites, and they handled their underqualified opponent with ease, cruising to a 51-7 victory.
Prior to the matchup, Clawson expressed a healthy respect for the Presbyterian team, and implored his team not to underestimate them:
"When you are at that level and you play these games, whatever you see on film, it is going to be better. They are going to be up for it. It is an opener … All the emotions of an opener will be there, excitement, anxiety and nervousness. Game ones are always mistake-driven games."
The Demon Deacons were able to manage their jitters and ignore their nervousness, though, and made only negligible mistakes for the majority of the game. The offense operated at high efficiency and pace throughout the game, and there were no visible signs of rust on the defensive side either.
Though questions regarding whether QB John Wolford will be able to keep the starting position will linger until he proves himself against a more formidable opponent, he certainly did everything in his power to temporarily silence doubters. Wolford had three touchdowns through the air and one on the ground en route to 154 total yards.
Kendall Hinton also saw a substantial share of playing time, and he also impressed against the Blue Hose. Hinton totaled two passing touchdowns and also scurried his way into the end zone after bobbling a snap in the third quarter.
Moving forward, it is possible that Kendall Hinton could take the field to run the read option or for a change of pace, but Wolford, for now, will see the lion's share of the snaps.
The game also led to a memorable night for redshirt freshman Greg Dortch, who caught two receiving touchdowns in his first career game.
Dortch also flashed his athleticism on the punt return unit, as the 76 yards he procured against Presbyterian currently rank him in the NCAA's top ten for punt return yards. Dave Clawson told ESPN's David Hale that Dortch is "the kind of player that could've made you miss in a phone booth if those still existed."
Dortch will no doubt be an important piece for a Wake Forest team that desperately needs to improve its offense, which ranked 119th in PPG last season at 20.4.
Dortch appears to have the tools to become a reliable target for Wolford and/or Hinton.
Senior TE Cam Serigne also turned heads in the Demon Deacons' opener, as he found the end zone twice for the second time in his career — the first was against Clemson in 2014.
Though Wake Forest can only learn so much about themselves when facing such meager competition, there was nothing to complain about from a spectator's perspective. They more than took care of business and never let the score get remotely close.
The Demon Deacons looked explosive on both sides of the ball, and there appeared to be an increased focus on the passing attack compared to the prior season.
Wake Forest also flashed a no-huddle offense against the Blue Hose, and it seemed to be fairly effective in rushing the defense into unfavorable matchups, as there were multiple instances of complete coverage breakdowns that allowed the Wake Forest offense to gain chunks of yardage at a time.
Head coach Dave Clawson was reserved in his commentary regarding the game, stating that "It was a good win and we are 1-0. It was a game where we had a lot of favorable personnel matchups." He seemed especially pleased that his team was able to "come out of [the game] healthy." Clawson also went on to say that 57 players saw at least 10 snaps against Presbyterian, and depth will be important for the Demon Deacons as they travel up north this weekend.
While Clawson was no doubt pleased that his team took care of business on Thursday, his focus now rests with a much more daunting Boston College side, who defeated Northern Illinois in their opener. Wake Forest will be visiting Boston College for the Eagles' first home game of the season, so the environment will likely be raucous. The offense will also be tested against a Boston College defense that Clawson describes as "excellent, year-in and year-out."
Fortunately for Wake Forest, the Presbyterian victory was convincing. On the surface, the Demon Deacons look prepared to take on the Eagles in their first ACC game this season.