Wake Forest football preview: Appalachian State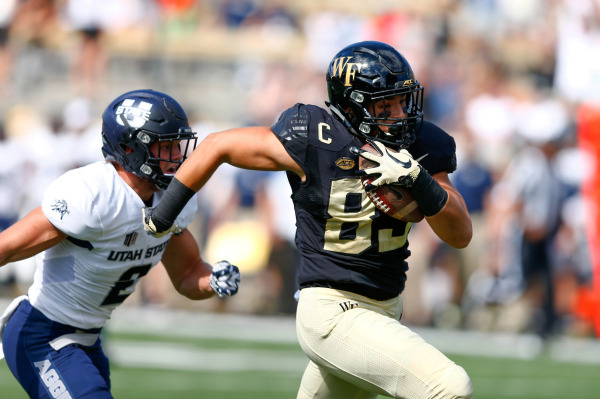 Next Saturday, Sept. 23, Wake Forest will look to remain perfect for the season and will renew its in-state rivalry with App State.
Both the Wake Forest and Appalachian State football programs have experienced respective success since their last meeting 16 years ago, as the Deacs made an Orange Bowl appearance and won the ACC in 2006, and as the Mountaineers recorded three Division I-AA national titles ('05, '06, '07) — and one of the greatest wins in college football history, defeating No. 5 Michigan at the Big House in 2007.
Saturday, Sept. 23 will mark the 23rd all-time meeting between the Demon Deacons and Mountaineers, in a series that has not met since a 20-10 Wake Forest victory in 2001. Both programs and fan bases will arrive in Boone, expecting a win, in front of an expected sold-out crowd at Kidd-Brewer stadium.
Wake Forest enters Saturday with the seventh largest average win margin in the country, and will rely on the play of senior quarterback John Wolford, who has thrown and rushed for at least one score in each of his three starts this season. Once again, the Deacs will rely on defense to win the turnover battle and limit the time the Mountaineer offense is on the field.
If Wake Forest can establish a running attack and dominate the time of possession like it has so far this season, the Deacs may get off to an early lead and never look back.
As we look ahead to the reestablishment of our in-state rivalry, the Old Gold & Black sat down with Appalachian State's student body vice president, Alan Lee, who provided some insight for the 2017 Mountaineers.
KYLE TATICH: What three things need to happen for Appalachian State to win on Saturday?
ALAN LEE: Appalachian State will win if (1) Running Back Jalin Moore runs for more than 150 yards. This may seem like an unrealistic feat, but if you take a look at this man's tape he is a freak of nature. In his first game as a starter, Moore accounted for over 200 yards of total offense. This could be one of his breakout games.
(2) Cornerback Clifton Duck has an interception. The standout from high school powerhouse Butler high school, and member of last season's first-team all-freshman team, Duck has proven to be a legitimate threat that can not only be a "ball hawk," but can take it back for a pick-six. If Wake's quarterback decides to throw at Duck, watch out.
(3) The home crowd believes in the team. Kidd-Brewer Stadium is one of the most special game day atmospheres in the south, and teams can truly feel the home field advantage.
KT: Give me three names the Deacs should know.
AL: (1) DE/OLB Eric Boggs. This kid is a real force who has taken over games in the past. His ability to bull-rush lineman is uncanny, which makes him difficult to line up against.
(2) QB Taylor Lamb. In his last year of eligibility, Lamb has to prove that he belongs in the conversation of greatest Mountaineer quarterbacks (competing with the likes of the great Armanti Edwards). This year, he has shown that he is not only a passing threat, but a running threat as well.
(3) Coach Scott Satterfield. Lately, the ball coach's play calling has been oddly conservative. While we have a great running attack, look for Satterfield to take risks with his play calling.
KT: Give me a score prediction.
AL: The score will be close, but the Mountaineers will finish on top, 21-17.
Other Predictions:
KT: Wake Forest's offense has been nothing short of dominant so far this season. Look for the Deacs to take an early first quarter lead and never look back. Wake Forest wins 30-20.
Mason Garwood (App. State student):  App State wins 31-28. The Wake Forest defense will be stout early on but as the game wears on App's dual running back attack, along with a running quarterback threat will wear down the Deacons and open up some passing lanes. It will be a close game with a lot of good defense but the Mountaineers will prevail to beat their first FBS opponent since moving up to Division I in 2014.