Deacons roll over Utah State to remain undefeated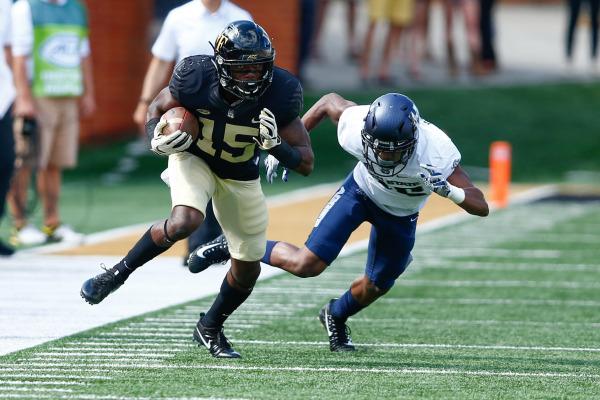 Wake Forest University celebrated its  annual homecoming weekend with a final 46-10 win against the Utah State Aggies to stay undefeated at 3-0.
In their second home contest this season, the Wake Forest football team took on Utah State at BB&T Field.
Wake Forest won the toss, but elected to kick and the Aggies came out strong, running a no-huddle offense. Utah State began to accumulate some yardage until Cameron Glenn, from Stone Mountain, GA, intercepted a pass and ran it back for a touchdown.
Despite the excitement from fans, the touchdown was overturned due to a penalty.
On Wake Forest's first offensive play of the game, quarterback John Wolford from Jacksonville, FL delivered a pass to Greg Dortch of Richmond, VA. Dortch ran it into the end zone for the first touchdown of the game.
Following the kickoff return, Utah State let down their guard and quickly found themselves punting.
Wake Forest got the ball back and Wolford handed it off to Cade Carney twice, resulting in a first down. Wolford hit Cam Serigne while he was wide open for a touchdown, putting the Demon Deacons up 14-0 less than five minutes into the game.
Later in the half, running back Arkeem Byrd of Savannah, GA ran the ball all the way to the end zone, sending Wake Forest up 26-0. Right before the end of the half, kicker Mike Weaver successfully hit a field goal. Wake Forest headed to the locker room for halftime up 29-0.
Due to an injury, Utah State's backup quarterback, Jordan Love, had to take over. Love was able to secure the first touchdown of the game for the Aggies, making it 36-7.
Starting quarterback Wolford was replaced by backup Kendall Hinton. Wolford had a fantastic day, throwing 242 yards, rushing 53 yards for three touchdowns. Backup quarterback Hinton was able to find another touchdown for the Demon Deacons before Mike Weaver converted his third field goal of the day.
The Demon Deacons look forward to takinig on Appalachian State Satuday on September 23rd.