Block at "The Rock" lifts Deacs to 4-0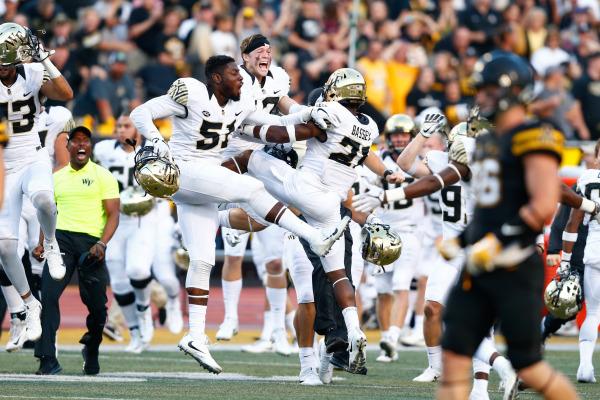 In front of a crowd of 35,126 — the largest to ever attend a game at Kidd Brewer Stadium — Dave Clawson's Demon Deacons escaped with a 20-19 victory over Appalachian State.
In what was described by senior quarterback John Wolford as a "wild" game, the Deacons, who played their worst offensive game of the year, won with a little help from the Mountaineer special teams unit.
In the game's first 59 minutes Appalachian State had an extra point blocked, missed a short field goal at the end of the first half and jumped offside on a fourth down punt that gave Wake Forest another set of downs and led to a touchdown.
The game's last minute featured one final special teams miscue as App State's Michael Rubino's 39-yard field goal attempt was blocked by sophomore Scotty Washington, who got a hand on a low-kicked ball that had the potential to change the outcome of the game.
Wake Forest was fortunate to leave Boone with a win, especially given its offensive struggles. In five of its seven first half offensive possessions, the Deacs were forced to punt after just three plays. And outside of three scoring drives in the second half, each of its other three possessions featured a similar outcome.
Appalachian State outplayed Wake Forest and executed effectively through the air — 372 yards by quarterback Taylor Lamb — and by pulling off impressive plays, such as a first half flea flicker and a second half 84-yard touchdown, the Mountaineer's first pass of at least 80 yards since 2005.
Wolford considers this to be the team's first four-quarter game and recognizes that not every game will be perfect with 600-yard offensive performances.
For Wolford, "If you can find a way to win in the end, that's all that matters."
Looking ahead to Saturday, when the 0-2 Florida State Seminoles travel to BB&T Field, the Demon Deacons will attempt to improve to 5-0 for the first time since 2006. But in order for Wake Forest to defeat the nation's preseason No. 3 team, it will need to play better than it did in Boone and most likely execute a near perfect game plan.
"Nobody on our roster has ever beaten Florida State," Clawson reminded the media in this week's press conference. However, it must be noted that since Clawson's tenure at Wake Forest began in 2014, the Deacs have played competitive games with the Seminoles in at least two of three meetings.
Seemingly since 2015, Clawson has found an answer to Jimbo Fisher's offensive and defensive schemes, putting the Deacs in a position to win in the fourth quarter. Wake Forest has spent the last two years knocking on the door. This may be the year that it finally breaks through.
Last week's hero, Washington seems to believe his team has a chance to upset the Seminoles on Saturday, as long as he and his teammates possess the confidence to do so.
"Going into Florida State, we have to believe we can win," says Washington. "In the past, sometimes we question if we can win, if we can really beat this team. And this year we feel as if we can.
"NC State won their game and they played knowing they could win — so going in this week, and through this week in practice, we just have to believe that we can win," Washington said.
If Wolford can continue his streak of protecting the football and if his offense can avoid quick three-and-out possessions, keeping the defense off the field, Wake Forest could have a chance to make a statement against a national powerhouse.
Clawson has a 5-19 record in the ACC as Wake Forest's head coach, and one of the main causes for this weak record is Wake Forest's inability to defeat opponents in the ACC Atlantic.
Wake Forest is looking to improve to 5-0 for the first time since 2006, a season where it defeated Florida State 30-0 in Tallahassee.
A win on Saturday would not only mean a lot to this program, but it would officially put the Deacs in contention for the 2017 ACC Championship. Beating Florida State would be an important step toward Wake Forest establishing itself as a contender in the ACC Atlantic.
Prediction: Wake Forest 26, Florida State 24.