Deacs take aim at Fighting Irish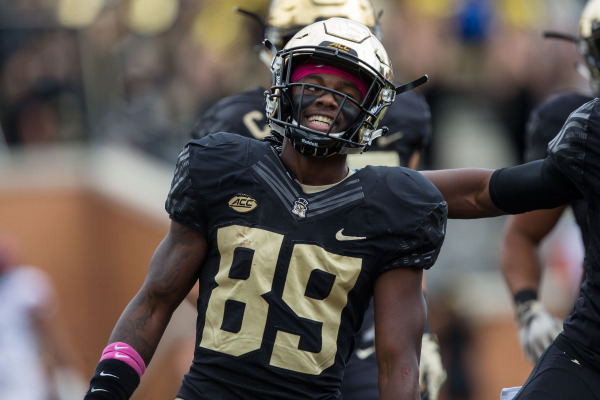 "You can't give away points, you can't give away free plays, and you've got to take advantage of every play. We've got to find ways to do that." These were the words of then sophomore John Wolford after falling to No. 4 Notre Dame 28-7 in Wake Forest's most recent visit to South Bend in 2015.
The Deacons had 23 first downs to 15 for the Irish, 340 yards to 282 yards in total offense and had the ball for 11:36 longer than Notre Dame.
In many ways, Wake Forest dominated a game that was never supposed to be competitive. However, with the longest play from scrimmage in program history —a 98-yard touchdown run — and three red zone stops, the Irish kept the Demon Deacons from pulling off what could have been one of the greater upsets in program history. Good teams seem to always find a way to win. And that's exactly what happened two seasons ago.
Much has changed since the two programs last met. The Irish lost quarterback Deshone Kizer and wide-receiver Will Fuller V to the NFL but have found success in new offensive playmaker, quarterback Brandon Wimbush. Wimbush and junior running back Josh Adams combine for 20 touchdowns on ground this season and represent one of the better rushing duos in college football.   
Wake Forest is not too different from 2015 in terms of player personnel, but will travel to South Bend to reunite with one of the more important pieces of its rebuilding effort that began in 2014.
Defensive coordinator Mike Elko spent three seasons with Wake Forest and accepted the same job with Notre Dame over the offseason. Elko was brought in to help fix an Irish defense that ranked 98th in turnovers forced and 118th in quarterback sacks in 2016.
The Irish now rank 11th and 38th respectively in those categories which has contributed to Notre Dame's return to the national conversation of contending for a spot in the College Football Playoff. 
Elko built the Wake Forest defense that now ranks first in tackles for loss (74) and will now coach against his former team. Clawson and the Demon Deacons will face an unusual situation on Saturday when they face their former defensive coordinator. It will perhaps be a bit of a chess match as no opposing defensive coordinator knows the Wake Forest offense better than Elko, just as no offense knows Elko's defensive schemes better than the Demon Deacons.
The Wake Forest offense is much improved from what it was when Elko saw it last, however.
In last week's performance against Louisville, Wolford led all Power 5 quarterbacks with a 98.9 QBR in Week 9, the first time in 40 career starts that the senior posted a QBR over 90. The Demon Deacons are scoring 31.3 points per game this season and are coming off one of the greater offensive showings in program history with 625 total yards.
Even without freshman standout receiver Greg Dortch, who suffered a season-ending injury against Louisville, Wake Forest still has a chance to produce on on offense, especially given Wolford's level of play this season.
If Wake Forest were to win this game it would mean that it limited big plays from Wimbush and Adams on the defensive side of the ball while finding a way offensively to extend drives and capitalize in the red zone.
"We've got to find ways to get in the red zone, to punch in touchdowns and to get points on the board for us to be successful." Again, these were the words of Wolford, reflecting on missed opportunities, following 2015's matchup against the No. 4 Irish.
Prediction: Wake Forest will upset in a win, 26-20. 
Despite the odds I am going with the Deacons. Wolford will lead Wake Forest to one of the greatest upsets in program history and takes down No. 3 Notre Dame 26-20.