"Johnny Football" sends Wake Forest bowling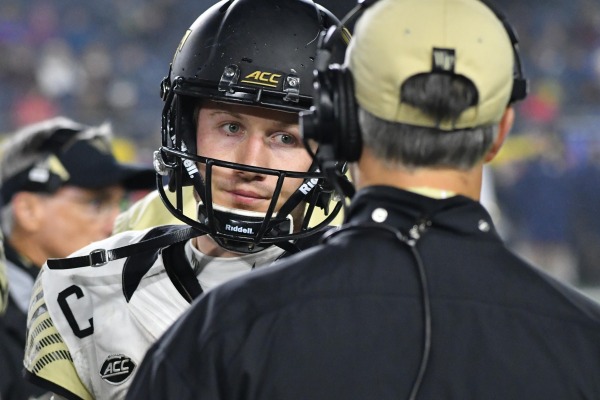 Wake up, Wake Forest! The Demon Deacons are heading to their second-straight bowl game after defeating Syracuse 64-43 in a thrilling display of perseverance and record-breaking performances.
The Orange held a 38-24 lead at the conclusion of the first half as injuries seemed to limit the Demon Deacon defense's ability to slow down backup quarterback Zack Mahoney. In the game's first 30 minutes alone, Mahoney threw for three touchdowns and led his team to a 24-point second quarter.
Down by 14 on the road at halftime, the Deacs had a choice to make. Would they accept defeat or would they fight for two more quarters to earn a spot in the 2017 bowl season with their sixth win of the year.
Ultimately, the latter prevailed, and the Deacs out-scored the Orange 40-5 behind a rejuvenated defense and elite quarterback play by John Wolford.
The senior from Jacksonville, FL, finished the afternoon 25-of-38 for 363 yards passing and 136 yards on the ground. His 499 total yards and six touchdowns earned him national recognition as his statistics over recent weeks put him in elite company, both nationally and within the Atlantic Coast Conference.
In the past decade, only four quarterbacks have tallied 2,000 yards in the air, 20 passing touchdowns, 500 yards on the ground and 10 rushing touchdowns through the first 10 games of the season: Lamar Jackson, Jordan Lynch, Dak Prescott and of course, John Wolford.
Wolford also becomes just the sixth ACC quarterback to account for 350 yards and three touchdowns in three straight games, joining Lamar Jackson, Deshaun Watson, Russell Wilson, Mitch Trubisky and Jameis Winston.
Wolford is certainly in elite company with these statistics and his play as of late warrants the nickname "Johnny Football" — the moniker of former Heisman winner, Johnny Manziel.
To the surprise of no one, the increased recognition has not caused Wolford to deviate from his humble persona. 
"We obviously had a good game this last Saturday and it was a lot of fun," Wolford said, "Our guys stepped up across the board. You could look at the offensive line, or receiving corps, Cam [Serigne], Matt [Colburn], everyone. So, it was a really big game for us on offense and in the second half the defense stepped up. It was a team win and we're happy we got it done, but obviously we have a tough game this week."
On Saturday, Serigne set an ACC record for career receiving yards by a tight end and Colburn rushed for a career high 237 yards and two scores. 
Wolford was right, Wake Forest's comeback against a highly talented Syracuse team was a team effort and equally a testament to the perseverance of the offense, defense and special teams.
Celebrate Demon Deacons, the Wake Forest football team is returning to a bowl for a second straight season, and "Johnny Football" is leading the way.