Women's Tennis to Play in ITA Indoor Tournament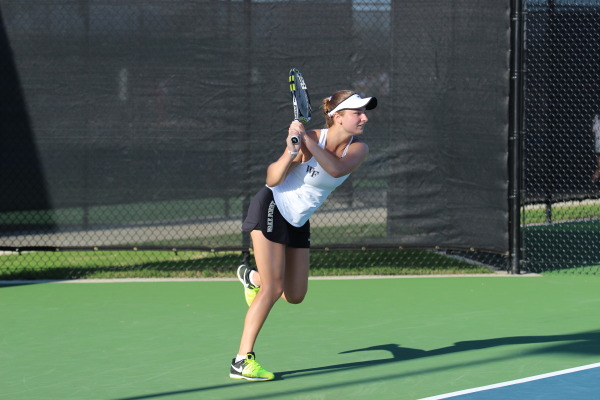 For the first time since 2003, the Demon Deacons Women's tennis team (4-0) will be competing in the ITA National Indoor Championships, held Feb. 9-12 in Madison, WI. Following their victory against No. 18 Arkansas on Friday, Jan. 26, the Demon Deacons took down No. 1 Ohio State the following day, making them one of only 15 teams to qualify for the National Indoor Championships.
Getting to where they are now was not an easy battle. After losing all three doubles matches, a win against Arkansas in the semi-finals looked like a slim possibility. However, the Deacs came back in their singles lineup and secured the match when junior Anna Ulyashchenko won a second-set tiebreaker to defeat Natsuho Arakawa, 7-5, 7-6 (7-3) in the No. 2 position.
Sophomore Mary Caroline Meredith, who helped bring the team to victory with a win at No. 6 singles, commented on the team's dynamic.
"We are mainly a singles-dominant team, so even if we don't win all of the doubles points it's awesome that we're still able to win the matches."Meredith added that one of the team's strengths is, "just being able to come back from being down and fighting back."
A perfect example of this is junior Emma Davis's win against Ohio State's Anna Sanford at No. 1 singles when she came back from losing the first set to win the match in a third-set tiebreaker. The Massachusetts native has been a vital player, clinching crucial wins against Ohio State and Arkansas and earning ACC Player of the Week.
The eight players make up a young team, with freshman Eliza Omirou joining Davis in the top 80 singles rankings at No. 70 and playing No. 2 singles for the Deacons. Regardless of age, the women are a very tight-knit group.
"They will all be invited to my wedding and will be my bridesmaids. We're all really close, which is like not normal for a team," Meredith said. This includes her sister Chandler Carter, who leads the team as the only senior and team captain.
"It's a good environment. I know we're good off-court so we'll overcome adversity on court. Getting along just makes it so much easier and we can all practice together without tension or anything, so I think that's important," junior Joanna Zalewski added.
The team is looking to perform well and stand out in Wisonsin, as they are the only qualifying team that is not in the top 25 national rankings.
"This is new territory for us because we've never been in this position before," Zalewski said. "But I think we'll just play our best game, not hold back and work together."