Robert Lipsyte to Continue Visits to Wake Forest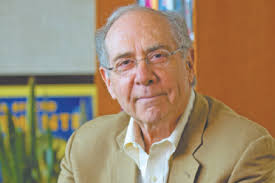 There was no reason for journalist Robert Lipsyte to be at the first sporting event he covered.
In 1964, little-known fighter Cassius Clay, now known as Muhammad Ali, was facing off against heavyweight champion Sonny Liston. It was assumed that Clay would be knocked out in the first round. Clay was an underdog, and so was Lipsyte, as a young reporter in his 20's.
"The New York Times' boxing reporter didn't think he was worth his time to go all the way to Miami," Lipsyte said. "He said, 'send the kid. The kid's no doing anything.'"
When Lipsyte arrived in Miami he had very specific instructions: to rent a car and to drive back and forth between the arena where the fight was being held and the hospital in case Clay was sent into intensive care. Lipsyte said he was rooting for Clay not to win, but not to get hurt.
"Then of course, he won, which was an amazing career move for me," Lipsyte said.
From there, Lipsyte went on to become the boxing reporter. Not only has he had a renowned career as a sports journalist, but Lipsyte has also written several works of fiction and non-fiction.
His first novel, a young adult book called The Contender, was inspired by some of the events he witnessed as a young boxing reporter. The Contender, centering around the story of a young boy in Harlem who tries to make it as a boxer, just celebrated its 50th anniversary with a new edition. 
Last year, Wendell Dunn, former Demon Deacon football player and current graduate student in education, mentored eight students at Paisley IB Magnet School in an after school sports literacy program. Together, with assistance from education professor Alan Brown, they read The Contender.
According to Lipsyte, when the publishers heard what was happening at Paisley, they felt that publishing the new edition was more urgent.
Brown's Adolescent Literature class, which focuses on censorship and its impact, recently read The Contender. Their reading coincided with Lipsyte's talk that he gave on campus, "2018: A Collision of Politics, Sports, and Journalism."
Lipsyte will visit Wake Forest's campus again in March. Next time he won't be speaking in a class or on a stage, but at a dance marathon. Lipsyte is one of the Wake 'N Shake Team Champions for 2018. A Team Champion is an individual who currently has or previously had cancer whose role is to inspire the dancers by giving speeches, according to the Wake 'N Shake website. 
In 1978, Lipsyte was diagnosed with testicular cancer. He recovered, but was diagnosed with cancer again in 1991. Writing from his experiences, Lipsyte wrote The Chemo Kid, a young adult novel, and In the Country of Illness, a nonfiction book.
When speaking about cancer, Lipsyte believes that any metaphor is dangerous — especially as any kind of war. He asks if it means that cancer patients are victims or didn't fight hard enough?
Lipsyte participated in a panel on athlete's cancer that featured Lance Armstrong, a famous cyclist who also was diagnosed with testicular cancer, who made a strong statement on cancer treatment.
"When [the panel]'s all over, a radio reporter comes up sticks a mic in his face and says, 'Lance, could you tell us how faith got through cancer?' He stiffens up a little bit," Lipsyte said. "He said, 'I believe everybody has a right to their own belief system, but when it comes to cancer, I believe in surgery, chemotherapy and radiation.' And I found that really meaningful and powerful."