Spotlight: Griffin Roberts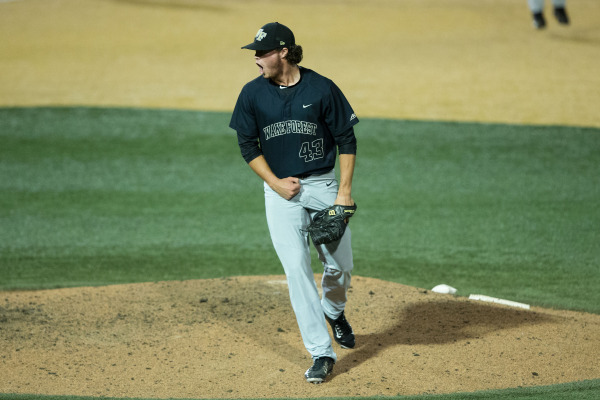 Griffin Roberts dominated as a closer during his junior season in 2017, posting an ERA of 2.19 and holding opponents to a batting average against of .160.
As the Demon Deacons look to repeat their 2017 success, Roberts has assumed a new role on the team, shifting from the bullpen into the starting rotation. 
You had a really impressive season last year. In 2016 you had 22 walks in 15.2 innings and last year you had 32 in 53.1 innings. What did you do to improve your command in the offseason?
It's part of the process, developing confidence. I came here as a walk-on, so for me it was seeing that I had the potential to throw strikes and building off of that.
You obviously have dynamic stuff. How many pitches do you throw?
I throw a two-seam, a four-seam, a changeup and a slider.
How's the transition been for you moving from the bullpen into a starting pitching role?
It has been pretty smooth for me, not really too many speed bumps along the way. That's an easier transition than moving from starting to the bullpen, since you lose your routine. I am more of a routine-based guy, so I like having things more set each day.  I feel like it kind of benefits me.
You had 13.5 strikeouts per nine innings last year, a program record, so you are clearly not a huge groundball pitcher. What's your approach like?
Out of the bullpen last year, I didn't come in trying to induce contact. I was brought into the game to strike guys out. For me it was splitting the plate: throwing my two-seam that breaks to the right and my slider that breaks to the left. If I was in an advantage count, I was throwing my slider, and whether the hitter knew it or not, the whole stadium knew what pitch was coming, and I had the confidence in it to throw it no matter what the count was.
Last year, you made it all the way to the Super Regional and lost to the eventual champions. How do you feel about the team's ability to reload this year?
We lost our two biggest bats in the lineup, and we lost all three of our starting pitchers, but that's kind of what college baseball is; it's about building and rebuilding, and that's what the plan is this year. I think we brought in some pitching that's going to do as well as last year, if not a little bit better. The bullpen is stronger, and there will be a lot of young bats in the lineup and young guys playing defense. It is tough to say how the freshmen will do, since they haven't seen college pitching. However consistent they are this year will be a huge factor in how well we do this season.
Who would you say is earmarked as the breakout guy this year?
Johnn Aiello obviously broke out last year, but if I had to bet on somebody I'd say Bobby Seymour, DJ Poteet and Shane Muntz. One of those three freshman is going to have a big year this year, turn some heads and really help us out.
How do you all think you are going to do this season compared to last season?
We are trying to take it each day and be the best version of the Demon Deacons we can be. With us it is kind of tough, since we do not know who is going to play where over the course of the season yet. We are going to do the best we can to win as many games as we can with what we've got.
What are your favorite memories watching baseball and playing baseball?
I actually got to watch Derek Jeter's last game at Yankee Stadium, and I think that was really cool to see an entire stadium light up like that for one dude. And then, [my favorite memory] playing baseball was definitely winning the regional on our home field. It was the first time I had been a part of winning a championship, and I actually got to throw the last pitch which was really fun.