Spotlight: Mitchell Day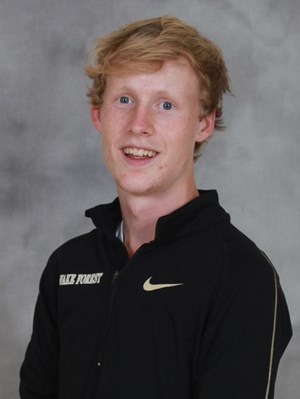 Mitchell Day is a Wake Forest sophomore from Alpena, MI. His Cross Country career took off while in high school, when he finished second in the Michigan state championship during his junior and senior years.
His success continued into his freshman year at Wake Forest, during which he was named ACC Male Freshman of the Year. He ran a season-best 8k time of 23:56.2 at the ACC Championships, a feat that earned him All-ACC honors.
He has continued to help lead the Demon Deacons throughout the fall season. He finished in 58th place at the 2018 Wisconsin Pre-Nationals. He will be back in action when the Deacs travel to Boston on October 26 for the ACC Championships.
Will May: Would you say that the WFU cross country and track programs have changed significantly in any way since your freshman year?
Mitchell Day: Both the cross country and track programs have undergone positive changes in the one year I have been here. Simply put, it has been an overall change in our team's attitude when it comes to training and competing. We are raising our expectations of what being competitive means and how we need to go there.
WM: What has been the greatest challenge you've had to face as an athlete or student at Wake Forest? Do you have any tips for freshman student athletes?
MD: By far it has been managing my time well. By this I mean how I structure my days, weeks and even months productively so I can complete my coursework and athletic work in the most stressless way possible. My greatest advice would be to find the best way to organize yourself and stick with it, whether it is writing everything down in a student-athlete planner or on a calendar or using a mental checklist.
WM: Do you have any role models? If so, how have they affected your athletic career?
MD: Two of the biggest role models in my life have been my mother and father, Scott and Jodi Day. They have taught me pretty much everything and continue to motivate me in anything I do. An important impact my mother has had on my athletic career has been her knowledge of nutrition and it has certainly translated over to my athletic performance.
WM: You had a considerable amount of success during your freshman year. How would you say this has affected how you went about training for this season?
MD: It encourages me to keep pressing forward. Having some success last year has motivated me to find what else I can accomplish individually, but more importantly, what I can help our team accomplish in the coming years. My expectations are now higher, which has placed a bit more pressure on how I perform in competitions but my training and mindset for this season have stayed pretty much the same.
WM: Do you have any favorite memories from this season or previous seasons of Wake Forest cross country?
MD: Traveling and competing at Louisville for last year's ACC championship. The race itself was spectacular but also the time we were able to spend experiencing downtown Louisville.
WM: What were some of the most important things you did during the preseason to prepare for the season?
MD: With a year of college running under me, I used all that I had learned and incorporated it into this year's preseason training. The two most important things were I simply ran many many many more miles and I added strength training almost everyday into training.
WM: You have a lot of new recruits to the team this year. Have you seen any standouts? How are they contributing?
MD: We have a lot of new faces that are motivated and eager to help the team take care of our goals. We have a couple freshman that have stepped up and made it into our top seven and continue to push everyone. They bring a fresh new excitement to the team, as they are still figuring out the ins and outs of the student-athlete experience. 
WM: How do you feel about yours and the team's performance during last weekend's pre-nationals tournament in Madison?
MD: We were not satisfied with our performance as a team, as we thought there was more we could have gotten out of ourselves , but like any competition, it gave us more experience as we head into the championship season. Individually it was the same story, as I thought I could have ran a tactically better race looking back at it. But it was a season first for me and it was a great way to get back into competing.
WM: Do you have any major goals or plans for the ACC championships on October 26th?
MD: My only goal for the ACC championship is to help my team to the best of my abilities by running as fast and smart as I possibly can.