Spotlight: Saby Nihalani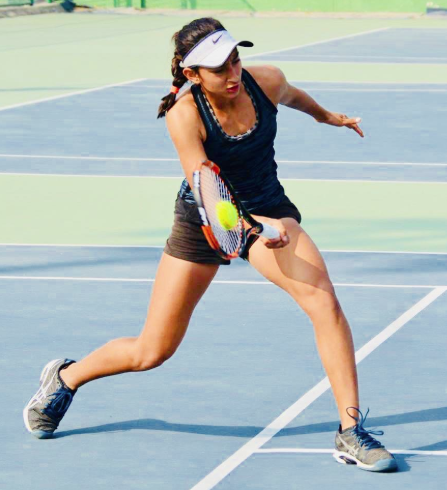 Saby Nihalani is a freshman tennis player looking to make a mark in her first season with the Deacons. She hails from New Delhi, India and arrived in Winston Salem with successes in both national and international competition. Nationally, she was ranked in the top 10 as a U-12, 14, 16 and 17 domestic rankings. As a U-16, she was the National Champion in India in singles and doubles.
Nihalani has also competed in many domestic national tournaments and has won silver and bronze medals in national school team championships. She also represented India in the Junior Fed Cup and has been ranked as high as No. 219 in ITF Junior Rankings. She has also won an ITF G-5 tournament in Guwahati and an ITF G-5 doubles victory in Portugal.
Nick Lalli: What would you say is the hardest part about being a college athlete?
Saby Nihalani: The hardest part of being an athlete is maintaining a balance between academics and sports. When I'm in season, you miss four weeks of school, and then when you come back you have to make up all your work. Eventually the result is that you have to perform academically and athletically. This is the most difficult part of being a college athlete.
NL: Having lived in India your whole life, how have you had to adjust to American culture?
SN: There's a huge cultural gap. In India, I am extremely dependent upon my parents. Here in college, I've been doing everything on my own. I'm completely independent. If I were still in India for school, I'd be living at home with my parents and relying on them for almost everything.
NL: What do          you miss the most
about India?
SN: Food! I'm craving Indian food. My favorite dish is butter chicken with naan. I like the Pit, but the food is too predictable. It's the same every day. I miss my family, too. I also miss Indian cinema because I'm a huge fan of Bollywood movies and theater.
NL: Who are the people in your life that motivate you to try your hardest?
SN: My father, my coach, my trainer, my mom. Everyone. My entire support system. I can't do without any of them. If any one of them is missing from my life, I can't succeed. I take a lot of motivation from my dad even though I am extremely far away from him. He taught me how to focus mentally and how to maintain discipline.
        NL: How have the upperclassmen on the team been helpful so far?
SN: Coming from overseas, the change to America and college life has been a drastic one. So, there have been multiple times that I've been homesick and have struggled to get used to the system and ways of life here on campus. They've been very supporting in guiding me through these new challenges.
NL: What's been your favorite part about being on the team so far?
SN: During competitions or tournaments I have a lot of support. I didn't used to have that back home when I played by myself. Since I play on a team now, we're always there for each other. We're ten girls and we're extremely close. The bond between us very strong. It's nice having nine other girls experiencing the same daily grind of being a student and an athlete.
NL: Do you have any rituals or routines that you perform before matches?
SN: I am extremely superstitious. I have a routine that I follow with my foot every time I walk on court. I also have a unique superstition with my towel. I use my towel after every point I win, but never after I lose a point. There's
a pattern to how I drink water too. I drink a sip of water, a sip of my supplement, take a bite of a bar, take my towel and follow the same walking routine before I play. And then, before each serve I bounce the ball eight times.
NL: Who is your favorite tennis player and why?
SN: I would have to say Simona Halep because I've built my game after her. I'm a counterpuncher. I take my time to build the point and finish it when I get an opportunity. My strengths are my serve and my forehand. My backhand is my stock stroke because my backhand is very consistent.
NL: Do you have any personal long-term goals for the upcoming season or your time at Wake?
SN: Definitely break the top 15 as a team. I want to get into the business school while performing well on the court. I'd like to major in Business and Enterprise Management.