Spotlight: Justin Strnad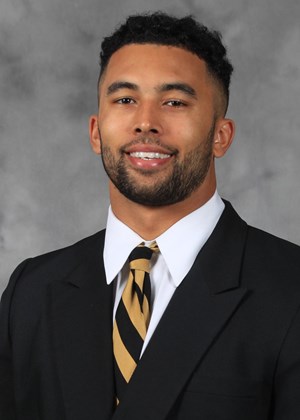 Coming out of East Lake High School in Florida, Justin Strnad was not one of the most sought-after recruits in the nation. His final ranking as the 1550th recruit nationally in the 2015 class, according to 247, does not do justice to his impact on the field for the Demon Deacons. In 2017, Strnad led the team in interceptions with three, the most by a Wake Forest linebacker since Aaron Curry had four in 2007. He was also fundamental in the Deacs' Belk Bowl triumph against Texas A&M with 10 tackles, a sack, 1.5 TFL, a fumble recovery, a forced fumble and a pass break-up. In 2018, he earned All-ACC honors while leading the team with 105 total tackles. He also had the most double-digit tackle games with six and was the only constant presence at the linebacker spot with 1,006 snaps played over the full season. Now, Strnad looks to keep building on the program's positive momentum and add a fourth bowl victory to his collection in 2019.
Rafael Lima: The football team just came off a tough win against a strong opponent in Utah State. How do you feel about where the team is at right now?
Justin Strnad: Yeah, we had a challenging first game against a great team in Utah State. They had some great players. Their quarterback [Jordan Love] is a really good player. I think it was good to go through this kind of adversity in week one. It was a back-and-forth battle, and came [down to] the fourth quarter. We were down, we had to find a way to win and we did that. So, I think it's good to see things like [winning a close game] occur early in the season so we're prepared as the season goes along and games get tougher. 
RL: You had the game-winning interception against Utah State on the last play of the game. Could you walk me through what happened in that play?
JS: I was just doing my job in the framework of our defense. Our D-line did a great job in pressuring the quarterback [Love]. He rolled out and tried to throw the ball over my head because [the man I was marking] was a little bit further in front of him. So I just jumped up and made the play. It was exciting.
RL: Early in the game you almost had an interception, but you dropped it. Did that come across your mind at all in this crucial moment?
JS: Yeah, I think everybody was telling me [after the dropped interception] that I needed to make one up for that one. It was a bad drop! I mean, sometimes when            [interception opportunities] show up so easily it's almost like unexpected. But, you gotta have those plays. Those are big plays. Luckly, I was able to get one [interception] back to help us win the game. 
RL: This year you're one of the team captains. The way other players and coaches talk about you, you are definitely someone that other players look up to. How do you feel about this added responsibility?
JS: It's an honor to have the respect of my teammates and have them make me a captain. All I'm doing is trying to lead our team, bring energy to practice every day and just doing things the right way in this [football] program. So, hopefully, younger guys can see that and want to do that as they go along in this program. That's really what builds a winning culture. You know, you get multiple people to buy [into the program's culture] and do things that will help us win football games. 
RL: You mentioned building up a culture. How do you feel about where this football program is at now, compared to when you joined it in 2015?
JS: I just think we have a much more stable foundation here today. We have more guys that are really bought in and love the game of football. I think this pays dividends when you're in weeks eight and ten of the season and people are continuing to go up and watch the [game] film and do the extra things to help you win.
I just think that's where we are at right now, and that's where we have to continue to [move toward] in order to have success.
RL: This is your last year around the program, what are some of your aspirations for your career after playing for Wake Forest?
JS: I hope to play at the next level. Playing in the NFL has been a dream of mine since I was little. After the NFL, I hope to stick around football in some way, probably as personnel in a front office or work with broadcasting.