CFB: Wake Forest to face off with Clemson Sept. 12
On Sept. 12, Wake Forest will kick off a much anticipated, delayed, altered, but needed football season against Clemson. Ten more games will follow to round out the regular season. Here's the latest overview.
Defensively, the Deacs are caught somewhere between obscure confusion and dazzling optimism, with the loss of talent from last year's squad quite possibly overshadowed by the emergence of potential stars who spent the off season fine-tuning their game. Redshirt senior Boogie Basham, junior Ryan Smenda, Jr. and junior Nassir Greer lead this troop. 
Offensively, the Deacs are spear-headed by their new quarterback, redshirt sophomore Sam Hartman; not to be confused with the 2018 Hartman, who was almost 35 lbs lighter. Now, at 215 lbs and with two seasons of experience under his belt, Hartman looks like he's ready to make the next step with a strong 2020 campaign. Coach Dave Clawson believes he is as well, noting that he's got the look of 'an ACC quarterback'. 
"He's really taken it to another level", added offensive coordinator Warren Ruggiero.
This past year the deacs suffered collectively at the mercy of the professional draft, an unlucky string of injuries, the inevitability of graduation and a crucial opt-out. However, the offense and defense both tout the emergence of talents like that of WRs Donovan Greene and Nolan Groulx, halfback Walker III, defensive lineman Basham, linebacker Smenda and safety Greer. Wake Forest stands a great chance to win a lot of games, so long as they can stay healthy. 
Doing so could prove a challenge, considering that one of the coaching staff's foremost concerns was the lack of 'real' practices over what would normally be a busy summer:
"This offseason has been a lot of Zoom meetings and walkthroughs," said Ruggiero, "That's all good, but it's not the same as full speed football." 
Coming off of an abbreviated and unusual off-season means that special consideration will have to be given towards load management.
"We had like 12 walkthroughs­­ — that stuff to me was huge. It really made up for the fact that we missed 10 spring practices," said defensive coordinator Lyle Hemphill. 
Throughout this makeshift summer, the coaching staff prioritized re-tooling the offensive line. 
As Ruggiero put it, "for the offensive line, there were one thousand questions going into camp." With the addition of Maryland transfer Terrance Davis, 2019's third best offensive guard in the country and the movement of Zack Tom to tackle, some of those questions now have answers. 
The other department with similar uncertainty is the secondary. However, even with Greer's injury, Hemphill thinks the Deacs' defensive backs are promising.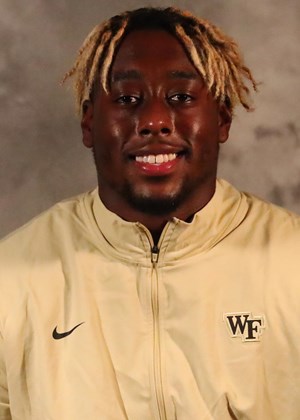 Junior Carlos Basham will carry the load for the Deacs' defense (Photo Courtesy of WFU Athletics Communications)
"I know we're young in the back end, but I know we're talented," he said. "You got a bunch of guys taking reps back there [at safety]. You got Coby Davis … Zion Keith, he's doing a really great job and we got this freshman, Nick Anderson, he's really good." 
Such an explosion of talent is welcome, as many question marks surrounded how the Deacs would fare defensively after the loss of Justin Strnad and Essang Bassey. Even without the two, Wake Forest still has two forces in LB Jacquez Williams and DL Boogie Basham. Basham could  very well be the 'X-Factor' the Deacs need.
"[Boogie] has a special laser focus to get to the football," said defensive line coach Dave Cohen. (This year) Boogie is a little more than focused. He's quick, he's strong, he's smart, he's mean, and most of all, he's dominant."
 Basham's coaches hope he can build on last year's successful campaign in which he tallied 26 tackles, 11 sacks and three forced fumbles per ESPN.
With Wake Forest's defense led by Basham and their offense playing classic Clawson style football, the Deacs may have a chance  to rattle some cages this season. The uncertainty of even having a season this year has ignited both ambition and excitement among the players and according to Hemphill, the guys are just excited to play.  
"I don't even know if they care who we're playing. I don't think Clemson means anything," he said.