Previewing week one, Wake Forest vs. Clemson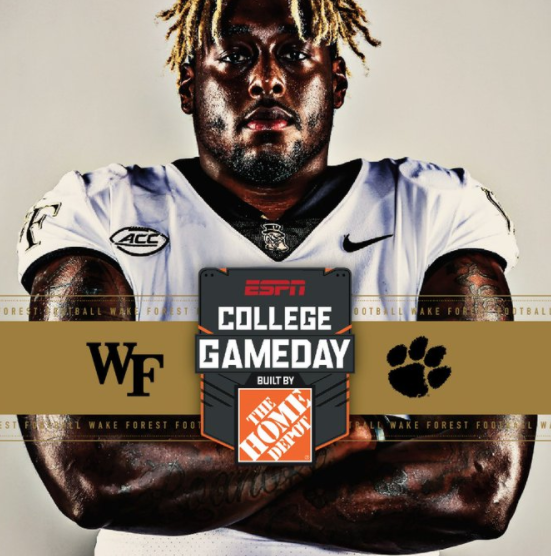 Wake Forest's 2020-2021 regular season football campaign is set to begin with a bang as the Deacs will take on national powerhouse and ACC foe No. 1 Clemson this Saturday evening. The game is slated for a 7:30 p.m. start and will certainly draw plenty of national attention; College GameDay will air live for the first time from Wake Forest all day Saturday, a significant milestone in Wake Forest football history. It's a travesty in its own right that there will be no fans permitted to attend Saturday's contest; certainly, we'd all be grateful for the opportunity to witness our Deacs take the field live and in-person. Nevertheless, the eyes of the college football world will be trained firmly upon Truist Stadium as the Deacs look to ruffle some feathers in the ACC early on with a monumental upset on friendly terrain.
Wake Forest will undoubtedly be out for blood Saturday with the atrocity that was last year's Clemson game still dancing in their heads. The game in question was an unfortunate blemish on an otherwise solid season for Wake Forest; the Deacs lost 52-3 in Death Valley, failing to record a single touchdown in all 60 minutes of play. No matter the circumstances, defeating the reigning national champs will prove a monumental challenge. The top-ranked Tigers boast a star-studded roster from top-to-bottom (as usual), a dominant squad led by Heisman frontrunner and returning quarterback Trevor Lawrence. Here's a preview of the players to watch when the Deacs take the turf Saturday night:
Trevor Lawrence- QB, Clemson 
Without a doubt, Lawrence is the most important cog in the powerful machine that is the Clemson offense. He's the key to their success, as much of Clemson's production on that side of the ball falls squarely on his shoulders. His dual-threat capabilities under center have continuously befuddled defenses throughout his collegiate career to this point; he found the end zone 36 times through the air and nine times on the ground last season alone. Look for Lawrence to be aggressive early, using both his legs and his arm in an attempt to dismantle the Wake Forest defense.
Travis Etienne- RB, Clemson
The Clemson offense might be compared to a fully loaded arsenal, and Travis Etienne is one of the most potent weapons of them all. Looking to pick up where he left off after a roaring 2019-2020 season (1,614 rushing yards and 19 touchdowns), Etienne will be looking to make the most of his final collegiate season before he moves onto bigger and better things in the NFL. The combination of Lawrence and Etienne in the Clemson backfield puts defenses between a rock and a hard place; contain Lawrence, and Etienne will step up to the plate, acting as a threat on the ground and as a receiver out of the backfield.
Sam Hartman- QB, Wake Forest
The name "Sam Hartman" has almost certainly come up in any recent conversation regarding the future of Wake Forest football. In the wake of Jamie Newman's departure from the university, a rather imposing set of shoes were left to be filled, and redshirt-senior Sam Hartman has been chosen to fill them. Hartman saw limited action last year as Jamie Newman's backup, totaling 830 yards and four passing touchdowns on the year. Hartman played in just four games last season, and he has his work cut out for him in his first start of the new season. He'll inevitably play a crucial role in the outcome of the game for Wake Forest; if he can step up to the plate and shine under the lights, the Deacs might just have a fighting chance.
Carlos Basham Jr.- DE, Wake Forest
It's no secret that a solid defensive performance will be imperative for the Deacs on Saturday. Without finding a way to contain the Clemson offense, the game could very easily get out of hand. If there ever was a man capable of spearheading this imposing job, it's almost certainly redshirt-senior Carlos 'Boogie' Basham Jr. Basham Jr. racked up 26 tackles and 11 sacks last season; the rest of the defense will look to him to provide steady production against the Clemson offensive line Saturday night.