Outdoor activity can ease anxiety during finals
Spending some time in green spaces can help with anxiety and depression
In the midst of a global pandemic, students are dealing with the pressures of academia along with anxiety and depression as a negative side effect of COVID-19.
Mental illness among college students is at an all-time high and finals season is a primary contributor. Sage Journals reported 31% of college students indicated finals are their biggest stressor.
Additionally, between 25-40% of college students suffer from test anxiety, and students with test anxiety tend to perform 12% worse on exams than students without test anxiety.
These statistics reflect a "normal" college semester, whereas the past semesters amidst COVID-19 have been anything but normal.
The pandemic is exacerbating stress and anxiety amongst students and non-students alike; TFF Pharmaceutical polls revealed "53% of adults in the United States reported that their mental health has been negatively impacted due to worry and stress over the coronavirus […] adults are also reporting specific negative impacts on their mental health and wellbeing, such as difficulty sleeping (36%) or eating (32%), increases in alcohol consumption or substance use (12%) and worsening chronic conditions (12%)."
While these statistics may look grim, there are methods to reduce the effects of stress from finals and COVID-19. Studies referenced by Lumino Health suggest that natural environments may help boost moods and negative self-thoughts more than urban environments.
After exposure to nature, levels of anxiety tend to decrease while cognitive functions like memory, ability to focus and even creativity tend to increase. Being outdoors can also improve overall positive moods.
More specifically, nature has been shown to improve Vitamin D levels, improve lung and brain functioning, increases feelings of hope, excitement and peace and decrease feelings of anxiety and depression. Increased Vitamin D levels help improve moods, especially with symptoms of minor and even major depression. About one in five people have deficiencies in Vitamin D, so being outside under the sun can help improve these levels and consequently improves depressed moods.
Fresh air also pumps oxygen into the bloodstream which helps lungs function at maximum capacity and increase brain power. Results show that students who spend more time outside tend to achieve higher academically.
Simply being in nature can help mental health too. The color green is often associate with feelings of happiness, comfort, hope, excitement and a sense of peace. The green grass, trees and other vegetation can thus improve mental health by lifting moods. Light also tends to elevate moods.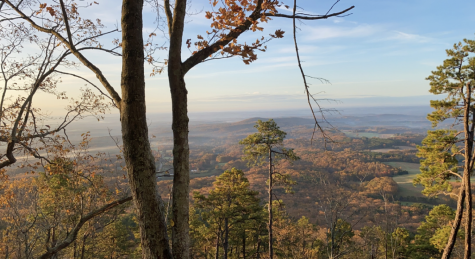 Going outside also promotes exercise which is beneficial in a multitude of ways. Exercise reduces feelings of anxiety and depression through the creation of endorphins, while improving mental functioning and quality of sleep. When endorphins are released in the brain, general wellbeing and mood is greatly improved.
In addition to improvements in mental health, there are also significant academic benefits, including improved concentration, increased standardized test scores, reduced fatigue and a better ability to focus.
With finals looming, there are plenty of options in Winston-Salem and the surrounding area to explore. Here are a few spots nearby that could help you get outdoors:
Right next to campus is Reynolda trail which, is about a three-mile loop from campus and back again. There are sure to be some friendly faces in Reynolda Village or along the trails.
A short 10-minute drive from campus is Salem Lake which, a seven-mile loop around a man-made lake. Salem Lake is an ideal spot for a long run or a bike ride around the lake. The trail is well marked and well maintained, making this an easily navigable trail around the lake.
A little further from campus is Pilot Mountain which has a variety of trails between .5 and eight miles, and a view well worth the 30-minute drive from campus.
Hanging Rock is another option, although it is slightly further from campus than Pilot Mountain. It is 40 minutes northwest of campus and has trails ranging in length from .1 to 7.5 miles.
An additional 10-minutes northeast of campus is the Mayo River State Park with a 16-mile river corridor that is sure to be relaxing.
For a full-day adventure, National Parks such as the Blue Ridge and Great Smoky Mountain parks are both within three hours of campus. The view from the top of the mountains is most definitely worth the trip. The Blue Ridge parkways is also a great way to see several different mountain ranges while driving along sections of it. Sometimes the best way to study for exams is taking some time to relax and enjoy the view.
A healthy body promotes a healthy mind. So, whether it is a five minute walk or a five mile hike, help your mental health when you need it the most by stepping outside.