Demon Deacons beginning to hit their stride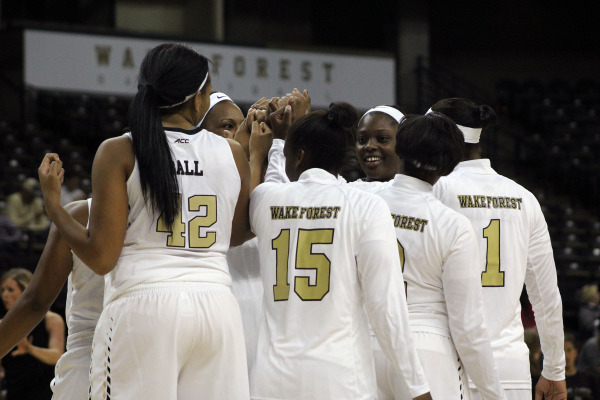 The Deacs finally triumphed over the UNC Tar Heels at home last Thursday, Jan. 19 at home. This was the first time since 2004 that Wake Forest had come out on top and it marks their first ACC win of the year.
Rookie of the week, Elisa Penna set the tone for the game by hitting an opening three-point shot to immediately establish a lead over the Tar Heels. This was followed by Ataijah Taylor having four points in the first two minutes, as well as an assist. The team had chemistry and ultimately played better. The Tar Heels never had a lead over the Deacs throughout the entire game.
Stephanie Watts and Jamie Cherry led the Tar Heels in all aspects of the game: points, rebounds, steals and assists. Watts finished the game with 24 points, 19 of which were in the second half alone. Wake Forest's lead over the Tar Heels started to pick up in the second quarter after several crucial defensive plays made by the Deacs. The lead stretched out even more in the third quarter; the Deacs had several offensive and defensive boards that were converted into points. Jill Brunori and Milan Quinn had stellar defensive performances, each finishing with double digits in rebounds. The Tar Heels were successful at the free throw line, especially in the first half where they were seven of eight. Overall, free throws weren't an integral part in determining the outcome of this particular game.
Wake Forest converted 34 points within the paint, while UNC only finished 26. Three-point shots were not falling for the Tar Heels in the second half; UNC converted on 42.9 percent from behind the arc before missing 11 of its last 12. However, the most significant disparity between the two teams was bench depth. Wake Forest's bench players contributed 28 points, while the Tar Heel's bench totaled four points. This statistic shows the Deacs play better team basketball, not relying on a few players to determine the outcome of the game.
Although the Tar Heels lost, they put up a good fight. After coming off of three prior losses, they were vulnerable and un-confident; however, this was no excuse for the Deacs. After losing five straight ACC games, Wake Forest bounced back and played harder, smarter and all around better. The Deacs were also victorious against Boston College last Saturday, Jan. 24 in Chestnut Hill. Wake Forest finished 50 percent from three-point land and 87 percent from the free throw line. High scorers were Elisa Penna (22), Ariel Stephenson (13) and Milan Quinn (10). The Deacs will take on Florida State at home on Jan. 28 at 7pm.