Wake Forest hosts conference on inequality
The conference will spotlight student research on inequality across many academic disciplines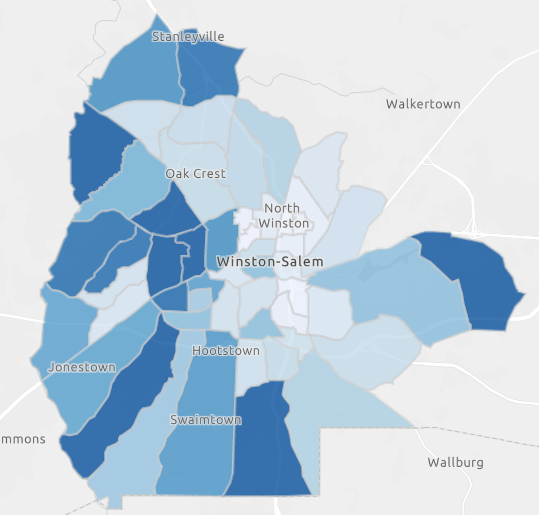 Last semester, juniors Tal Feldman and Ashley Peake founded the Collegiate Association for Inequality Research (CAIR) at Wake Forest to address what they saw as a lack of organized support for students researching inequality. This semester, CAIR is moving up in the world and hosting an international — albeit virtual — conference.
The conference, which will occur on April 24, will feature speakers from universities as renowned as the Ivy League's University of Pennsylvania and Columbia University, as well as from smaller state schools like the University of Wyoming, among others. The conference will run from 9:15 a.m. to 6:15 p.m, with a 30-minute lunch break.
According to Feldman, the idea for the conference sprung from the success of an earlier symposium put on by CAIR.
"Students have a lot to say about [inequality]," Feldman said. "That is a big reason [as to] why we had a lot of abstract submissions to our conference."
The conference will feature two 75-minute presentation sessions and one 45-minute presentation session. Each session will feature a choice of three or four presentations for attendees to choose from.
In the first session, the three topics will be Law and Gender; Labor Markets and Their Inequities; and Immigration and Latinx Experiences. The second session's four topics are Criminal Justice, Politics and International Affairs; Housing: Poverty and Segregation; and Gender, Sexuality and Technology. The third section's topics are Addressing Racial Inequity, Science and Healthcare; and Understanding Inequality Through Art Narratives.
"The wide range of disciplines in which these students engaged and in which they were cognizant [was amazing]," Feldman said. "So we had abstracts that were in some of the disciplines you would expect, like anthropology, sociology, political science and economics, but also in the STEM fields."
There will also be two 90-minute poster sessions, which will provide an opportunity for more students to share their research. The topics for the posters have not been released, but there will be 45 poster projects in all, according to CAIR's website.
"Having two virtual poster sessions was not part of our original plan," Peake said. "But to accommodate all of the projects we got, we wanted to accept and include more projects in a way that would still let us have the conference within a reasonable timeframe."
Junior Elizabeth MacDonald, whose abstract was selected for presentation, shared her thoughts about presenting at the conference.
"I thought it would be a great way to practice public speaking on Zoom — giving a recap of my personal summer work — and that it would be great to support this endeavor," MacDonald said.
Senior Dylan Tynes will be co-presenting a project on food inequality/insecurity alongside Peake.
"We are presenting a virtual poster on which we model food insecurity in Winston-Salem by analyzing driving and walking times to grocery stores and augmenting the results with information about income and population density in different areas of town," Tynes said. "The resulting map shows which areas in town are more food insecure compared to others."
The conference will also feature a panel of Wake Forest faculty members, including Political Science & International Affairs Professor Sarah Dahill-Brown, Communications Professor Alessandra Von Burg and Economics Professor Megan Regan.
Ultimately, Feldman and Peake hope that the conference will help center Wake Forest in further conversations about inequality in academic spheres.
"We found that … we can use the tools we have as researchers and as students to actually contribute to these conversations [about inequality] and to do research on these topics," Peake said. "There's not necessarily — especially on Wake Forest's campus — a lot of emphasis on that kind of student research, and we wanted to create a space for interdisciplinary researchers to approach these topics."
Registration for the conference is still open on CAIR's website.