Eighteen months after breaking ground on the McCreary Football Complex, the Wake Forest football team has a new home. At least that's how Head Coach Dave Clawson described it to hundreds of Wake Forest community members at Thursday's official unveiling ceremony.
The 60,000 square-foot facility, connected to the McCreary Field House, includes 130 lockers, a nutrition center, a hydrotherapy room, a physical training room, an equipment room, a recovery room with six sleeping pods, a barbershop and a player lounge with TVs, couches, ping pong and pool tables. 
More than 700 individual donors contributed to the $38 million project, including a $20 million donation from football alumnus Bob McCreary ('61) in October 2021.
"This is what keeps players at Wake Forest," Clawson said to McCreary on stage. "It's the education, it's the facilities but more than anything, it's the relationship they make with each other. You have provided a space for us to promote that and for that to happen. It's never been more evident."
Story continues below advertisement
And as Clawson would say later on, facilities like the McCreary Football Complex are what also get players to even come to Wake Forest. 
"In recruiting, the thing was Wake Forest was an incredible academic school with incredible faculty in an intimate classroom setting on a gorgeous campus, but where is the institutional commitment to football?" asked Clawson. "The whole goal was to change the 'but' to an 'and'… I'm just grateful for all the people who have contributed to this, and the leadership of our Board of Trustees. It shows that football is important at Wake Forest, and it's something we've invested in. We wouldn't have success without it. Now we have to keep it going. That's the challenge."
Many Wake Forest community members were present during the ceremony including Wake Forest President Susan Wente, Athletic Director John Currie, former Athletic Director Ron Wellman, university trustee Dr. Herman Eure, Allegacy Federal Credit Union CEO Cathy Pace, the football coaching staff, four of the team captains, numerous former players and alumni. 
Clawson was gracious to Wente, applauding her for the "incredible amount of courage" it took to sign off on the project in the fall of 2021 as one of the first major decisions of her presidency. 
The McCreary Football Complex was unveiled to the football team in late July before the start of fall camp, but the novelty still hasn't worn off. Kendron Wayman, a junior defensive lineman, mentions the clear difference in space as one of the best parts of the new locker room. 
"It's just amazing. Words can't even describe how happy we are to have [it]," Wayman said.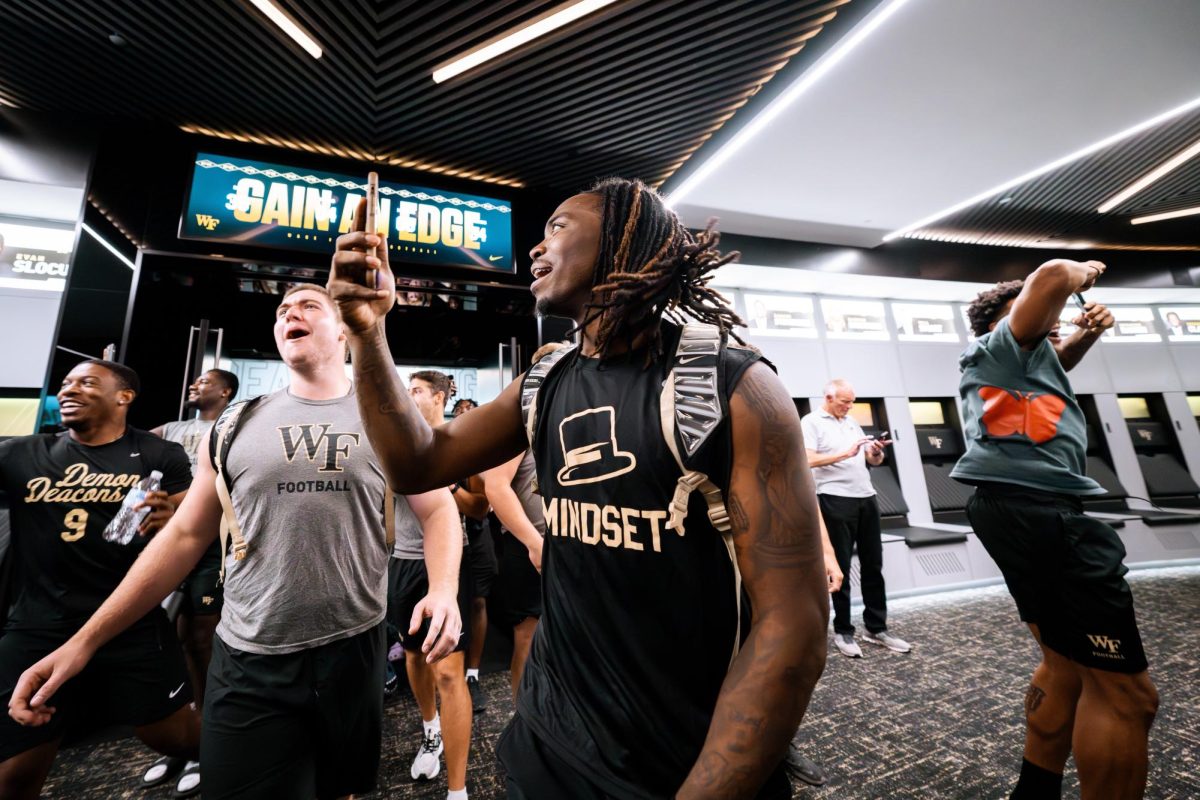 For McCreary, who was one of the first people to see the finished product, the ribbon-cutting ceremony on Aug. 17 allowed for reflection on the journey Wake Forest football has taken since the hiring of Clawson 10 years ago and his own playing days 62 years ago. 
"It's a great comfort to me to see you guys using it the way you are," McCreary said to the players who were in the room. "One of the highlights of my life was three weeks ago when we all went in there together, and I saw your reactions. That made everything I may have done worthwhile."
The Mark C. Pruitt Football Center's Peahead Walker Football Locker Room, which was built in 1988, does not have a future use set in stone, according to Currie. The athletic department will look at the existing locker room space for all 15 of the other teams and be used as a temporary work room for other projects in the meantime.