The number one scoring offense in the ACC (36.1 pts/game) is about to look a little different this year as only four of last season's starters are returning to the field (RB Justice Ellison, WR Taylor Morin, OL Michael Jurgens and De'Vonte Gordon). It seems this season will put head coach Dave Clawson's high praise of Wake Forest's developmental programs to the test. 
Across all positions, Clawson and offensive coordinator Warren Ruggerio will be relying on players who haven't seen much meaningful game time but have spent years learning and practicing the unique slow mesh — excuse me, "pace and space" or "hang and bang" — offense.  Here are breakdowns of what to expect from each position based on fall camp observations.
QUARTERBACK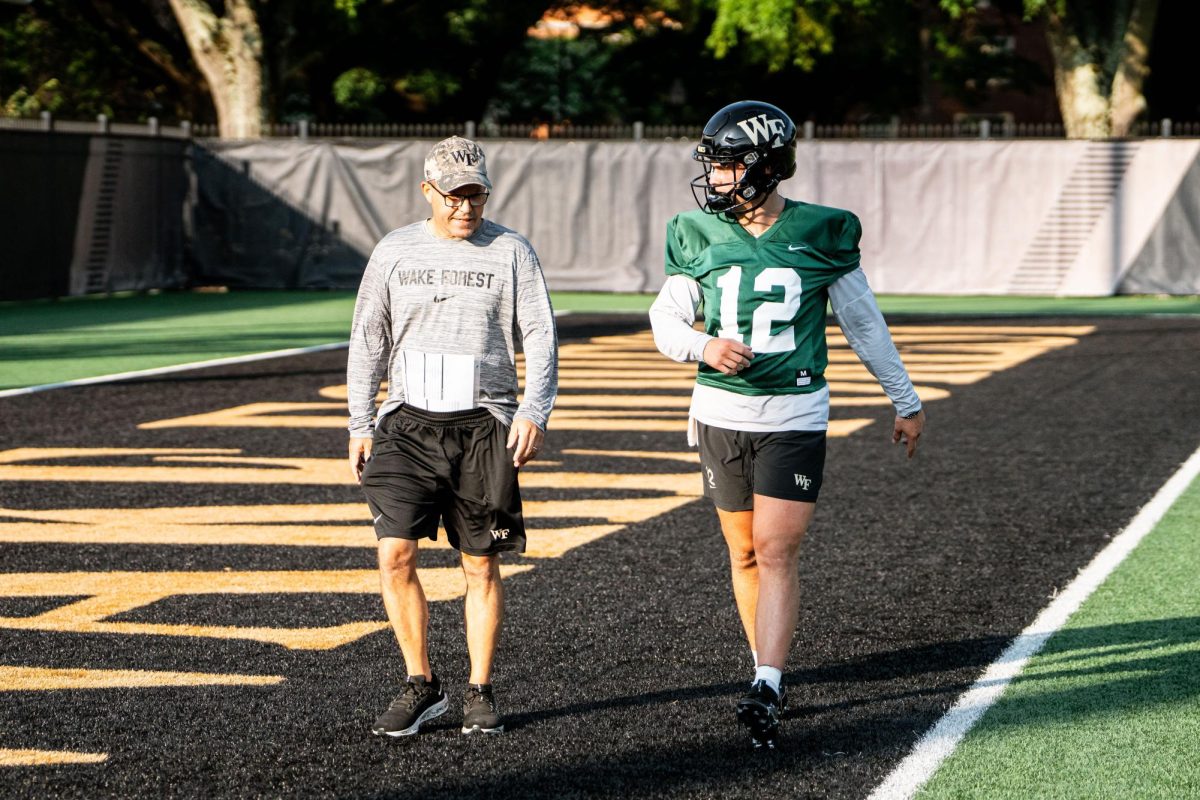 From outside the program, there is a lot of concern about the transition from Sam Hartman to Mitch Griffis. How can Griffis fill Hartman's shoes? Griffis hasn't had meaningful playing time since high school — is he prepared? Is Griffis even tall enough to see over the towering offensive line to run the "hang and bang" offense? 
Story continues below advertisement
There are no concerns inside the program. 
"He's ready to go," Clawson said at ACC Media Day. "I think what happened last year when he had to start the first game — that's not anything that anybody wanted — but I think just having that experience of being the starter will help him this year. He's smart. He knows doing it for one game and doing it for 12 consecutive games are completely different challenges, but I think he's ready to go."
No. 12 has already formed his two most reliable connections with fellow Spring 2020 enrollees Jahmal Banks and Ke'Shawn Williams. Griffis has also been fond of sophomore Wesley Grimes, someone with whom he spent a good amount of time on second-team practice reps last year, and fellow North Virginian Taylor Morin, who he has known prior to Wake Forest. However, he doesn't play favorites on the field.
"The defense picks who I throw the ball to…," Griffis said. "There are times where you get looks that are even, and you can go one way or another, but most of the time the defense tells you where to throw the ball because they're the ones opening holes or putting guys one on one."
Griffis isn't just a pocket passer and finds that he is more comfortable throwing on the run. There may be instances of designed runs this season, but a lot of Griffis' future rushing attempts will be improvised. His confidence in making changes and adapting on the fly is something he says has grown over the offseason.
He's smart. He knows doing it for one game and doing it for 12 consecutive games are completely different challenges, but I think he's ready to go.
— Dave Clawson, Head Football Coach
Behind Griffis are redshirt senior Michael Kern and redshirt sophomore Santino Marucci. Kern is the primary backup as he has appeared in 13 games over the past four seasons, completing 24 of his 42 career passes for 376 yards. Kern has a firm understanding of the Wake Forest offense and can perform as a serviceable quarterback if need be. Throughout fall camp, Kern has taken a liking to University of Tennessee transfer Walker Merrill as his number one target.
Marucci and two freshmen, Charlie Gilliam and Tyler Mizzell, have been splitting third-team reps during practice, but in a game situation, the nod will most likely go to Marucci because of his familiarity with the offense. Gilliam, a three-star Georgia recruit, and Mizzell, a walkon from Denver, N.C., will probably not see the field this season but will be competing for next season's backup position throughout practice. 
RUNNING BACK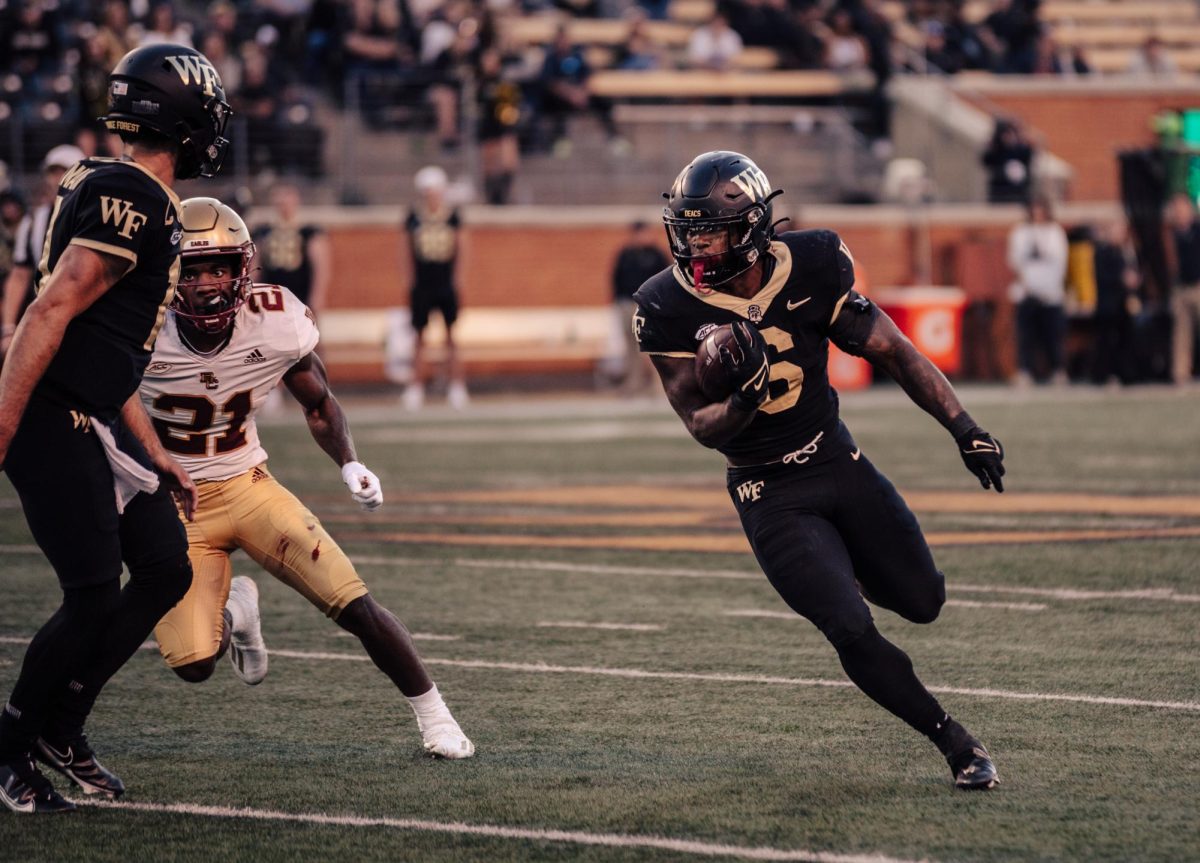 The 2022 run offense was not a strong suit of the team. In fact, it was Wake Forest's least productive rushing offense since 2015. The Demon Deacons were both inconsistent — averaging 132 yards/game but failing to eclipse 25 total yards twice (against Liberty and NC State) — and inefficient, averaging only 3.4 yards/attempt (110th out of 131 FBS teams). 
In the Clawson era, getting yards on the ground has been a by-committee task, and this year is no different. Last year's leading rusher junior Justice Ellison (170 rushes, 707 yards, 6 TD in 2022) will look to carry the brunt of reps this year, with sophomore Demond Claiborne (14 rushes, 57 yards in 2022) being option number two. 
Ellison, who has repeatedly been called "the most underrated player in the ACC" by quarterback Griffis, has a true Swiss Army-knife type of playing style. A physical runner, Ellison is not afraid to go up the middle and fight for yards through the first and second levels of the defense, but he is also just as willing to go out to the side and beat the secondary in a footrace. The Northern Virginia native also has great hands and the ability to turn upfield after the catch, averaging 10.3 yards/rec last year. 
"He brings his lunch pail to work every day," Hunter said of Ellison. "He understands the offense. He understands the techniques that we use, and he's probably one of the best — he is the best at applying those rules. And he's a great example for our younger guys."
One of those younger guys is Claiborne. The sophomore did not receive much playing time during the 2022 season, but with the departures of Christian Tuner (Indiana University) and Quinton Cooley (Liberty University), Claiborne will have plenty of opportunities to show his skills this year. 
A little bit smaller than Ellison, Claiborne still packs a punch going up the A-gap and in pass protection, which by the end of fall camp has become much more reliable, but his elusiveness is what truly differentiates the two backs. Throughout fall camp, Claiborne has been as bouncy as a pinball, avoiding tackles with spin moves and quick stutter steps, refusing to get brought down to the ground.
Typically, Clawson and Hunter like to throw a third running back into the mix, but with this year's group, it may end up being four or five. Sophomore Tate Carney and freshman David Egbe are the two running backs next up. Sophomore Will Towns missed most of fall camp with an injury, but once he returns, he is another back who will be competing for reps.
Hunter says the talent is there, up and down the depth chart, but for the entire run game to see success, there must be a reliance on and trust in the overall offense. 
"Let the scheme work for you," Hunter said. "A lot of times, especially younger backs, they'll try and do too much, and it's just about letting the game come to you."
WIDE RECEIVER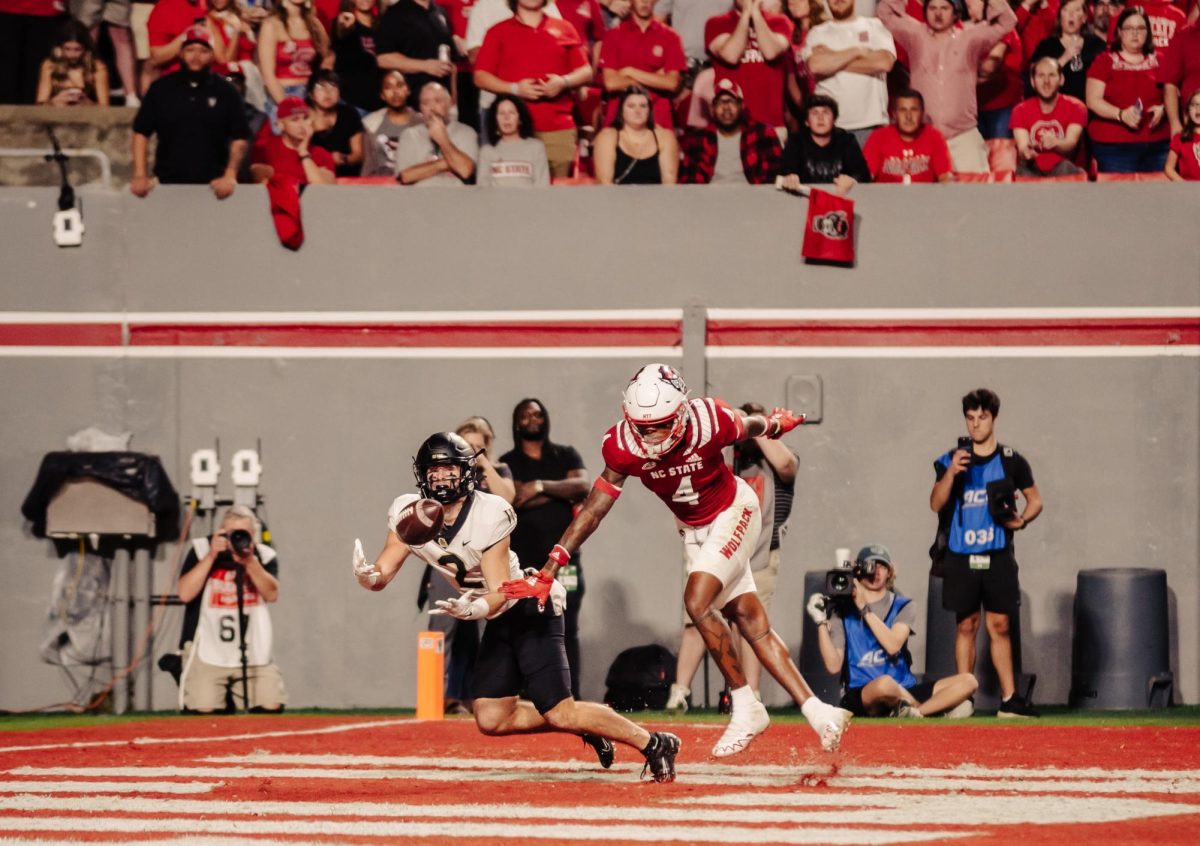 The Demon Deacons will be without their top returning receiver Donavon Greene (37 rec, 642 yds, 6 TD in 2022) for most of the season after he suffered  a knee injury during a non-contact drill on the first day of fall camp. The loss of the 2023 Maxwell Award watch list member for the next 3-5 months will certainly be noticed, but not detrimental to the offense — head coach Dave Clawson said it would be a "bonus" if Greene returns to the field late in the season.
That means last year's breakout offensive player Jahmal Banks (42 rec, 636 yds, 9 TD in 2022) will get an even bigger role this season. Although opposing teams will have more film on Banks, the 6-foot-4 wideout with an even larger catch radius is looking to surpass those numbers. With a year of meaningful playing time under his belt and a stronger relationship with his quarterback, Banks is confident this season will be better than last.
"When I first came on campus, I saw Mitch, we first worked out, I said 'Mitch, you just like me. I'm just like you,'" Banks said. "That's where that connection started when I saw him. That only made the transition (from Hartman to Griffis) on the field that much easier…I'd say the connection might be greater because I've known Mitch for longer than I knew Sam."
With Banks becoming the number one option on the outside, Horatio Fields and Wesley Grimes get meaningful time on the opposite sideline. Toward the end of fall camp, Grimes was taking most of the first-team reps, but whoever does not start of the two will still see a considerable percentage of snaps. So too will Walker Merrill (8 rec, 162 yds, 3 TD in 2022), who has impressed first-year wide receivers coach Ari Confesor throughout camp.
There is also reliable veteran experience on the inside, as Taylor Morin (47 rec, 575 yds, 9 TD in 2022) and Ke'shawn Williams (39 rec, 553 yds, TD in 2022) will line up at the slot position. After Greene went down, Clawson mentioned the possibility of moving Morin outside, but there haven't been many practices where the redshirt junior has done so. 
Morin missed five practices during fall camp with a tweaked ankle but has since returned to the first team. In Morin's absence, true freshman Hilton "Deuce" Alexander II has received plenty of reps and plenty of attention from the coaching staff. Alexander is one of Clawson's "red alert" players, meaning that he will definitely see at least four games worth of action but still maintain redshirt eligibility.
TIGHT END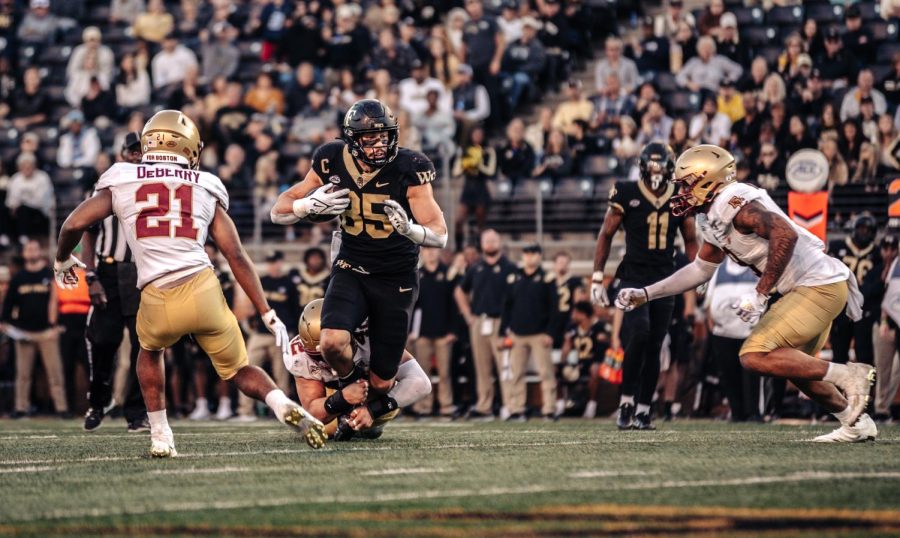 With Blake Whiteheart now in the NFL, the Wake Forest tight end room has lost an experienced veteran. Redshirt junior Cameron Hite, who has been slotted under guys like Whiteheart, Brandon Chapman and Jake Freudenthal, is ready to take on the starting role. 
"I've taken all those mental reps that I've taken early," Hite said. "I've seen what it takes to be a starter and seeing the work you have to put in to be ready each week, being prepared for the week, for whatever comes, whatever new tasks you get that week, so give a lot of credit to those guys." 
At 6-foot-3-inches, 243 pounds, Hite may be one of the smaller tight ends in the eight-man group, but he does not play like it. Hite is the best blocker, able to pick up linebackers and defensive linemen, and is also the best pass catcher of the group. 
Hite only has three career receptions for 29 yards and a touchdown, as most of his reps have been on special teams, but he should surpass that tally easily. Throughout fall camp, Hite and quarterback Griffis have formed a solid and reliable connection. Expect to see Hite get multiple targets a game, especially when the Demon Deacons are in the red zone. 
For the second slot, there is a three-man battle between redshirt freshmen Gavin Ellis and Harry Lodge, as well as sophomore Trey Boll. Tight ends coach Wayne Lineburg said he's still in an evaluation phase as fall camp winds down, but he's seen improvements and positive flashes from everyone. Ellis, who has been receiving most of the second-team reps during camp, is the best blocker behind Hite according to Lineburg.
OFFENSIVE LINE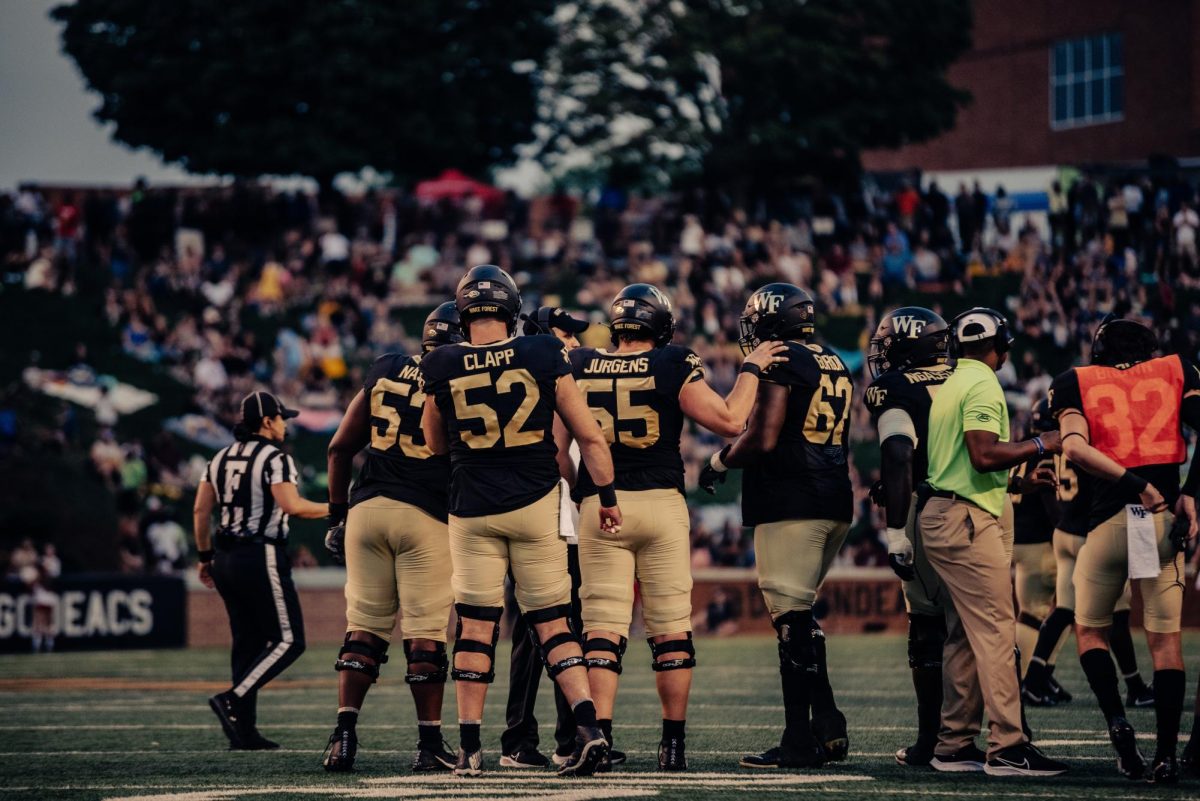 Michael Jurgens has started 34 games for the Wake Forest offensive line over the past five seasons, and 33 of those were at center in between Sean Maginn and Loic Ngassam Nya. With 83 combined career starts just between the two guards, the interior line was one of the most cohesive and reliable units in recent years. Maginn, Ngassam Nya and tackle Je'Vionte' Nash (24 career starts) no longer play college football, so it is up to the three-time captain Jurgens to take the lead on the line, albeit from a different position. 
Jurgens, who was named to the Lombardi Award Watchlist, made the switch from center to left guard during the spring to allow the 6-foot-2, 294 lb redshirt sophomore Luke Petitbon to get into the lineup. Petitbon missed all of the 2022 season after recovering from a torn ACL, but he does have prior game experience (17 appearances, 1 start at RG) and is ready to return back to the field.
"It's definitely awesome to have guys like Jurgens [on the line], but not only Jurgens, also Spencer Clapp, De'Vonte Gordon, guys that have a bunch of experience," Petitbon said. "That makes you feel more comfortable when they're next to you because you know that if you mess something up, they're gonna have your back, and they'll get you right."
Clapp (6-foot-6, 300 lbs) is in his seventh year with the football program but has never started a game at tackle until this season. Gordon (6-foot-5, 310 lbs) is going on his third season starting at right tackle. The 2022 All-ACC honorable mention and NFL prospect will mostly play the right tackle position, while Clapp mans the left tackle spot, but Gordon has the ability to play both sides. 
The right guard position has been up for grabs for the entirety of fall camp, as third-year players Nick Sharpe (6-foot-2, 330 lbs) and Matt Gulbin (6-foot-4, 313 lbs) have been going 50-50 for first-team reps. However, similar to competition for the second outside wide receiver slot, whoever does not earn the starting right guard job will still be seeing an ample amount of playing time as a sixth lineman. 
Even with the inexperience of the offensive line, position coach Nick Tabacca is confident in his group of guys, especially Petitbon.
"He has done a phenomenal job," Tabacca said. "One thing about that kid is he loves football. I mean, he works really, really, really hard at it. He's always up there watching film, and he just loves to play." 
Besides Gulbin/Sharpe and third-year player Zach Vaughan (6-foot-6, 303 lbs), who should be the third tackle on the depth chart, there isn't much game-ready depth. This means staying healthy — Clapp and Petitbon have both had ACL surgery, and Jurgens has missed multiple games in his career — will be crucial for the productivity of the line and the rest of the offense. 
Correction August 26: An earlier version of this article contained a description of an injury that was unconfirmed. That reference has been deleted.