With a second year of Brad Lambert as defensive coordinator comes a higher expectation of performance. Wake Forest will return seven players with starting experience and call upon transfers and true freshmen. The Demon Deacons ranked 11th in the ACC allowing 28.3 points/game, but did possess the third-best red zone defense preventing scores 19.6% of the time. Here is a positional breakdown of the 2023 defensive and special teams units.
DEFENSIVE LINE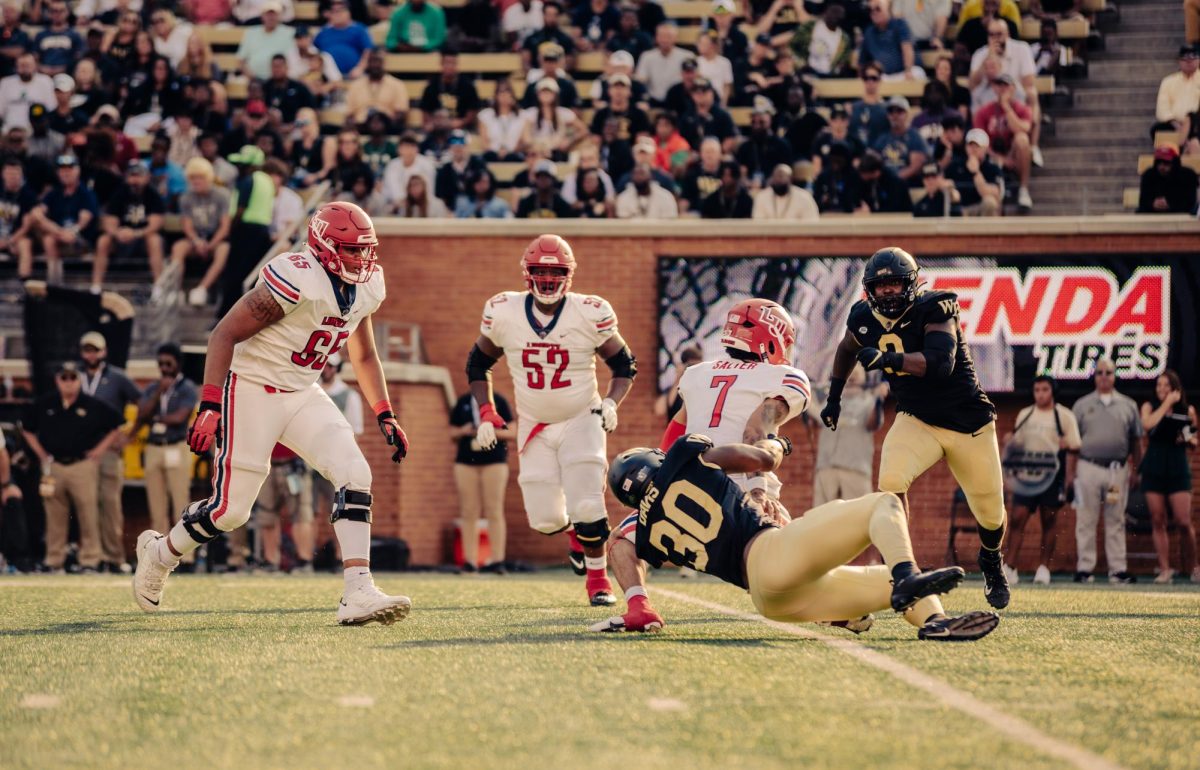 With defensive ends Rondell Bothroyd and JaCorey Johns departing to the University of Oklahoma and the USFL, defensive tackle Kobie Turner being selected by the Los Angeles Rams in the third round of the NFL draft; and other tackles Dion Bergan Jr. and Tyler Williams having graduated, the 2023 defensive line will look very different from last year's.
Senior edge rusher Jasheen Davis (33 total tackles, 14 tackles for loss and 7 sacks in 2022) will be the line's most experienced and explosive player. Lining up on the other side will most often be Kendron Wayman (17 total tackles, 4.5 tackles for loss and 3 sacks in 2022). The junior appeared in 12 games this past season in a limited role but believes he is ready to take on the added responsibility that a starting role brings.
Story continues below advertisement
"It's a huge [mental transition] because I was only getting a few snaps last year, and now I got the starting job," Wayman said. "It's really just locking in and just getting better each and every day and not having to compete. It's still competing, but you know what I mean? Just having to work every day to try to get better for myself."
The Demon Deacons are relatively thin at the edge position until redshirt junior Jaylen Hudson (20 total tackles, 1 tackle for loss, 1 forced fumble in 2022) returns from injury mid-September, so one of the players that may be called upon is true freshman Kerrington Lee (6-foot-4, 241 lbs), who has routinely made his pocket presence known throughout fall camp. Redshirt sophomore BJ Williams will also receive reps at defensive end. 
At defensive tackle, redshirt junior Kevin Pointer (13 total tackles, 2.5 tackles for loss and 1 sack in 2022) is the only rostered player with a decent amount of playing time, so Wake Forest hit the transfer portal, grabbing Bryce Gainous (58 total tackles, 10 tackles for loss and 4 sacks in two years at Villanova) and Nick Helbig (127 total tackles, 35.5 tackles for loss, 21 sacks and 7 forced fumbles in three years at Wesleyan College). Redshirt sophomore Wyatt Crespi and redshirt junior Justin Williams will also be competing for playing time.
"We've got a big pie, and they're fighting for a bigger slice of it," Head Coach Dave Clawson said. "They all have a slice right now, but they're all small slices… Right now Kevin Pointer would probably play over half the game, and the other guys would do it by committee."
Like Wayman, Pointer is excited for his increased role, saying he still asks Turner for advice.
"I was just playing my role," Pointer said. "Basically doing things that I could do when I did get in, trying to make some plays, trying to do what I can do for the team to help win. I knew I didn't have that starting role, but now I do, and it's time to take that next step."
The line's overall pass rush abilities and run-to-pass transition are things that will need to be improved upon come conference play, but Pointer is still confident in his and his group's talents.
"We hope to be the best-run defense in the ACC," Pointer said. "That's the number one goal. Create turnovers and swarm to the ball every time."
LINEBACKER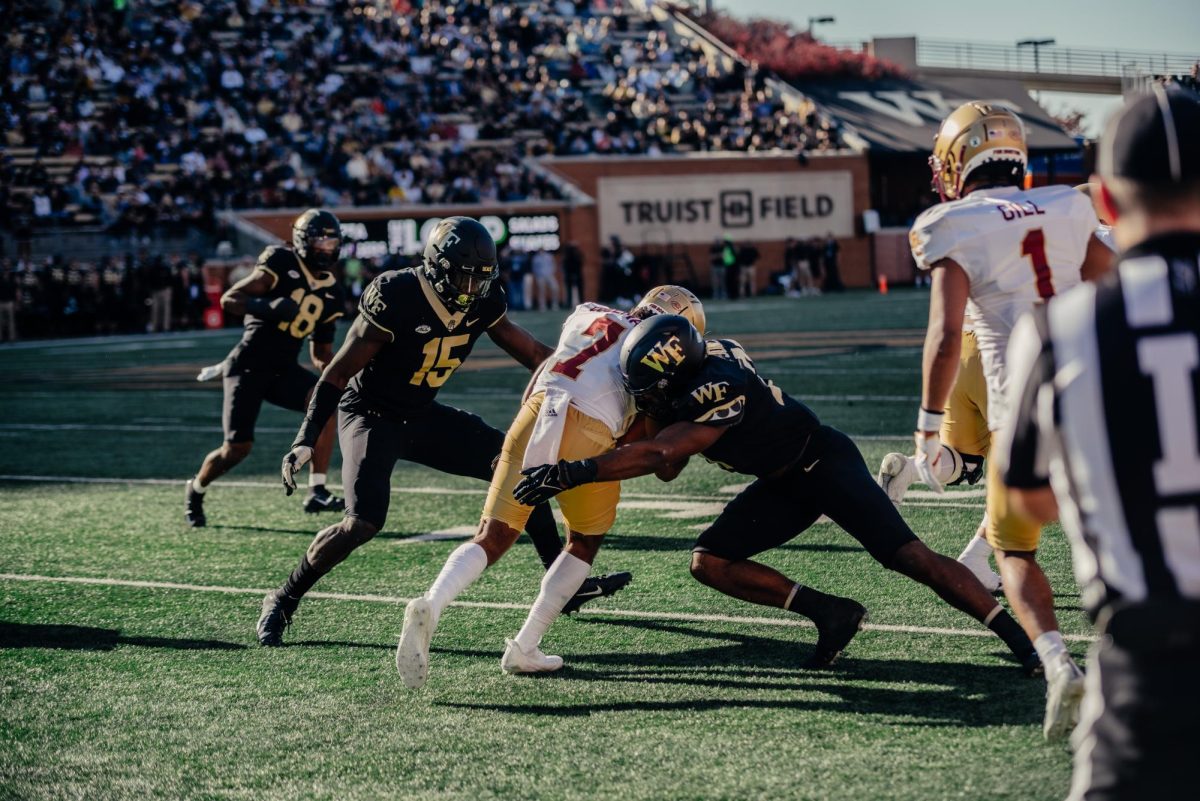 Even with the loss of leading tackler Ryan Smenda (117 tackles, 5.5 TFL in 2022) to the Los Angeles Rams, the linebacker position is one of the defense's strongest groups. With five players competing for two different positions, linebackers coach Glenn Spencer believes there is "pretty good depth, but the key is [being] dual-trained," impacting the combinations he can put out on the field.
Senior middle linebacker Chase Jones' 74 total tackles last season was good for second on the team, and he is looking to make an even bigger impact on the defensive side of the ball. A feat that both Jones, and other members of the defense believe will be easier during the second year of being in a Brad Lambert-run defense. 
"Any time it's a new scheme and a new defense, there's going to be new terminology and different fits for different plays you're not used to," Jones said. "Just getting used to that [was a learning curve] but obviously a year, year-and-a-half now, I'm a lot more comfortable with the defense, and I've been able to learn a lot more little nuances and details of the defense, so I'm excited to play this year."
The two-time team captain spent the offseason working on his hand-striking abilities, both in the run game and the pass game, which has been evident during fall camp. Jones is just as effective stuffing a run at the line of scrimmage as covering a tight end downfield, which will most likely end up with No. 21 on the field for nearly every snap. 
Opposite Jones will be either junior Dylan Hazen, who appeared in 12 games last season and recorded 31 total tackles, or Jacob Roberts, a graduate transfer from North Carolina A&T. Both Hazen and Roberts can play middle linebacker and have split second-team reps at that position, but both will be mostly weak side or outside linebacker positions. Roberts, a two-time FCS All-American linebacker, played mostly in a 4-3 defensive scheme at NC A&T but hasn't found it that difficult to make the transition into Lambert's scheme, which is historically a 3-4 front. 
"Having a big jump and a good amount of time to learn the playbook and get around the team to understand not just why we're running a play but setting up different things and schemes that offensively throw off their game, it's been very good," Roberts said. 
About midway through fall camp, the Demon Deacons lost junior linebacker Eldrick "Draco" Robinson II for the entire season to an Achilles injury during a non-contact drill. Robinson was coming off a knee injury that forced him to miss much of the 2022 season as well.
"After he got back, as he was getting healthy, he started to get back to his old form," Spencer said. "That's what hurts even more… He was going to be a factor for us. He was going to be on the field a lot."
With the loss of Robinson, redshirt sophomore Quincy Bryant and true freshman Aidan Hall will see a considerable amount of playing time, especially if injury were to strike the already-thin room.
DEFENSIVE BACK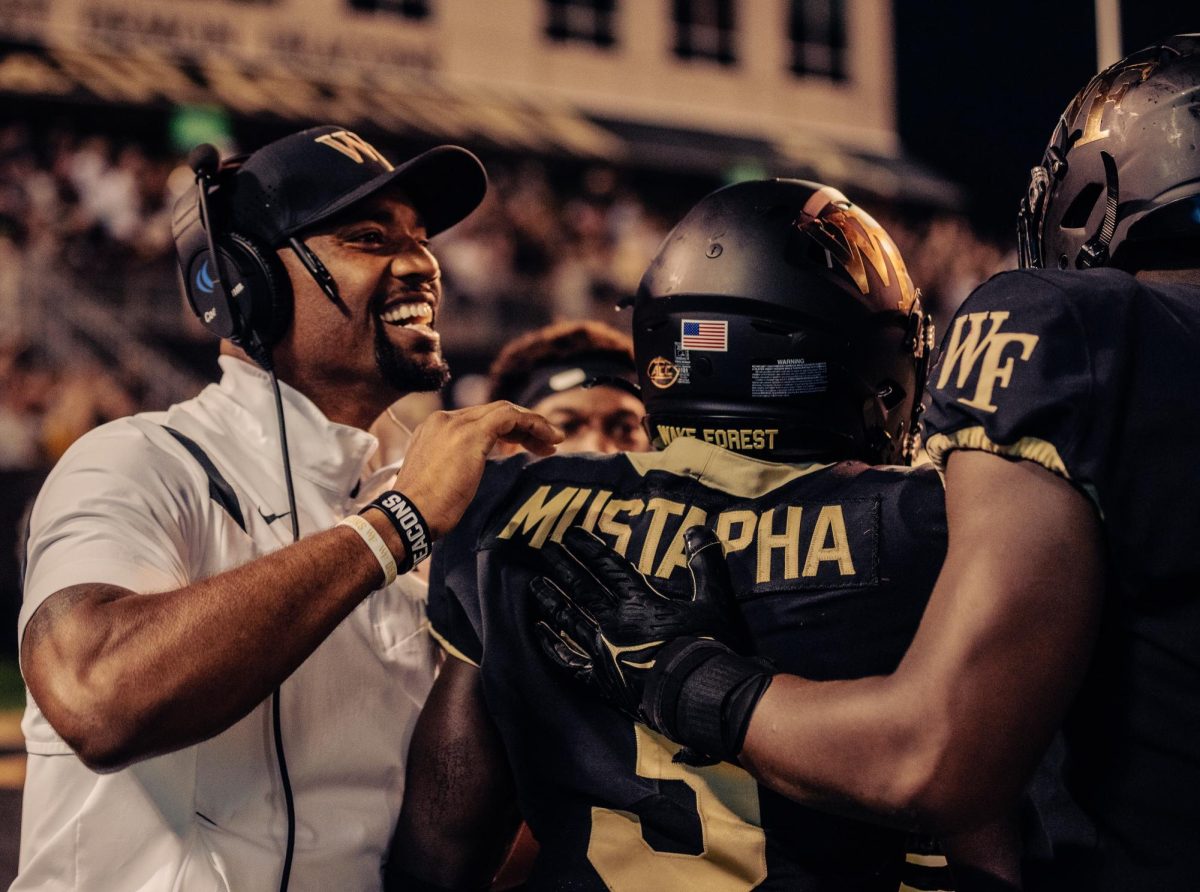 Last season, injuries were a major concern for the Wake Forest secondary — junior safety Malik Mustafa missed three games late in the season in an injury separate from his December 2021 ACL tear, sophomore safety, now nickel, Nick Andersen missed the entire year due to a foot injury and NFL-caliber cornerback Caelen Carson suffered two leg injuries during the season, causing him to miss five games. All three of them should be ready to go for the opening kickoff against Elon on Aug. 31.
"I really feel like I'm at a way more confident level," Mustapha said. "Especially being with the guys in the offseason and during spring ball, now carrying over to fall camp, I'm way more comfortable with the defense. I feel like everyone is more comfortable with a year under their belt. Everyone is flying around, talking, communicating and trying to make plays. It seems like a big difference from last year."
Another difference from last year is the introduction of Chip West as cornerbacks coach. West comes from Syracuse, where every starter earned All-ACC honors in his three seasons as position coach, with other stops at Marshall, Charlotte, Howard and UVA. He has only been at Wake Forest since February, but already there is a shift in the cornerbacks room. 
"I think the guys gravitate more towards Coach West," said redshirt sophomore DaShawn Jones. "He's a good guy and the cornerback room, we love him a lot."
Although this isn't Jones' first year with the program like West, the Baltimore native is preparing for his first year as a primary starter. Jones (23 total tackles, 5 pass breakups in 2022) admits it is a tough responsibility to be a veteran leader, but he is ready for it.
"I've just been in the playbook a lot, understanding the game and just keeping my head down, praying to God about everything, helping me through my situation," Jones said. "So I've just been really focused on this season, working, extra work after practice, just keeping it going so I can help my team win."
West has seen improvement from Jones and Notre Dame College (D-II) transfer Demarcus Rankin throughout fall camp, as well as redshirt freshman Jamare Glasker. As a group, West wants more of a focus on improving their tackling. 
"Tackling, there's one thing we need to improve on," Jones said."And eye discipline. Sometimes we get lackadaisical with our eyes and fatigue gets us sometimes, but you know, we got to push through that."
In the other room of the secondary hallway, second-year safeties coach James Adams is excited about his fully healthy group of guys. 
"When you have players that flash or guys that make plays every now and then, you want it more," Adams said. "We've got the talent, we've got the experience, we've got the depth so now it's just consistency. Every day bringing that energy, bringing that focus, every single day knowing that they're gonna make the plays."
We've got the talent, we've got the experience, we've got the depth so now it's just consistency.
— James Adams, Safeties Coach
Adams will rely on the Mustapha-Chelen Garnes combo as his first-team duo, with the Brendon Harris-AJ Williams combo playing in relief. The former pairing started 10 games last season (Mustapha missed three games due to injury) while Garnes started the entire season. Adams still marvels at the type of connection the two have with one another.
"There are things that they say to each other that, you know, other groups or position groups on defense or other even players in the room, might not know exactly what they mean," Adams said. "But it's because they play with each other. They've experienced some things. They talked about some things that they have that level of connection."
At the nickel position, junior Evan Slocum will be taking a more prominent role after starting six games last year. Since returning from injury, Andersen has moved from the free safety position to the nickel spot which allows the 5-foot-11, 194 lb sophomore to use his strength rushing the quarterback while still using his speed to cover the slot. True freshman Davaughan Patterson has also impressed Adams and Clawson throughout fall camp. It is unclear whether he will be redshirted, or classified "red alert," but Adams was adamant that the freshman could make an impact.
"I think he's got a chance to help us win some games," Adams said. "He's a guy that it's going to be really hard not to find a role for him, whether it's on special teams or on defense. But you know, we got so many guys that are contributing right now, man, I guess it'd be a safety room by committee."
SPECIAL TEAMS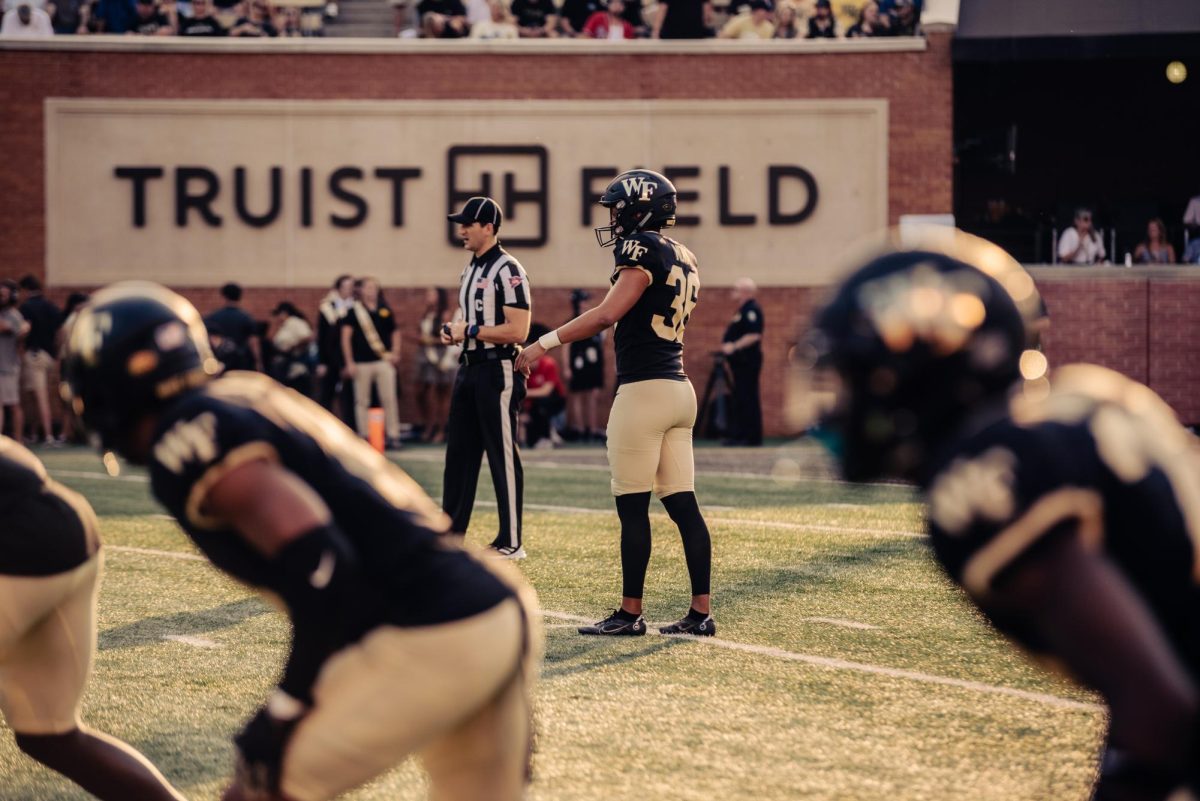 Matthew Dennis will be starting placekicker for the second straight year after going 56-for-57 in PAT attempts and 12-for-14 in FG attempts. Dennis' field goal percentage (.857) was tied for 23rd-best in the nation. With a year of experience under his belt, the redshirt sophomore hopes to get more kicking opportunities and surpass his accuracy marks.
Ivan Mora, named to his third-straight Ray Guy Award watch list at the beginning of August, will be the Demon Deacons' starting punter and holder. Last season, Mora averaged 40.8 yds/punt and downed 15 of his 40 kicks within the opponent's 20-yard line. After missing last year's offseason from a broken ankle in the 2021 Gator Bowl, the redshirt junior has used this offseason to return to full strength as he consistently boots the ball well over 50 yards in practice. 
Speedy slot receivers Ke'Shawn Williams and Taylor Morin will be tasked with the primary returning responsibilities, as kick returner and punt returner, respectively. Williams averaged 19.38 yards per kick return last season while Morin averaged 7.53 yards a punt return; both had longs of 38. Other players who may see return action this year include redshirt junior running backs Demond Claiborne and Justice Ellison. 
Towards the end of camp, Mora was competing with redshirt freshman Caleb Carlson for kickoff duties; however, Carlson's distance may give him a leg up. Redshirt sophomore Will Cobb will be starting long snapper.