Just like spring, the start of football season is the time of new beginnings.
On this day, the routine run from the locker room is a ceremony like no other, sending chills down fans' spines and breathing the freshest of air into their soon-to-be exhausted lungs as they scream the names of players they just heard of for the very first time. 
On this day, the entire season is foreseen after one or two drives. It's either "our year" or "next year," and the hasty binary decision is never wrong. Honestly, what's the point of playing out an entire 12 (hopefully more)-game season if it's already over?
On this day, players find out whether the seeds they planted this past offseason will burst out of the dirt and bloom into their full potential, if they will start to grow and then wilt or if they will even begin budding at all. 
Story continues below advertisement
On Thursday, Aug. 31, it was a new beginning for Wake Forest as they took on the Elon Phoenix and other reminders of such, besides the renamed venue, were floating around Allegacy Federal Credit Union Stadium more than pollen. 
Redshirt sophomore Mitch Griffis (19-for-30, 329 yds, 3 TD, INT) earned his second career start under center and his first as QB1 and team captain. Fifth-year tight end Cameron Hite (4 rec, 91 yds, TD) exceeded his career receiving totals in the first half alone. North Carolina A&T transfer linebacker Jacob Roberts (7 total tackles, 1.5 tackles for loss, 1 sack) showed he can hang in the FBS level. Kickoffs finally resulted in touchbacks, and the Spirit of the Old Gold & Black marching band finally had enough members to spell "WF" out on the field.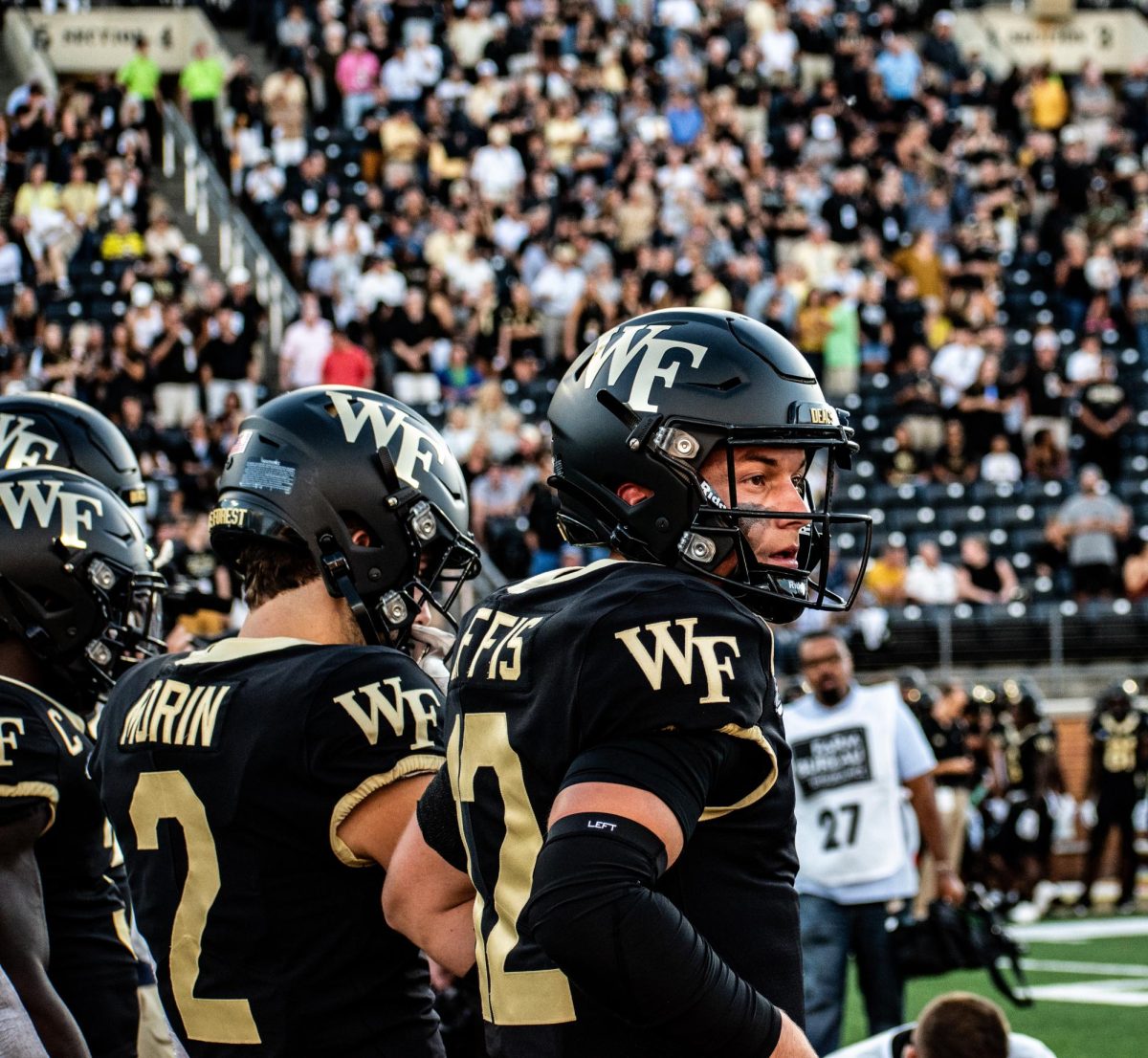 It wasn't just the players Wake Forest was putting on the field, but the energy those players had, as well. There weren't as many defeated looks after Elon busted out two 50-yard scores (a Jalen Hampton rush touchdown and a Caleb Curtain pick-six) as there would have been in years past. As cornerback Dashawn Jones said, all they think is "next play, next play, next play."
But amidst all the new faces, new stadium signage, and new enthusiasm were many familiar sights. Yes, there was the splotchy "sellout" — the second quarter mass exodus of students and the gaggle of children playing on the lawn were still present for this Wake Forest home game — but most impressively, it was the core of the team that refused to get outshined by the brand-new LED lights.
Wake Forest is a team that prides itself in the development of their program. It is easy to look at the success stories of an undersized or overlooked recruit having all-conference worthy seasons and making it to the NFL (Greg Dortch, Zach Tom, A.T. Perry), and it's also easy to look at the what-could-have-beens (Jamie Newman, Tayvon Bowers, Nolan Groulx). But it is the middle of the pack, the next man up and everyone else that truly tests the validity of a program's development. 
Griffis and Hite are both of that mold, and so is Jones, who secured his first career interception on Thursday. Sophomore running back Demond Claiborne (13 carries, 70 yds, TD) was thrust into the second-string position over the offseason and is showing to be a formidable option. Either Wesley Grimes (3 rec, 76 yds, TD) or Jahmal Banks (6 rec, 108 yds, TD) was always open, and thus the Elon secondary had to pick their poison. Kevin Pointer (2 tackles, 1 tackles for loss) and Kendron Wayman (2 tackles, 1.5 tackles for loss) may not have lit up the stat sheet, but their consistent pressure from the defensive line allowed for players like Roberts, Jasheen Davis (5 tackles, 0.5 tackles for loss) and Malik Mustapha (9 tackles, 2 tackles for loss, 1 pass breakup) to do so.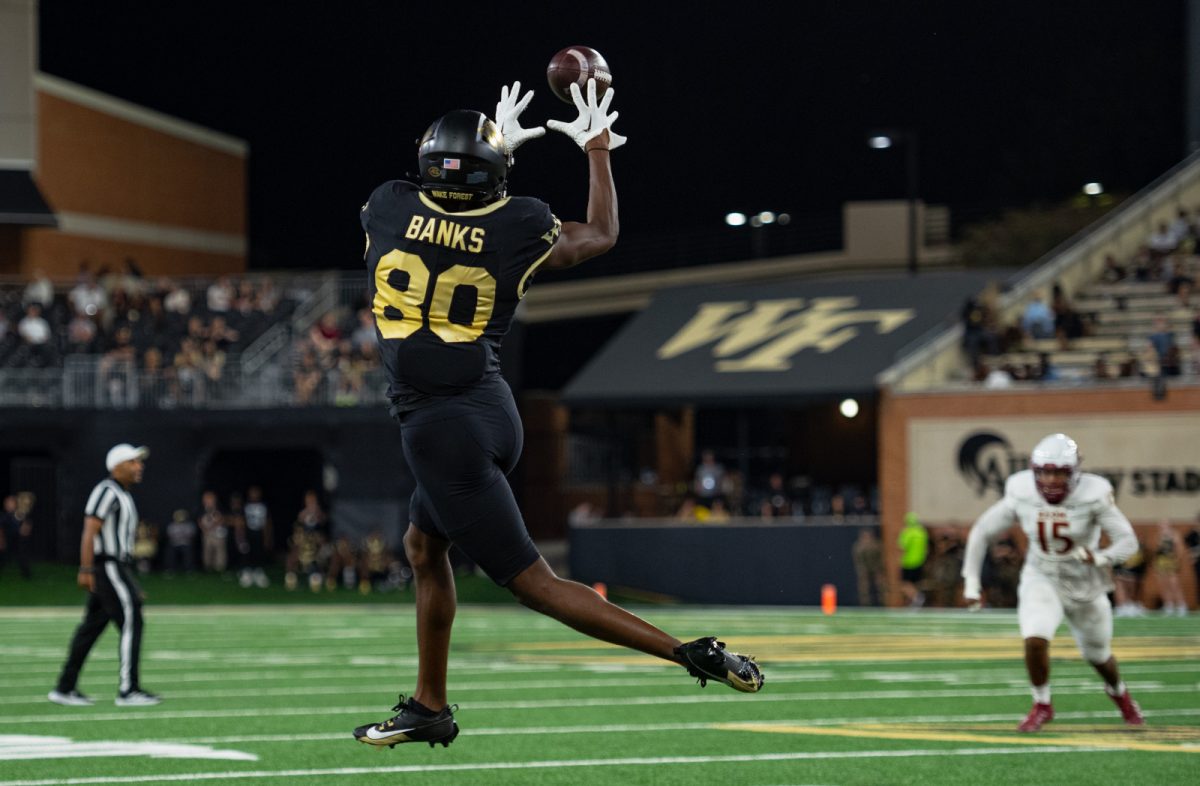 Were there mistakes from these inexperienced players? Of course there were. Were there overall weaknesses in the game, like the rushing attack (or lack thereof) or special teams sloppiness? Definitely. Will that hurt in big away games against Clemson, Notre Dame and Syracuse if left unchecked? Absolutely. 
"Just like all Game 1's, there was a slew of mistakes," Head Coach Dave Clawson said. "We have a lot of guys that played for the first time tonight, so we're going to be a work in progress. Sometimes you learn more in losses than wins. It's easier to teach things and make corrections after winning, it's a lot better. So given the two choices, I'll take that choice."
For some, it's the first time being tackled since 2022. There were bound to be inconsistencies, and it would have been even more surprising if there weren't. 
Even if the 37-17 win wasn't as convincing as some may have liked, there is no reason to fret. This is just the beginning of the season. No one has bloomed yet. But there are a few Demon Deacons popping through the thick astroturf, ready for their next chance.
Correction Sept. 4, 2023: An earlier version of this article incorrectly attributed two photographs to Evan Harris that were taken by Isabella Parolini. That error has been corrected.