Thank you, Tim Duncan: One of the Greats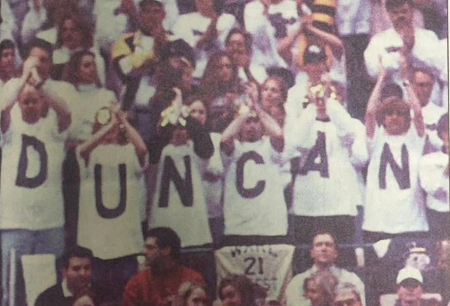 The Old Gold & Black looks back on the storied career of Tim Duncan on and off the court at Wake Forest, where he dominated the ACC for four years nearly two decades ago.
In 1997, San Antonio Spurs head coach Gregg Popovich told reporters he would have only wanted to trade his team's number one pick if they could get the equivalent of a Michael Jordan or a Larry Bird in exchange, saying this of his first overall selection, Tim Duncan: "It's just hard to believe that something could come that good."
Nineteen years later, Popovich may even rescind such a trade scenario as his number one draft selection retires with five NBA titles, 10 first-team all-NBA selections and two league MVP awards, to name a few of his many accolades.
Duncan's legacy will not be consumed with trophies and awards, however. Above any hardware or honor, Duncan will be remembered for the professional manner in which he conducted himself.
There was never drama. There was hardly ever a pounding on the chest or a gesture that brought any attention to himself or away from his teammates. Above anything else, Duncan will be remembered for the culture he and coach Popovich developed together — an unparalleled culture that has yet to be emulated to an analogous degree in the world of professional sports.
Popovich considers Duncan "the most real, consistent and true person" he's met in his life. One could speculate Duncan may say the same of Popovich — indicating the reason the Spurs experienced success: mutual respect from top to bottom.
As the world thanks Tim Duncan for his illustrious career, Wake Forest embraces him as its own.
Duncan is the greatest Demon Deacon of all time. Period. His collegiate career gave him two ACC titles, two ACC player of the year awards as well as the national player of the year recognition in 1997.
However, his collegiate career is not just defined by his on the court performance — it is defined by his commitment to staying four years and earning a degree and by the way he embodied the values of Wake Forest, serving as a role model and leader to both his peers and youth around the country.
The Old Gold & Black cannot help but reflect on the renowned career of Tim Duncan. Consequently, we searched our archives to learn what our writers and editors said about Duncan during his time at Wake Forest.
After reading a number of articles, we found it imperative that the following feature be shared as it tells of Duncan's Wake Forest experience during the spring of his senior year — months away from the NBA draft.
We at the Old Gold & Black thank Tim Duncan for the stories and the memories. Duncan is without a doubt the best power forward and Demon Deacon the world has ever seen. For your professionalism and class, we thank you, Tim Duncan!
Feature from spring of 1997, edited by Kyle Tatich:
When the country hears the name Tim Duncan, they probably think of his double-doubles, slam dunks and record-breaking athletic feats. However, when he's not making basketball history or autographing programs for 10-year-old fans, he's one of the approximate 3,600 undergraduates here at the university.
Who is the man behind the retired number 21 uniform?
Duncan, a senior, may be the most famous student on this campus, but he does not want to be considered so different. "I'm just like everyone else," he said.
He admits he does have a special talent for basketball, but says, "That's just how everyone is — everyone has something different and special about them." His celebrity status has not caused him to feel that he is less of a student or that he is different from his peers on campus.
"I don't feel separated at all. There's no reason to be," he said.
Although some may argue that when he's being interviewed by news reporters from around the country that he very well is separated from the rest of the students, there is a private side to Duncan, one that cameras can't capture … because they're just not let in.
"Constant interviewing and interaction with the public can be frustrating," he admits, but says, "It's important to keep your private life private."
"I don't think you have to let everything out. I give what I want [to the media] and I don't give any more than I want to give."
And he doesn't care about the media or what sportswriters think about him. After all, he's not out to prove himself to the rest of the world.
Duncan claims, "I didn't come to Wake to be Player of the Year, I came to prove myself."
And if his future is any indication, he has certainly succeeded.
While many other seniors are being wined and dined by corporate executives around the country as they make their postgraduate plans, Duncan has a multitude of teams, contracts in hand, ready to sign him on.
With such a future on the horizon and such pressure on his shoulders, he handling the stress of the country's eyes watching his every move.
"I'm looking forward to the different kind of competition, but at the same time, I don't know what to expect, so I'm not looking forward to that. Hopefully, I can feel comfortable just being myself and have fun doing it."
While he cannot avoid the popularity that his fame brings, he says that he is not comfortable with being a role model. But it's unavoidable.
"I don't think I have a choice [of assuming the role of a role model] — my position turned me into that. No one famous has a choice of being one, unless you apply for it," he said.
His fame can get in the way of his social life, he said, and sometimes he doesn't like going out because he feels conspicuous and self-conscious.
"If I know where I'm going, I don't mind going out, but if I'm going somewhere new I don't like to go to new places a whole lot because I don't know what to expect," he said.
It may be tempting to typecast Duncan into just an NBA-bound hoopster. But his life is far from such a simple categorization. He is the sum of his friends and his hobbies – the bits and pieces that make up his existence.
Duncan is also able to do a lot in his free time. Much like a lot of students on this campus, he enjoys club and party hopping every now and then. "I go around every once in a while, but I don't go out very often," Duncan said.
Duncan said that he is not one to be tied down, and that includes his music taste. "I listen to so many different kinds of music, it's by the month whatever is good that month. I change week to week, month to month."
It may be surprising to discover that Duncan is not a poster-child for Wheaties and other health foods.
"I eat a lot of junk," Duncan admitted. He paused and smiled. "I eat very badly and like to eat most anything.  At dinnertime, I enjoy steaks and stuff. I love steaks. Have you been to Hero House? I like a lot of Hero House. Chicken souvlaki and things like that.''
In his last semester at school, Duncan has a full course load, including a beginner's swimming class. Before he started playing basketball in high school, he was a nationally ranked swimmer.
But he's not in it to learn the sport, he said. "I just wanted to swim. I actually do swim workouts, so it's not like beginning swimming. I just want to get back in the water. It's just kind of getting back into swimming shape." In addition to his swimming class, Duncan is taking courses in anthropology, Chinese literature and psychology. Duncan lives for each day, concentrating on what is happening now and he tries not to worry about the future. "Twenty-five years? Whoa. I don't think that far into the future. I think about next week when I have a test."
While the fans at home basketball games have been chastised recently for their lack of enthusiasm and energy, Duncan has his own opinion.
"Wow! Crowd-bashing!" He laughed. "Yeah, I heard about that. I like our fans. At times, not the most exciting bunch, but I like this place (Joel Coliseum) I like the atmosphere. We've got our own share of people that go wild, but that's not everybody, and that's just how we are."
He genuinely appreciates and enjoys fans and likes having people who want him to do well.
"I've gotten great support from day one, and it's a positive place to be, a place I love to be."
He said that he tries to focus on the game when he's playing and has to block out the crowd's cheers for him and the team. "I don't listen to that a whole lot," he said.
Duncan does not let a lot of things bother him, he said. "I'm not a very serious person," he said. "I might seem serious on the court, but at no other time am I that serious."
"I don't get stressed a whole lot at all. I try not to, but every once in a while, I do. It's a big peeve of mine. I don't like being stressed."
Low-key and mellow, Duncan said that on a perfect day he wouldn't do much of anything. He would play pickup basketball, but he emphasized that it would be for fun, not for score or competition.
He said he would watch T.V. or play video games and just have fun.
And during baseball season he can often be found in the student section supporting the Demon Deacon baseball players. In many ways, he's switching roles.
Duncan doesn't want his approaching draft selection to change anything about him but his financial situation.
"I hope it doesn't change me. I don't think I 'm going to change a whole lot. You have to be yourself."
If his attitude is any indication, he hopes not to allow the NBA to change him.
Duncan is happy to have pursued his dreams at this university and on the basketball court.
"I've had a lot of fun," he told the packed crowd at Joel Coliseum Tuesday night when his number was retired.
Having left his mark left on the Coliseum, Duncan will continue to walk the halls of his alma mater as a student until May 19.