Dreadful. Abysmal. Defeated. 
You can insert any negative adjective here, and odds are, it could describe the performance that Wake Forest turned in during their 41-16 loss against No. 4 Florida State on Saturday.
Coming into the matchup, questions remained as the status of Wake Forest's starting quarterback remained unknown, with Mitch Griffis and Santino Marucci each getting reps during the week, according to Head Coach Dave Clawson. In the end, Griffis took control of the offense for the majority of the game.
After his one-game absence due to an undisclosed injury, Griffis finished 6-16 with 82 passing yards. His passing performance ended up as the worst from a Wake Forest quarterback since Nov. 16, 2019 when Jamie Newman went 6-14, throwing for 41 yards and two interceptions at Clemson. 
Story continues below advertisement
Marucci took reps during a non-competitive fourth quarter, but did not complete a pass attempt. He was also sacked by the Seminoles' Byron Turner, Jr.
"You lose by 25, that's just not competitive," Clawson said postgame. "If you look at the stats, they're misleading. It doesn't show just how non-competitive it was."
On the opposite side of the field, quarterback Jordan Travis has turned in Heisman-worthy performances week in and week out for the Seminoles. This week was no different. Threaded-in passes and poise behind the line of scrimmage led Travis to 359 yards passing and four touchdowns, including one on the ground. 
Travis' teammates were no less exceptional. Keon Coleman has been widely regarded as one of the top wide receivers in the 2024 NFL Draft class, and his two-touchdown performance in front of NFL scouts solidified his status even further. 
In one instance, Coleman received a screen pass on what should have been a short gain. However, he was able to shrug off a tackle in one-on-one coverage from cornerback Caelen Carson, allowing him to waltz into the endzone for a 29-yard touchdown. Coleman continued showing his receiving prowess in the second quarter, beating Carson again and catching the ball solely with his right hand for a highlight reel-worthy catch en route to seven catches for 66 yards total.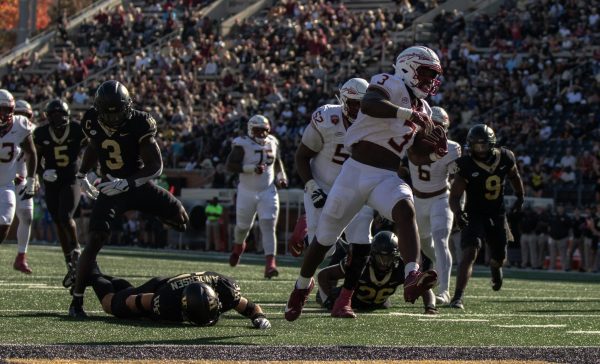 Exceptional, too, was Seminole running back Trey Benson. The junior had two touchdowns on the day, including an 80-yard receiving touchdown which found him break a tackle from safety Malik Mustapha and burst past the Demon Deacon secondary to put the Seminoles up three possessions.
Despite great days from Benson and Coleman, the Seminoles' offensive production was spread wide. Nine different receivers caught receptions for positive yardage for the garnet and gold, eight of whom had double-digit yards on the day. 
If there was a glimpse of positivity amid the darkness of the Demon Deacons' performance, it lay in the hands of running back Justice Ellison. Ellison was able to break free for a 51-yard gain before the end of the first quarter, sparking momentum into the quarter break. 
"Cameron [Hite] did a great job kicking off the corner," said Ellison of the run. "It ended up being a pretty good play."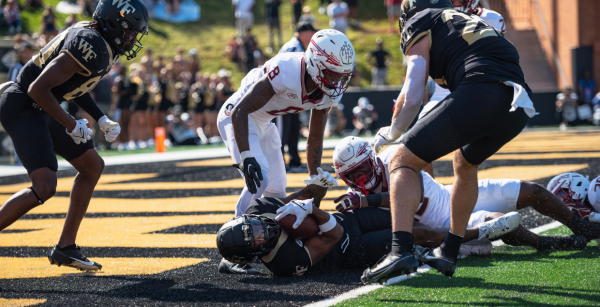 After a two-yard Ke'Shawn Williams rush later in the possession, the Demon Deacons cut the Seminoles' lead down to three points — the smallest it would be for the remainder of the game.
"Really, we wanted to stay in an offensive rhythm," Ellison said of the offensive struggles. "You get out of rhythm, the team isn't as explosive."
Overall, the performance was one to forget for the home side, who have an uphill battle for the remainder of the season. It starts with an away matchup this Thursday, Nov. 2 against a talented Duke team coached by former Wake Forest defensive coordinator Mike Elko.
"You have to continue to get through the hard times," Ellison continued. "You learn how to get through these times, and you'll be able to get through them."
Kickoff for Wake Forest (4-4, 1-4) and Duke (5-3, 2-2) is set for 7:30 p.m. on ESPN.