An open letter to John Collins: Don't leave just yet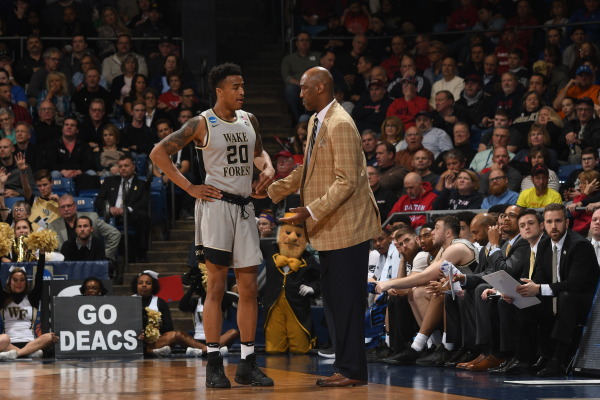 Daniel Pachino also contributed to this article. 
Dear John Collins,
Thank you for helping earn Wake Forest a bid to the NCAA Tournament and regain national relevance.
You and the rest of the team allowed Demon Deacon fans to experience exciting, competitive basketball for the first time in nearly a decade. The Wake Forest community is extremely appreciative of your great play.
Now let's address the elephant in the room. You're only a sophomore and have two more years of college eligibility, but scouts are saying you're good enough to be a first round NBA pick, potentially even a lottery pick. If you pack your bags for the NBA you will be a 19-year-old millionaire by June. On paper the choice seems obvious. You should be leaving Winston-Salem for the league. 
However, when you consider the long term implications of the decision, the choice becomes much more difficult. If you leave for the NBA this year, you will be known as a great Wake Forest player. But you have a lot of meat left on the bone. You are not yet a Wake Forest legend. Sure, being named an All-American and the ACC's Most Improved Player is great, as is coming in second place for ACC Player of the Year.
But have you really been satisfied with your post-season play yet? Leave now, and these are the results that fans will remember. Did one win in the ACC tournament and a loss in a play-in game as an 11-seed in the NCAA tournament seem good enough? Leave now and you're telling fans it was. And no one will blame you. The money and glamour of the NBA is certainly enticing. 
But aren't the opportunities if you stay at Wake Forest even more enticing? Don't you want a legitimate shot at winning an ACC championship? Possibly even an NCAA championship?
If we manage to return you and Bryant Crawford, who looks like he could be the ACC's best point guard in a year, all of this is possible. We're really only losing one productive piece of the team this year in Austin Arians, and we're replacing him with Chaundee Brown, the highest rated recruit Wake Forest has landed in years. With another season under Coach Manning's belt and a team that's gaining a year of experience surrounding you, play will be elevated to a new level, and post-season success is extremely likely in the 2017-2018 season.
Staying at school would also be great for your personal player development. It would mean another year under the tutelage of Coach Manning, who has done wonderful things to turn you into a phenomenal basketball player. Just think about what another year with one of the best forwards of all time could lead to. It would mean becoming an even more dominant offensive scorer, a better passer and bulking up in the weight room to be able to physically dominate players on both ends of the court.
If you stay one more year, you have the opportunity to come into the league completely NBA ready. Consider Virginia's Malcolm Brogdon, who waited until after his senior year to go to the NBA even though he was one of the five best players in the ACC from his sophomore to senior seasons. When he entered the league, he was the most prepared player for the NBA game because of his maturity and development, and now he is the likely Rookie of the Year.
Many younger players declare at too early of an age and enter the league and are unprepared for the physical play and daily grind of NBA life, while the older and more experienced players like Brogdon come in ready to contribute immediately. Doesn't another year where you are the man and the go-to guy on a title-contending team sound more appealing than fighting to play even five minutes a game in the NBA every night?
Tim Duncan and Chris Paul are Wake Forest legends. Each of their teams saw more regular season and postseason success than your teams have seen. Certainly their achievements at Wake Forest helped them elevate their play at the next level.
Further, their lasting impact was felt on campus for years after they left. You could elevate your importance on this campus to the level of Tim Duncan or Chris Paul if you choose to stay. If you go to the NBA this year, your chances of cementing your legacy as a legend disappear.
However, these chances look great if you stay. The NBA will still be there in a year. Your time in college won't be if you are drafted. Therefore, in earnest, we ask you, please don't leave yet.
Sincerely,
Ethan Bahar & Daniel Pachino
Sports Editors