Sarr and Brown look to fill the hole left by Collins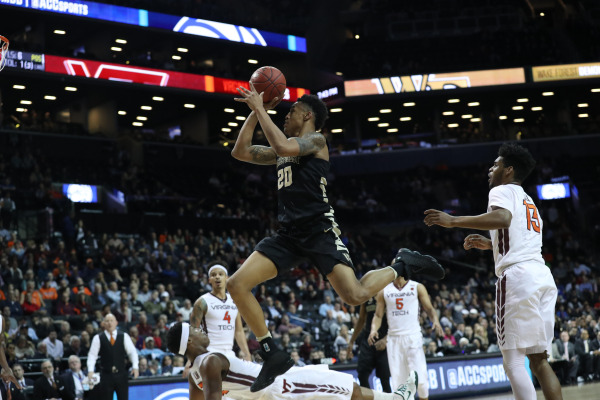 On April 12 at 6:45 pm, John Collins told the world he had hired an agent and will be heading to the NBA.
Although he stated he would "forever bleed old gold and black" on Twitter, this declaration officially ends his college career at Wake Forest. Although this announcement was not a total shock, Collins has now dismissed any possibility of testing the waters at the NBA combine and possibly returning to Wake Forest for his junior and senior seasons. Last season, Collins emerged as a true star, averaging 19.2 points per game and earning the ACC Most Improved Player Award. While a standout offensive performance helped lead the Demon Deacons to its first NCAA Tournament appearance since 2010, Collins successful season brought a regained sense of spirit and an inflation of excitement to the LVJM Coliseum this past season. With his presence missing, Coach Manning has some big shoes to fill.
Manning's latest recruiting class demonstrates his continued establishment as a head coach coming up on his fourth season with the Demon Deacons. Perhaps his most impressive recruit according to the ESPN Recruiting Database is 6-foot-5 shooting guard from Orlando, Chaundee Brown. Ranked No. 31 by ESPN, Brown received offers from Florida, Kansas and Maryland, but decided to sign with Wake Forest on March 24. Brown is the highest ranked recruit Wake Forest has signed since Al-Farouq Aminu in 2008. It will be interesting where he will stand with veteran guards Brandon Childress, Bryant Crawford and Keyshawn Woods next season, but he will be a great asset to the team especially without Collins.
Another standout in this recruiting class is 6'8" small forward, Melo Eggleston. Receiving 13 offers overall and four offers from ACC programs, Eggleston was a widely recruited player. With great strength as a versatile player, the signee from Notre Dame Prep might be just the kind of player Wake Forest needs for this upcoming season.
While Brown and Eggleston filled the remaining big scholarship spots for Coach Manning in Fall, Olivia Sarr signed for the Demon Deacons last Wednesday, April 12. The 6'11" French center who will graduate from the International School for Sport will be a promising addition to the team while he continues to develop as a college player. Signing as a preferred walk on, Sunday Okeke, a 6'8" center originally from Nigeria, signed to play for Wake Forest last Friday, April 14. He will graduate from Greens Farms Academy in Connecticut this May.
Although Brown, Eggleston, Sarr, and Okeke have all officially committed, Coach Manning might also be pursuing Khris Lane, a possible graduate student transfer from Longwood University.