Men's Basketball Rebounds From Historic Loss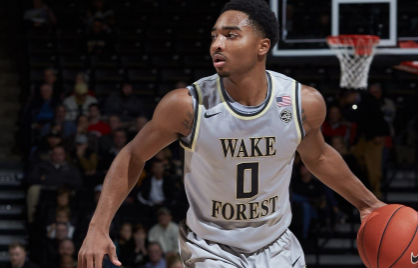 The Wake Forest Men's Basketball team got its first ACC road win of the season on Tuesday over Notre Dame after being historically blown out by North Carolina at home on Saturday.
Saturday was a record-setting day for the Deacs in the most negative way imaginable. The 95-57 beat-down was the largest margin of defeat in Wake Forest's 227-game series history against Carolina. It was also Wake Forest's worst loss in Coliseum history, which was was built in 1989.
The Tar Heels, ranked eighth in the nation, stormed out to an 18-0 run and never looked back.
"And then from there it just kind of snowballed," said Wake Forest Head Coach Danny Manning.
North Carolina was in full command at halftime, with a dominant 49-21 lead. The Tar Heels shot lights out, hitting 9-12 from distance in the first half and 16-23 for the game.
Sharpshooting Cameron Johnson led the way for the Heels, scoring 27 points on 13 shots, hitting 7-10 of his 3-pointers. Jaylen Hoard was the only Demon Deacon to score in double figures, notching 17 on 7-9 shooting. Carolina also had 21 assists, compared to just eight for Wake Forest.
"We caught Wake Forest on a good day for us and a bad day for them, and there's not much else to say," said Roy Williams, head coach of North Carolina.
UNC didn't just dominate on the court, but also in the stands. Around 60 percent of fans in attendance were Tar Heel supporters, and with the way the game was unfolding, they also had a lot more to cheer about.
The loss on Saturday without a doubt felt like the low point of the season. Saying that Manning is on the hot seat is an understatement. With only one winning record and one NCAA tournament appearance under his belt at the tail end of a disappointing fifth season, Manning appears to be running out of time to prove himself as capable of leading the program back to prominence.
However, the Deacs valiantly responded on Tuesday with a hard-fought 75-68 win over Notre Dame (13-13). The conference road victory is Wake Forest's first of the season.
Wake Forest trailed by one at the half in a game that was close throughout. No team lead by double digits at any point.
A thunderous fast break slam dunk by freshman Sharone Wright in the second half was the highlight of the game.
The most important play, however, was made by sophomore big man Olivier Sarr, who scored 14 points on the night. With a two-point lead and just over a minute left, Sarr received the ball in the post, quickly turned towards the basket, elevated, and hit a pretty jumper to give the Deacs a four-point cushion. Senior Torry Johnson and junior Brandon Childress knocked down their free throws at the end to ensure the victory.
The Deacs had a season-high 19 assists and were lead by Childress, who put up 20 points on 5-7 shooting as a fantastic response to his 0-12 effort against the Tar Heels.
"We had a lot of different guys contribute in a lot of different ways," Manning said. "For us to come in here and find a way to get a win was a really good step."
Wake Forest is now 10-15 (3-10) heading into the final five games of the regular season. Up next is round two with NC State, as the Wolfpack will look to defend its home court on Sunday after being upset in Winston-Salem a month ago. Two days later, the Deacs return home to host a very beatable Miami team.