John Collins Impresses At NBA All-Star Break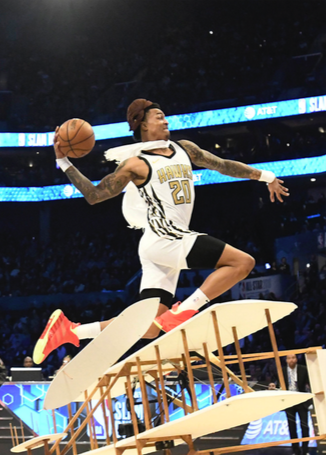 On a weekend that seemed only to go wrong for Wake Forest basketball, one bright spot shined through on the nation stage. Atlanta Hawks forward John Collins, who left Wake Forest two years ago as a sophomore for the NBA Draft, was a big star at the NBA's All-Star weekend in Charlotte. After finishing on the All-Rookie Second Team last year as one of the top young players in the league, Collins was selected to represent Team USA in Friday's Rising Stars game for the second year in a row. Starting the game and finishing with 12 points for the winning side, Collins' stole the show at the end of the first half, when he threw down an alley-oop to himself off of the backboard that became one of the best highlights of the entire night.
That show of athleticism was just a preview of what was to come next. The main event of "All-Star Saturday Night" is the Slam Dunk Contest, and Collins was one of the four high-flying participants. On his first dunk of the competition, Collins had somehow managed to grab the side of backboard and still make it around the basket for a reverse jam. Inside the arena it was awfully quiet, as it was hard to see right away what he had accomplished. As analyst Kenny Smith said on the live broadcast, "That's one where you have to see the replay to really respect how good it was." Unfortunately, the five judges didn't seem to grasp the difficulty of the dunk, and Collins received a score of 40 out of 50.
Going into round two, Collins was in third place. Needing a big score to advance to the finals, Collins chose to pay homage to North Carolina history. Dressed in a scarf, goggles and an antique aviation hat, Collins took a flying leap over a model airplane in the state known as "The Birthplace of Flight." Collins clipped the front wing and broke part of the plane on his way up, but he still managed to score a 42. Sadly, this was the end of the competition for Collins, as Dennis Smith Jr., Miles Bridges and eventual champion Hamidou Diallo all scored higher.
It was a tough ending for the first Demon Deacon to ever compete in the Slam Dunk contest, but Collins' future in the NBA is looking bright regardless. Averaging 19.1 points and 9.5 rebounds per game, Collins is becoming one of the best young players in the league — he's one of just 13 players to rank in the top 35 in the NBA for each of those categories. Congratulations to John on a great weekend and a fantastic first half of the season — the entire Wake Forest community is watching as he continues to develop into a superstar.