Students react to Biden win in 2020 election
Students celebrated high turnout and President Donald Trump's defeat after a long election week
On Saturday morning, the Associated Press, as well as NBC, CNN, and Fox News all announced that Joe Biden had been elected as the 46th president of the United States after carrying Pennsylvania and its 20 electoral votes. This also meant that Sen. Kamala Harris had been elected the nation's 49th vice president, the first woman and the second person of color ever to serve in the nation's second-highest office.
Though President Donald Trump's re-election campaign has not conceded defeat and is pursuing legal challenges in a number of states, the announcement gave a sense of finality to what had been a long week.
Almost immediately after the race was called for the former vice president, students took to Hearn Plaza to Roll the Quad. By nightfall, every tree on the plaza was covered in toilet paper.
"[Rolling the quad] was really fun. I loved seeing everyone out there, and I was there later than most, but it was fun to see we were all celebrating in our own way," said freshman Mary Grace Gower.
Most of the students interviewed expressed happiness for Biden's win. Similarly, as approximately 89.1% of students indicated that they supported the Democrat in an Old Gold & Black poll.
The Old Gold & Black has also reached out to both College Democrats and College Republicans for comments, but, as of publication, neither has provided a comment.
"I'm really proud of how Biden and his voters kept their calm and trusted the democratic process," said freshman Nina Nichols.
Some, like junior Zoe Clay, were surprised by the inter-party appeal of the new president-elect.
"Normally, Republicans will vote Republican regardless of who is on the ballot, just because the party affiliation is, to some degree, separate from the candidate," Clay said. "This year, I was so surprised by so many Republicans openly promoting Biden because party affiliation could no longer exist without simultaneously supporting [Trump]."
Kat Pitchford, a Resident Adviser and a senior, expressed that they were proud of their personal involvement in the election.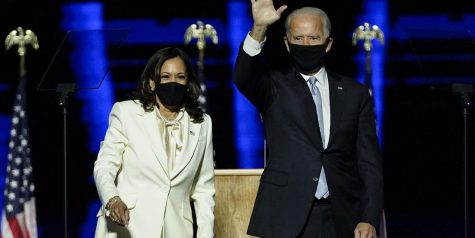 "I felt more involved in this election, having raised awareness for early voting, arranged post-election self care practices for student staff and accompanied friends to the voting station near campus to make as much of an impact on campus as I could," Pitchford said. During the lead up to the election, the whiteboard outside Pitchford's door read "vote, young people."
Sophomore Turner Jones, who worked for the Biden campaign, expressed relief and pride.
"I think many Americans [have] hope for their country again. Our democracy hasn't been challenged this way since the Civil War, and it is encouraging that we have made it to the other side," Jones said. "I'm very proud of the campaign we ran. We were able to get record turnout, which … makes me feel that the work paid off."
Get-out-the-vote efforts worked, as the rate of voter turnout is set to be higher than any election in recent memory. In North Carolina, turnout hit nearly 75% of eligible voters, the highest mark since Barack Obama's election in 2008. In Forsyth County, over 120,000 people voted early and over 43,000 voted by mail. According to ABC News, youth voter registration increased by over 40% from 2016. For those who worked to get voters to the polls, these numbers are a source of pride.
While acknowledging the history of this election, some students, like freshman Iyana Trotman, view Biden and Harris's election as only the beginning of the long road toward change.
"While [I am] excited that Trump is out of office and that there is a woman of color in the vice presidency, representation and not being overtly racist is not enough. Black people and queers (sic) for decades and even centuries have been fighting for the destruction of democracy and anti-blackness as we know it," Trotman said. "Our work is not over, and liberalism would encourage us to end here, but rebellion is the end goal. We have to hold Biden and [Harris] accountable and keep the fervor alive if we want true progress."
Though the direction of the nation for the next four years is a bit clearer now, Pitchford summed up the feelings of anxiety that these uncertain times have cast upon this moment, but also expressed faith in the soul of America.
"I, like, many others, are unsure of what the coming months will look like in America, but I hope that hope and humility will prevail no matter what the circumstances."