Deacon Spotlight: Mckenzie Maier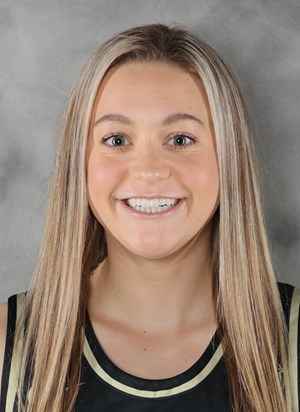 A junior from Parker, Colo., Mckenzie Maier is playing her third season on the women's basketball team. During her senior year at Chaparral High School, she guided her team to a Sweet-16 appearance and led the team in scoring for three consecutive seasons. Maier is a four-time All-Conference honoree and a four-time selection for the Colorado Show All-Star game. 
Maier comes from a family of Demon Deacons. Her brother, father and uncle have all graduated from Wake Forest. The guard has always had aspirations to play for the basketball team here, and she has shown gratitude for everything the school has given her, especially for her relationships with her coaches and teammates. 
Christina DeNovio: When did you start playing basketball? 
Mckenzie Maier: I started playing when I was four or five years old, but I didn't really start getting into it and liking it until I was probably in seventh or eighth grade. And I've just it loved ever since — it kind of became what I've always done and what I wanted to do. 
CD: What is it like to be a part of a family that has such a strong legacy at Wake Forest? Did that influence your decision to come here? 
MM: In my family, everything we do is Wake Forest-related. My dog is named Deacon. My dad graduated from Wake Forest in '89, and then my brother graduated last year. My uncle also graduated from here. I have grandparents who live in Greensboro, so when I got the opportunity to come to Wake Forest and be on the team, it was a no-brainer because Wake Forest combines ACC basketball with top-30 academics. It's the best of both worlds. I've been lucky because my family's always been around. 
I've always wanted to come back to Winston — I lived here when I was in fourth and fifth grade. Then, we moved back to Colorado, but I've always wanted to come back. I loved going to Wake Forest games as a kid and doing the basketball camps. Coming to Wake Forest has been a family thing through and through, so when our coach gave me the opportunity to come here, it was a really easy choice. 
CD: How was the transition from high school to college basketball? 
MM: It was definitely harder than I expected it to be. I would say Colorado basketball isn't exactly at the same level as the ACC and east coast. It was definitely a big jump and tough transition. I feel like I've had to learn a lot and adjust to the schedule, the conditioning and the pace that we play at. Even the amount of shots you have to take in the day or the work you have to do in the gym is increased. I've definitely learned a lot, and I'm glad that I made t h a t transition, but it was probably harder than I anticipated. 
Especially going from being one of the top players at my high school or in my league at home and then coming to the ACC, where everybody is good — and everybody on my team is a bucket. Despite the difficulty, I am definitely glad to finally have a challenge and embrace that every day in order to compete with girls at that level every single day. Basketball is what I love to do, so I wouldn't have it any other way. 
CD: What's your favorite part of being on the team? 
MM: First and foremost, my teammates are the best part of being on the team. We're like sisters. We see each other every single day for four or five hours, maybe more. If they weren't who they were, and we didn't get along as well as we did, then I definitely wouldn't enjoy it as much. But also, there's a lot of fun to it. We get to play in the ACC and compete every day. It's fun to travel and go to different places. We're in-conference right now — we'll travel Thursday and then again Sunday, and we just got back from Louisville last night. The traveling part is fun during the season, and it's a great experience. Also, just to play at Wake Forest is what I've wanted to do probably my entire life, and so to be doing what I've always wanted to do is pretty awesome. 
CD: Can you describe your relationship with your coaches and teammates? 
MM: I would say they are some of the biggest reasons why I've continued to enjoy being here. We're like one huge family. We see each other every day, the coaches are supportive of us both on and off the court, which is really important. I think it would have been really hard to not have a relationship with the coaching staff off the court. And that's not who they are at all — we gelled together really well, they care about us and they know who we are inside and outside of basketball. 
And my teammates, like I said, we're like sisters. I think I could live with all of them in one house. We hang out with each other on the court all the time. We're hanging out in the locker room, we're going and doing things with each other, even when it's not required. We're really like best friends, and I couldn't be more grateful for them. When there's hard days, you know that the girl next to you wants you to achieve your goals just as bad as you want them to achieve theirs. And we're there to push each other and then pick each other up when we're down and then celebrate with each other when we're up. 
CD: Do you have any pre-game rituals? 
MM: I do the same thing every time — I go out and get shots up, or warm-up. As a team, we all eat gushers before our game, so that's something we all do. The morning of the game, we'll shoot around and then we'll have a pre-game meal. Our whole team prays before every game. And I'll probably always get shots up early in the day of with one of my assistant coaches. It's a busy day, but it's always a good feeling. 
CD: How is the team gearing up for the upcoming home games against Miami and UNC? 
MM: We beat Miami earlier this year, and we'd really like to sweep them. We had a hard-fought game against Louisville this past weekend. I thought we competed really well, we had a really good first quarter. We just need to come out and get a win against Miami. It's a really crucial win and a bounce-back game for us, and we really need it. We have full confidence, and we're glad to be playing at home again. It's always harder to compete on the road than it is at home. I really believe we can bounce back — our spirits are back up. We've been working really hard in practice, so the Miami game is crucial. If we beat UNC after that, we would make a statement. 
CD: Are there any athletes who you look up to (either in basketball or other sports)? 
MM: In terms of basketball, I've always loved Allie Quigley's game. She's a shooter, and I really like watching her play for the Chicago Sky. I've tried to emulate her jump shot as much as I can. In terms of athletes in general, I really like what Simone Biles is doing right now with her mental health and taking a stance for the importance of athletes' mental health. I think that's super important. Now, we're learning more and more about that with COVID-19. I think my team prioritizes that as well. And then of course, Steph Curry — I could watch him play all day long and shoot jump shots. The way he warms up before games is always really cool to me. He'll come out and do his dribbling routine for a couple hours, and I watch him warm up before he plays. It's really impressive to watch. 
CD: Is there one team on your schedule that you're especially excited to play? 
MM: Yes and no. I think something our team does really well is that before every game, we always have a 1-0 mentality. Especially in ACC, anybody can beat anybody any night of the week. So this week, it's 1-0 against Miamai, and then it's going to be 1-0 against UNC. We always try to keep one foot in front of the other, looking at the next game and making that the most important game. Right now, the most important game is Miami because to get a clean sweep on them will be a really big deal. And of course, Tobacco Road — any in-state game — like UNC or Duke, is always important for us too. 
CD: What are your goals for the future after your time at Wake Forest? 
MM: I'm not exactly sure right now. This summer, I'm doing an internship with a consulting firm, but honestly, I want to stay in college athletics. My dream job is to be a Division I head coach — maybe be an assistant coach and then work my way up. Or, I could go into the consulting world. I know those are two really different things, but if I could be a coach — that'd be a dream.