Coach Forbes eager to get season started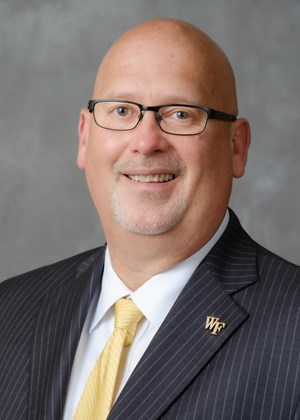 Last Monday, I sat down for a Zoom call with Wake Forest Men's Basketball Coach, Steve Forbes. Before being hired by Wake Forest, Forbes compiled a 130-43 record at East Tennessee State, along with two Southern Conference championships. During the 2018-2019 season, he joined elite company by becoming just the 10th active Division 1 coach to reach the 100-win mark in their first four seasons. During our conversation, we touched on a variety of topics including Forbes' coaching style, what to expect from this year's team and his transition to Winston-Salem. 
I began the interview asking about Forbes' coaching style. I noticed that last season, his East Tennessee State team took 40% of their shots from 3-point range and 40% of their shots at the rim, an indication of a modern offensive philosophy that embraces the value of an offensive field goal attempt. Layups have the highest success rate as they are the easiest shots. It's also worth noting that 3-point shots are seen as more valuable than long-range 2-point shots for two reasons: they're worth more numerically than 2-pointers, and the success rate for each type of shot is very similar.
He said that his teams employ an up-tempo style of play that emphasizes ball movement and smart shot selection. He pointed out that last year, his East Tennessee State team had several different players that scored at a high level, proving that his offense isn't reliant on any individual player to carry the offensive burden every night. 
This could be an important element to this year's Wake Forest team — which needs to replace its top four leading scorers from last year (70% of the team's scoring) — but I also see this having a lasting impact on our team going forward, as this type of offense is very intuitive and allows for anybody to shine on any given night. This makes the game easier for players while potentially complicating the defensive game plan for opposing coaches. Additionally, as a team without an established #1 option and a few graduate transfers in line to receive big minutes, this system could allow Forbes to see what he has among his talented, albeit inexperienced crop of players who are going to be around for the next couple of seasons. 
One player in particular who I know Forbes is really excited about is junior guard Davien Williamson, who started all 34 games for Forbes' East Tennessee State team last year and was their third leading scorer. In two seasons under Forbes, he averaged 10 points and 2.5 assists per game, while posting a 61% True Shooting percentage, a measure of shooting efficiency which takes into account field goals, 3-point field goals and free throws. This is a terrific number for a guard, as big men usually have a higher TS% because they typically shoot from closer to the basket. Wake Forest is still awaiting word from the NCAA on whether or not Williamson will be eligible this season, following his transfer from East Tennessee State. 
When asked about Williamson, Forbes' eyes lit up, "Davien is a terrific player and even better person and he'll provide a terrific example for our younger guys going forward." He continued, speaking about the advantages of having a player who's already familiar with the system that he's trying to implement, especially someone who's been as successful in it as Williamson. 
Also of note, this is a homecoming for Williamson, a Winston-Salem native. From my interview, it sounds like he'll have to give Forbes' a tour of his hometown, as I learned that Forbes has yet to go to Slappy's Chicken (North Carolina's BBQ doesn't quite compare to Tennessee's, but I assured Forbes that Slappy's does a pretty spot-on impression).
It was evident from my conversation with Forbes that he has a clear vision for Wake Forest Men's Basketball. It may not be this year, due to concerns over the COVID-19 pandemic disrupting the college basketball season, but Wake Forest appears primed to play a winning brand of basketball for seasons to come.